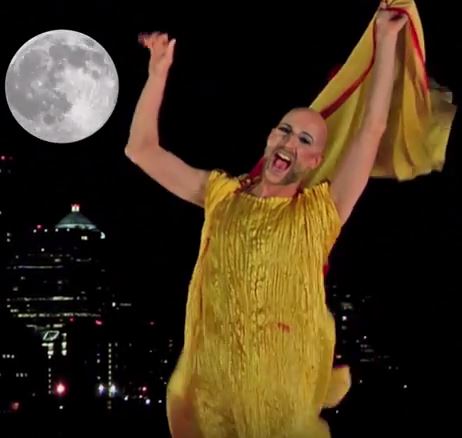 It has everything you've come to expect from a "Wes Hurley Joint"….colorfully vivid and over saturated cinematography, circus themes, zexy men kissing, lesbian weddings, Cherdonna and Waxie Moon! Yes, it's the 2015 trailer for Three Dollar Bill's upcoming Seattle Lesbian & Gay Film Festival which is turning TWENTY this year and runs October 8th through the 18th at venues throughout Capitol Hill and Downtown Seattle!
We've mentioned the big gala events, and some of the "draggier" film offerings but make sure you check out ALL the films over at the website and buy your tickets and passes NOW to avoid your favorite screenings selling out!
There are a number of amazing documentaries in this year's festival including Robert L. Carmino's Upstairs Inferno, about the horrifying arson set fire in a New Orleans gay club which killed 32 people in 1973; We Came To Sweat: The Legend of Starlite explores New York's first black owned gay bar; Tab Hunter Confidential played at SIFF this past June but if you missed it (or, want to revisit it) you'll want to check out Jeffrey Schwarz's fascinating look at the 50s/60s heartthrob. Finally, Seed Money: The Chuck Holmes Story explores the world and life of the man who started Falcon Studios, the first major gay owned studio and producer of gay male erotica.
That's just a handful of the many documentaries at this year's festival. Check them ALL out!
Now, check out the trailer:
(Visited 1 times, 1 visits today)