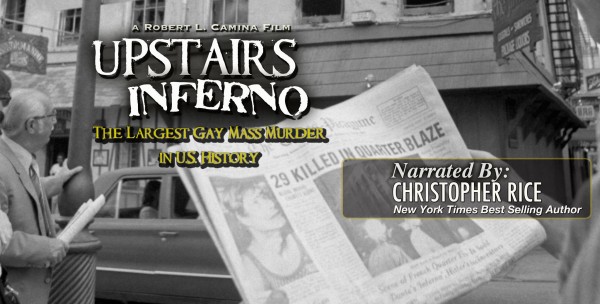 We don't often think of religious entities as being integral, let alone beneficial to the evolution of gay rights. But in 1973, the New Orleans, Louisiana, chapter of the Los Angeles-founded Metropolitan Community Church (MCC) would find itself both the victim of and minister to survivors of the largest mass gay killing in United States history.
Church has always been a big aspect of growing up in the predominantly Christian south. But for gay believers, denominations in the early 1970s, and many still today, rejected them. So when the deliberately gay-accepting MCC started its extended existence in New Orleans, they found a home in an unlikely place: a gay bar on the corner of Iberville and Charters at the edge of the French Quarter called The UpStairs Lounge. This multi-roomed second floor of an old cotton mill from the 1880s became a venue for the LGBT community hosting original drag plays, beer busts, piano singalongs, and, offered for free by the club's owners, MCC religious services on Sunday nights. This unlikely mix of activities is described by one interview subject of Robert L. Camina's ("Raid of the Rainbow Lounge" and "Martini: The Movie") latest and most poignant cinematic achievement as "more like a social club." Racially integrated, welcoming all genders, participants would end their revelry after worship by all singing "United We Stand" holding hands in a circle. The UpStairs was a haven.
Because of the owners' generosity in hosting MCC, the fledgling congregation's collections gradually accumulated to the point that they could afford a small building of their own. But their presence at the lounge lingered and overlapped. It was unforeseeable to this tight knit assemblage that it could all be lost in a matter of minutes. But in June of 1973, an unknown arsonist took the life of the beloved sanctuary and 32 human lives within it.
What followed rivaled the devastation. Nothing. Nothing happened. The mayor and the governor issued no statements, the police made no investigative effort, and press coverage was salacious, if at all, with reporters rabid to mockingly get gays on camera. One survivor recalls the fire being cruelly depicted as a "fruit fry." Perhaps the reason this pivotal event in gay history is so unknown to us, until now, is because it was so dismissed then. Those 32 gay lives didn't matter.
But they did matter—to the survivors and the people who loved them, so endearingly and gently captured in this thoughtful documentary film. The trauma they endured, while never forgotten, made them stronger. It was the catalyst that solidified their resolve to have pride and, most importantly, faith. Faith in themselves and their community.
"Upstairs Inferno" shows at AMC Pacific Place, Seattle, Saturday, October 17 at Noon as part of Seattle Lesbian & Gay Film Festival. Dallas-based Director/Writer Robert L. Camina will be in attendance for an impassioned Q&A following its screening.   Tickets available HERE.

(Visited 1 times, 1 visits today)