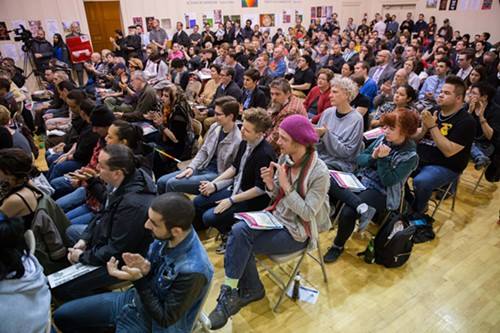 As part of LGBTQ Allyship's "Conversations Across Generations" series, Seattle Councilmember Kshama Sawant will lead a community forum about Rent Control in Seattle and how it can aid lower income LGBTQ citizens in attaining affordable housing in the city. It's scheduled for Thursday, November 19, 2015 and will be held at the Washington State Labor Council offices in the Central District, 321 S. 16th Street at 6:30 pm. It's free and open to the public.
Joining newly re-elected Councilmember Sawant will be Maureen Kostyack, the Housing Development and Program Manager from the Seattle Office of Housing.
The forum will examine how to move forward in the fight to bring rent control to Seattle. The Seattle City Council recently voted to end its ban on any form of rent control. The fight now must move to Olympia to convince the State Legislature to end its ban.
More about the event:
Councilmember Kshama Sawant will talk about Rent Control in Seattle. Why
is this a critical issue for marginalized LGBTQ communities and what are next steps for LGBTQ advocates in ensuring there is affordable housing in Seattle?

In addition, Maureen Kostyack, Housing Development and Program Manager from the Seattle Office of Housing will join us to talk about the 2016 Housing Levy, what's at stake for LGBTQ communities and how this levy will support homeless youth, people living with disabilities and low-wage earners in the LGBTQ community. Maureen works in the Office of Housing's Policy and Equitable Development division, where she is responsible for a range of program development, state legislative advocacy and community engagement activities. She coordinates policy development and performance reporting for the Seattle Housing Levy and staffs the Housing Levy's citizen oversight committee.

What is a LGBTQ Equity Lens in advocating for Affordable Housing?

This Thursday at Conversations Across Generations community members will help to create a LGBTQ Equity lens that intersects race, class, gender, sexual orientation, gender identity, age and ability. Be part of this community process! Allyship advocates will use this community-led LGBTQ Equity lens as a set of principles to guide Allyship's advocacy around affordable housing. Your voice matters, so join us this Thursday!

Lastly, Allyship community members will rank our 2016 statewide legislative priorities, in order of importance. We want to hear from you!

Conversations Across Generations is a scent free and wheelchair accessible event. There is available parking in front of the building for easy access to the the entrance. Children are welcome.
(Visited 1 times, 1 visits today)