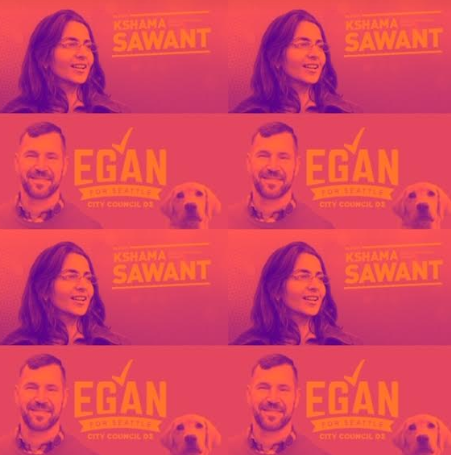 And, in an ongoing drama that's running longer than a Ken Burns documentary, the battle to claim the Seattle City Council seat for the 3rd District that includes Capitol Hill, will continue as incumbent Kshama Sawant has moved ahead of challenger Egan Orion with today's 3:30pm results drop from Tuesday's general election.
From Tuesday's initial results through Thursday night, local businessman and LGBTQ community member Orion had been leading but with his margin gradually decreasing with each day's new results announcement. This afternoon's release has Sawant with 18,986 votes to Orion's 18,473, a difference of only 513 votes.
For anyone following Sawant's political career, this late surge is familiar territory….she has come from beyond in previous successful races for her city council seat.
The District 3 race is the last of the seven races for Seattle Council seats this election to still be up in the air with the other six races have clear winners.
Another results drop is scheduled by 8pm Friday night. After tonight, only 5% of ballots will be left to count.
Tags: Egan Orion, kshama sawant, Sawant vs Orion, Seattle City Council District 3, Seattle Elections 2019