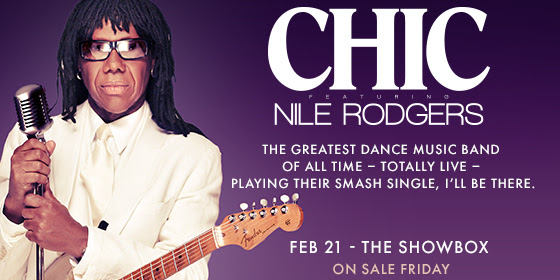 It's fitting that we post about another music icon so soon after the Bowie post…legendary performer/producer NILE RODGERS is heading to The Showbox with his chart topping group CHIC for a concert on February 21, 2016. Tickets on sale NOW!
Rodgers, with Chic, made incredible music in the 70s but he also quickly established a name for himself as a go to producer for the likes of Bowie, Madonna, Mick Jagger, Peter Gabriel and Michael Jackson among many others.
Among music legends, Nile Rodgers is truly exceptional. He amplifies his legacy as a Grammy-winning composer, producer, arranger, and guitarist by constantly traversing new musical terrain and successfully expanding the boundaries of popular music. As the co-founder of CHIC, Rodgers pioneered a musical language that sparked the advent of hip-hop with "Good Times," distinguished CHIC as the "most sampled band in history" (The Guardian, 2011), won CHIC nine Rock and Roll Hall of Fame nominations, and generated groundbreaking pop hits like "Le Freak," which will be inducted into the 2015 Grammy Hall of Fame. His career-defining productions for David Bowie (Let's Dance), Madonna (Like A Virgin), Diana Ross (diana), and Sister Sledge (We Are Family), plus his work with artists like Duran Duran, INXS, Mick Jagger, Grace Jones, Steve Winwood, Peter Gabriel, The B-52s, and Michael Jackson, have sold over 200 million albums and 50 million singles worldwide while his innovative, trendsetting collaborations with Daft Punk, Avicii, Disclosure, and Sam Smith reflect the vanguard of contemporary music.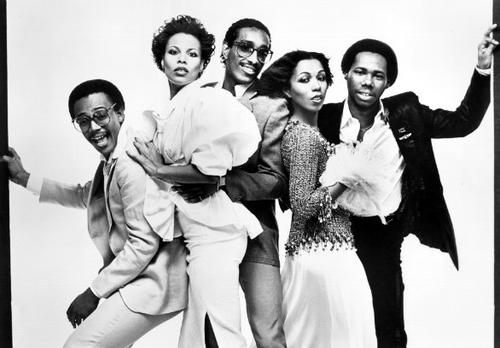 Frankly, after this weekend's sad news about the passing of Bowie, we could use a little "le freak out"….
All that pressure got you down
Has your head spinning all around
Feel the rhythm, check the ride
Come on along and have a real good time
Like the days of stopping at the Savoy
Now we freak, oh what a joy
Just come on down, to fifty four
Find a spot out on the floor
Ah Freak out! Le Freak, c'est Chic
(Visited 1 times, 1 visits today)