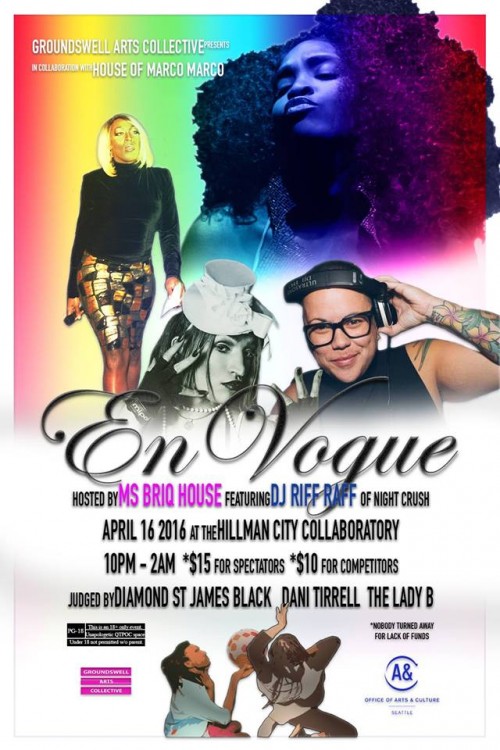 Ah! How refreshing! House of Marco Marco and Groundswell Arts Collective have teamed up to create a new monthly ball culture/vogue dance party in the south end of Seattle. EN VOGUE will feature multiple categories and competitions, from beginners to advanced. It's debuting on Saturday, April 16th (right after Tax Day so VOGUE your blues away!) at a venue not familiar to us: The Hillman City Collaboratory at 5623 Rainier Ave S, near Orcas Street…it's pretty far south but you don't need a passport to strike a pose!
Corny jokes aside, it does behoove you to support this event. It's a GOOD thing to have:
New events from up and coming producers
Events in different neighborhoods away from city center…as Seattle gentrifies and becomes more and more expensive (especially in night life centric hoods, like Capitol Hill) we're going to have to find new, cheaper locales to have events that are in less commercially motivated and in areas less centrally located. (Thankfully, we have more transit options now!)
And, it's great to see events that promote and feature queer people of color who very frequently get shut out of mainstream queer events located on the Hill. If you ARE a queer person of color or an ally, this is a terrific event opportunity.
Uh, how many Ball Culture/Vogue opportunities do we get in Seattle…not  many. If you love that unique culture, then support it! How many times can you sprawl on your couch watching "Paris is Burning!"?
More info:
"En Vogue!" is a new monthly celebration of Ball culture and pride in being Queer! Brought to you by House of Marco Marco and Groundswell Arts Collective. Features a vogue dance party and competition to Vogue and House music with multiple categories like Vogue Open To All (OTA) and Beginners Vogue. as well as walking categories dedicated to the art of fashion, makeup artistry and presentation including Runway OTA, Realness categories and special Original Costume categories!

$15 for Spectators l $10 for Competitors on sliding scale
(NOBODY TURNED AWAY FOR LACK OF FUNDS)

Prizes will be provided to winners of each category. With special featured judges from the community and winner spotlights to give visibility and awareness to local up and coming artists.

*Partial funding by: Seattle Office of Arts & Culture*

CATEGORIES:
SEX SIREN (GenderQueer/Non-binary)
How will you tease and arouse the judges? Strip it all off? Maybe a little burlesque or erotic dancing? The ultimate sex fantasy! It is up to you to win over the Judges and get those 10's! (Judged on ones ability to be the most sexually appealing through various erotic expressive forms)

RUNWAY OTA "Show Your Flavor!"
Are you sour or sweet? Perhaps a little of both? Cotton Candy dreams? Do you fancy Chocolate or Vanilla? Maybe Neapolitan? You Salty, Yo? Show us your flavor while you work the runway to filth for those 10s! (Judged on one's Runway walk and presentation of there "Show your flavor!" look through styling and costuming)

DRAGKING REALNESS – Masculine-presenting Gender Expression
Can you bend the gender spectrum to your liking to pull off that KING look and win those 10s? Show 'em who's boss and don't hold back now…. (Judged on ones ability to pull off DragKING REALNESS through presentation, gender expression and attitude)

SOFT N' CUNTY PERFORMANCE OTA
Light as a feather? As Graceful as an Angel? But still a fierce queen? Use those Vogue skills to serve Soft n' Cunty!
(Exactly as it sounds! We want to see soft, graceful, and CUNTY!)

BEGINNERS VOGUE
Are you new to Vogue? Still wanna be fierce without the pressure of taking on seasoned voguers? Try out Beginners Vogue! Have fun and show us what you got!

VOGUE HIGHNESS OTA
Who has the most fiercest and most sickening Vogue that haters fall in disgust? Using all the elements of Vogue; Catwalk, Duck Walk, Hands, Floor-work, Dips, Spins and Drops. Show us who's the head queen in charge to snatch those 10s! Use any or all Vogue styles (Old Way, New Way, Vogue Fem) to win those 10s and walk away with the title of Vogue Highness!

BONUS ROUND (FINISHING CATEGORY): Catwalk Runway
Show us your Catwalk! No Pressure! Everyone is welcome to participate! YAASSS! WEEERRQQ!

***OTA: OPEN TO ALL
LIMITED TO 16 PARTICIPANTS PER CATEGORY***

Our Claim To Identity-Affirming Space

***"En Vogue" Is a safe space created for all Queer, Trans People of Color (QTPOC) and LGBTQIA people. Racism, anti-Blackness, transphobia, homophobia, misogyny, ableism, femmephobia, fatphobia and other forms of identity/ability-based discrimination is not welcome at Groundswell events for the safety and enjoyment of all.***

Parking:
There is free street parking along Rainier, Orcas and other nearby residential streets.

Public Transit:
This intersection is served by the 7 and 9 Metro routes and is located about 5 blocks east of the 8 and 38 routes on MLK Jr Way S.
Tags: Ball Culture, En Vogue, Groundswell Arts Collective, House of Marco Marco, Queer POC, South Seattle, Vogue