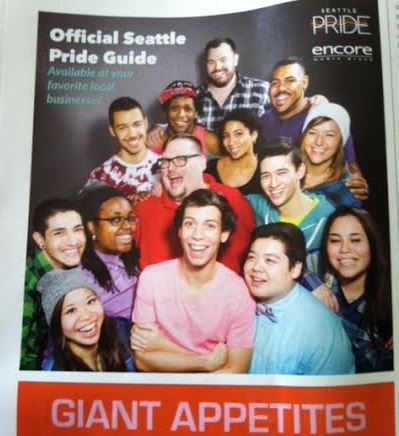 We still have questions for Seattle Pride.
Lots and lots of questions.
Last week, the staff and board of Seattle Pride were at the center of a controversy that had Seattle's LGBTQ community in an uproar. Alaska Airlines and their LGBTQ employees charged they were told they could not march in this year's Seattle Pride Parade on June 26th due to exclusivity clauses in Seattle Pride's contract with presenting sponsor Delta Airlines. Delta outbid Alaska this year and ousted the locally based airline as the exclusive airline sponsor for the parade; Delta and Alaska are in a fierce battle for market share across the country. Danny Westneat from the Seattle Times broke the story last Tuesday, May 17th and other media outlets and social media quickly ran with the story which blew up in Seattle Pride's face.
Pride and Delta quickly issued statements clarifying that Alaska employees were not going to be banned from marching in the parade and by Thursday night, Seattle Pride president Eric Bennett resigned his non-paying position with the organization. Kevin Toovey was named interim president to serve out the rest of Bennett's term which was due to expire at the end of June. Mr. Toovey will also elected to serve as president for the 2016/17 term for Seattle Pride at their meeting earlier in May of this year.
From Seattle Pride's press release posted on their blog:
As customary at its May meeting earlier this month, the Board of Seattle Pride elected its new leaders to take office August 1, 2016:  Kevin Toovey is President-elect, David Hale is Vice President-elect, Christine Lyon continues as Treasurer, and Alex Nugent continues as Secretary.  The next public meeting of Seattle Pride will be on Wednesday, June 1, 2016 at 6PM at a location to be determined.  Meeting information may be found on seattlepride.org and on the organization's social media pages.
It's now Friday, May 27th and Seattle Pride still hasn't released any information on this June 1st meeting. Seattle Gay Scene spoke to a board member last week who said the group was scrambling to find a suitable venue to hold a public meeting. We've reached out to Seattle Pride today for follow up but so far the group has not responded which leads to concerns that the group is trying to avoid an opportunity to answer questions from the community about these serious issues at Seattle Pride and their dangerous lack of transparency.
As a non-profit community organization representing Seattle's LGBTQ community it behooves Seattle Pride to be more open, more honest, more forth coming about how they conduct business. We know many many people have questions to ask them.
Like…
Why has Seattle Pride distanced itself from the community it is supposed to serve?

Why has Seattle Pride cut off ties to the city's other leading LGBTQ institutions including Gay City, the GSBA and other organizations?

Why has Seattle Pride refused to provide information and cut off all ties to the city's gay media including Seattle Gay News and Seattle Gay Scene? Does Seattle Pride really think that all their mainstream media partners at KIRO, City Arts/Encore and many radio stations are going to report on their theme for the parade or the marshals or the changes made to this year's traditional Pride Picnic? (Answer: no, they're not….)

Why has Seattle Pride refused to send us the financial records we requested months ago?

Why is Eric Bennett being blamed for ALL of Seattle Pride's woes? It's rather obvious he's being made out to be the official scapegoat for "Seattle Pride Scandal 2016".

What is the relationship between Seattle Pride, Northwest Polite Society and its owner Chuck Zimmerman? Why isn't any relationship made clear on your website?

What is the nature of the deal between Seattle Pride, Northwest Polite Society and Encore/City Arts to produce the "Official Seattle Pride Guide"? Who benefits financially from this deal?

Why was Encore given the deal to do the Pride Guide? Was it opened up to bidding from other media companies? Is it a coincidence that the head of Northwest Polite Society was married to the then marketing director at Encore/City Arts when the deal was made two years ago?

Where is all the money from these very profitable sponsorship deals going? Seattle Pride now only produces a rather bland parade and the picnic/festival event two weeks before. The staff of Seattle Pride is largely unpaid. Where is all the money going?

Why is everything done in secret at Seattle Pride? Where are the community meetings to elect board members or to vote on themes or marshals? Seattle's LGBTQ community has NO voice in how our Pride events are produced.

WHY do we need two separate organizations to produce our official Pride events? The PrideFest team has done a superior job for the last 10 years…isn't it time to disband Seattle Pride (formerly Seattle Out and Proud) once and for all  (based on their mediocre performance of the last decade) and have PrideFest take over the whole thing?
WHY HAVEN'T THEY RELEASED ANY INFO ON NEXT WEEK'S ALLEGED PUBLIC MEETING???
Here's a list of Seattle Pride's current staff/board. Not surprisingly, the only contact info for Seattle Pride is an info @ seattlepride.org email address. We urge you to contact them to demand a public meeting and an end to their secrecy and subterfuge.
Interim President and Chairman of the Board
Kevin Toovey
Vice President Elect and Director of Sponsorship
David Hale
Treasurer and Director
Christine Lyon
Secretary and Communications Director/Editor in Chief, Seattle Pride Guide
Alex Nugent
Directors
Director of Outreach
Melissa Celia Garcia
Director at Large
Anne Melle
Director at Large
Jeff Cornejo
Director at Large
Alex Bana
Director at Large
Julia Lacey
Director at Large
Christopher Nichols
Director at Large
Mitchell Moczulshi
Director at Large
Stephanie Bailey
Director at Large
Álex Baña
Director at Large
Ryan Lum
(Visited 1 times, 1 visits today)