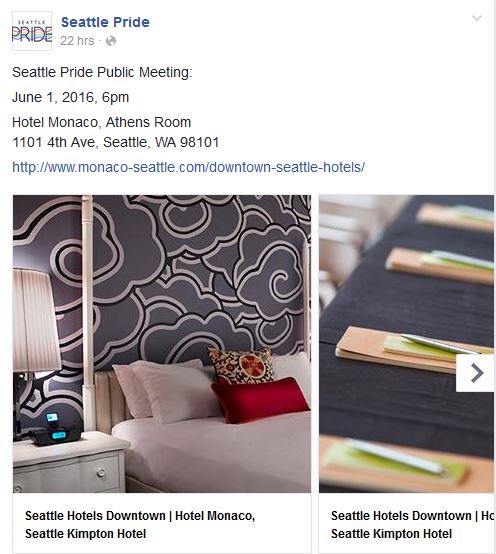 After a week of nagging on our part, the beleaguered Seattle Pride finally announces a location for a June 1st community meeting.
In the never ending soap opera that is Seattle and its pride celebrations, the staff and board of Seattle Pride were at the center of a controversy  last week that had Seattle's LGBTQ community in an uproar. Alaska Airlines and their LGBTQ employees charged they were told they could not march in this year's Seattle Pride Parade on June 26th due to exclusivity clauses in Seattle Pride's contract with presenting sponsor Delta Airlines. Delta outbid Alaska this year and ousted the locally based airline as the exclusive airline sponsor for the parade; Delta and Alaska are in a fierce battle for market share across the country. Danny Westneat from the Seattle Times broke the story last Tuesday, May 17th and other media outlets (well, mainly us actually…) and social media quickly ran with the story which blew up in Seattle Pride's face.

Pride and Delta quickly issued statements clarifying that Alaska employees were not going to be banned from marching in the parade and by Thursday night, Seattle Pride president Eric Bennett resigned his non-paying position with the organization. Kevin Toovey was named interim president to serve out the rest of Bennett's term which was due to expire at the end of June. Mr. Toovey will also elected to serve as president for the 2016/17 term for Seattle Pride at their meeting earlier in May of this year.
Since then, Seattle Pride has scrambled to find a location to host a public meeting. By state law, non-profits are obligated to provide some public access to board meetings. Finally, Seattle Pride has announced via their Facebook page that they will have a board meeting on June 1, 2016 at 6 pm at the Hotel Monaco's Athens Room ,1101 4th Ave.  Hotel Monaco is a sponsor of Seattle Pride.
We're bringing OUR list of questions. We encourage all concerned LGBTQ and allied residents of Seattle to attend and get some answers as to why Seattle Pride has so many problems.
Tags: "The Great Airline Gay Sponsorship Skirmish of 2016", Public Meetings, Seattle Out and Proud, Seattle Pride Board, Seattle Pride Scandal 2016