Eric Bennett, the beleaguered president of Seattle Pride resigned from his office last night, Wednesday May 18, 2016. David Hale, the current Sponsorship Director at Seattle Pride will serve as the interim president. Correction: Kevin Toovey, the current Vice-President of Seattle Pride will serve as interim president. Bennett quit just a couple months before his term was due to expire from the unpaid position with the non-profit. Both Bennett and Seattle Pride have come under attack in the last two days in "The Great Airline Gay Sponsorship Skirmish of 2016" as both Seattle Pride and Delta Airlines were heavily criticized in regard to reports they were banning employees from Alaska Airlines from marching in the 2016 Seattle Pride Parade while displaying any form of corporate logo. Delta outbid hometown airline Alaska to become the presenting sponsor for this year's event. It's just the latest in a series of fierce battles to gain control over sponsorship of numerous local community events like the Pride Parade, produced by Seattle Pride, as well as the PrideFest Festival produced by a separate group headed by Egan Orion, and other festivals and non-profit celebrations.
Since the news broke this week with a published story in the Seattle Times, the local community has called for explanations and apologies for the public relations nightmare. Both Delta Airlines and Seattle Pride issued statements on Wednesday that clarified they would not ban Alaska Airlines employees from participating in the Parade. The original statement from Seattle Pride wasn't as clear as some would have liked and Eric Bennett issued this statement later in the day to make it quite clear that Alaska Airlines and their employees were welcome at the parade:
"In light of the recent press I would like to clear the air and state I misinterpreted the contractual obligations set in place for Delta Airlines and I wish to retract my statements made to the Alaska Airline Corporation with regards to participation in the 2016 Seattle Pride Parade.

It was not my intention to exclude any groups or individuals, regardless of their company loyalties, employer, and group associations. While our sponsors allow us to produce a quality Pride Parade each year, I misunderstood the terms of one of these sponsorships and misrepresented that contract. I apologize for my miscommunication and any hurt feelings I caused.
As always, Seattle Pride stands for inclusiveness and the celebration of all the diversity within our community. As the representatives of the Seattle Pride Board have stated, it is our goal for all members of our community to participate in the Pride Parade, and we will continue to work toward that goal. I sincerely hope GLOBE and Alaska Airlines will accept our invitation to proudly march in the parade, wearing whatever they wish, just as they have always done in the past.

Eric Bennett
We've learned from sources close to Seattle Pride board members, that after that statement was released, Bennett made his decision to step down.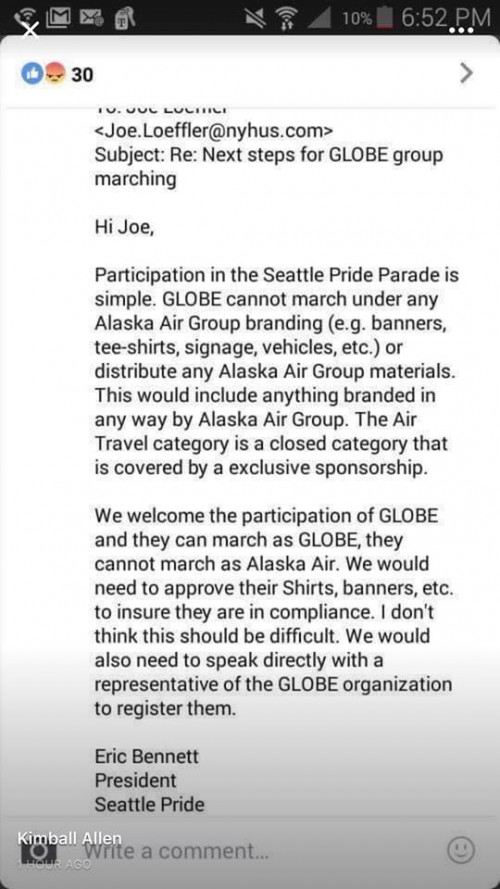 While Bennett's resignation is a step in the right direction, it's only the first step. Mr. Bennett did not act alone here despite reports to the contrary. Other members of the board and the other elected officers also have culpability here, including David Hale who as the acting Director of Sponsorship would have been/should have been instrumental in any discussions with Delta and Alaska over sponsorship deals. Mr. Bennett has come under fire for the following terse letter he sent to Alaska Air representatives over their role in this year's parade, but why was Eric Bennett, as the president of the organization, even dealing with this situation? Doesn't Seattle Pride have a communications director or a community liaison director to handle such things? If they don't, this begs the question, "why don't they?"
Eric Bennett made mistakes in his role as President of Seattle Pride but…he wasn't the only one. He shouldn't be the scapegoat for the failure of the entire organization including its staff and board members as well as figures "behind the scenes". These mistakes are all part of the larger problem that as an organization, Seattle Pride is a dysfunctional mess. It needs to be disbanded and others need to assume the production of Seattle's Pride Parade.
And, on a personal note, we wish Eric Bennett the best. We have known Eric for many years and he is a nice guy who genuinely cares for our community. Eric has worked tirelessly for many, many years for both Seattle Pride and GLSEN in roles that are largely voluntary. Yes, he has made mistakes as the president of Seattle Pride but he also didn't have the support of a capable board and he unwisely relied on bad advise from advisors who were only looking out for their own interests. Eric Bennett isn't the villain in this story. We wish him well in any future endeavors.
As for Seattle Pride and its future as the producing organization for the city's LGBTQ pride celebrations…their status is still to be resolved as many call for their removal.
To be continued.
(Visited 47 times, 1 visits today)