Looking for cheap entertainment options that involve campy theater, double/triple/quadruple entendres, cross dressing and filth?
We have two options for you this blustery autumnal weekend in Seattle.
First up: DEVIL BOYS FROM BEYOND the more "legit" of the two options (which basically means, it's an actual theater space and not a bar…) It's a silly silly play produced by the gay kids over at Fantastic Z and it's onstage at the Eclectic Theatre on Capitol Hill (10th and Union). "Devil Boys" is a parody of 1950s junky sci-fi films and features strange invaders from Uranus on the prowl in a hillbilly swamp town in Florida with a trio of fast talking New York reporters on their tail. It's not a terribly sophisticated script but director Darren Lee Johnson keeps the shenanigans appropriately fast paced (if not a tad too loud at times; some performances were at a level 15 when they needed to be at an 8 or so…) and there's enough dirty jokes to keep you highly entertained.
"Devil Boys" is also blessed with a really terrific lead performance from Jackie Miedema as a motor mouth lady journalist who's one part Katherine Hepburn with a dash of Rosalind Russell but oddly filtered with a William Shatner-esque line delivery…it has to be seen to be believed. She's backed up by a funny performance from Jane Martin as a bitchy older columnist (with a big secret of her own) and an amusing drag performance from Patrick J. Lucey-Conklin as a horny old housewife who's quite pleased to be serviced by some strapping young studs from Uranus. (You'll also be happy to know that those two studs, aka "The Devil Boys", Jordan Henderson and Robert Lovett are both appropriately studly and semi-dressed for their roles.)
Helen Roundhill's costumes on a budget are also a huge win for this show…she does wonders with vintage wear for the humans and some crazy sci-fi costumes for the Devil Boys and the women they "love".
I doubt I'll ever see another production of this play; it really is a dumb script, but Fantastic Z's charming show is a campy way to spend a fun evening…though it's always best to attend such kinds of plays a little bit "lit". A light boozy buzz (or hempish high) is the ideal way to enjoy campy, gay bar type theater.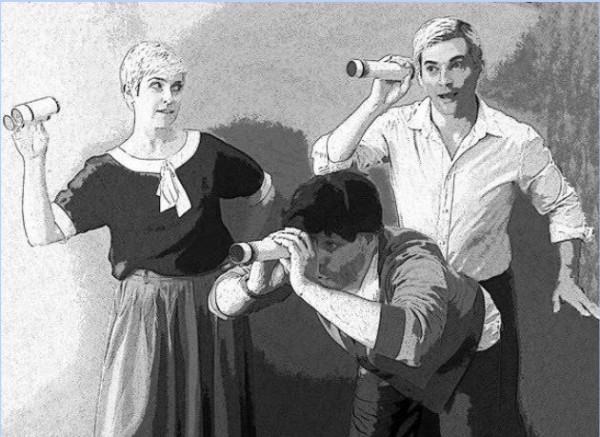 Which brings us to the second campy gay bar type offering of the weekend, the bizarro parody of another mid 20th Century piece of iconic entertainment, the old Nancy Drew and Hardy Boys mystery books for young folks. Here, the kooks of Crabgrass Productions which features many alumni of the late lamented Belltown theater company Open Circle, have created HARDY DREW & THE NANCY BOYS which VERY campishly parodies those long gone books of our misguided youth. Here, writer/director Ron Sandahl has created a pair of short one acts, each devoted to a detective. Act One stars Monica Galarneau as a very Sapphic "Nancy" figure involved in a very Lesbianese plot while Act II concerns "The Nancy Boys" (aka the Hardy Boys) played by Craig Trolli and Peter Farrar as rather dimwittedly horny gay brothers out to solve crimes and the side mystery of why their dad likes to dress like Dusty Springfield…
Yes, it's very, very silly and a tad overly simple but…it's gay barroom theater not Ibsen. Galarneau is an appealing perky"Hardy Drew" and Trolli and Farrar have been playing these goofy kinds of characters for the last decade. The supporting cast is fun, too with Todd Hull slyly devious as the cross-dressing dad Fenton Nancy and John McKenna just as fey as Carson Drew. Shannon Kipp and Deniece Bleha nicely round out the cast with several cross-dressing ensemble roles and if the performances all seem to be a tad tongue in cheek, well, what else would they be?
Again. Not Ibsen.
More like Buddy Ebsen….hopped up on speed and Jack Daniels.
Get drunk/high. Go see some silly shows.
Hardy Drew & The Nancy Boys is at Re-bar, 1114 Howell Street on Friday/Saturday nights Oct 14/15. Tickets online or at door. Note: Re-bar is 21+ and Cash only.
Devil Boys From Beyond is at Eclectic Theatre, 1214 10th Avenue on Friday/Saturday nights Oct 14/15. Tickets online or at door.
(Visited 1 times, 1 visits today)