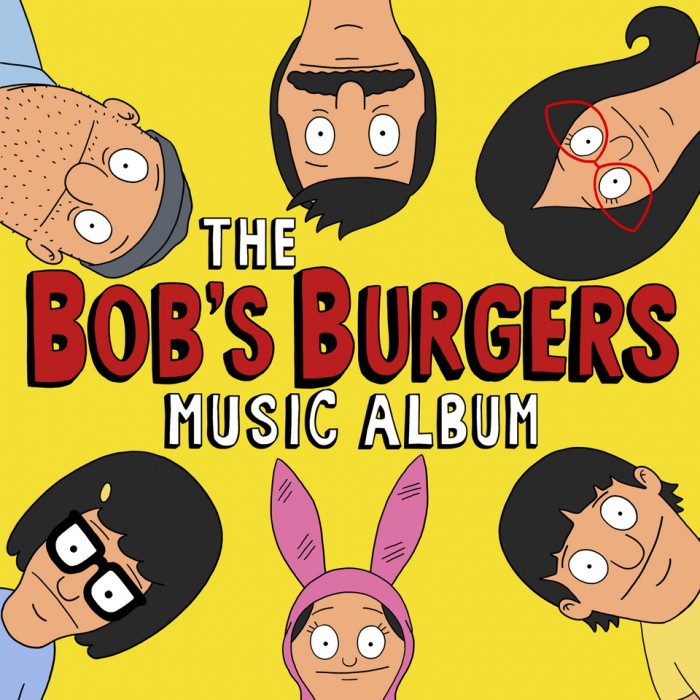 We love Bob's Burgers, the quirky FOX TV animated series about the burger restaurant owning Belcher Family and their wacky antics involving themselves and their friends and family in an adorable and vaguely Jersey Shore-ish seaside town.
One of the chief delights of the series is the music. The writers pretty much have a song (or two) in every episode and most of them are original compositions. None are very long; most are 30 seconds to a minute long but they tend to be funny, charming and very, very catchy. Frequently, the songs emerge from the characters own love for music with the best example being Linda, the Belcher mom who is actually voiced by gay comedian John Roberts who in real life has a habit of bursting into random bits of quirky made up songs. The writer of the show began incorporating many of those songs into the show and quickly started adding other songs for the rest of the characters including for the Belcher son Gene (voiced by comedian Eugene Mirman) who has a passion for music and composes songs, as well as talented guest actors like Megan Mullally who plays Linda Belcher's sad sack sister Gayle and Tony Award winner Kevin Kline who plays their eccentric landlord Mr. Fischoeder.
The songs are a lot of fun (if you like quirky silly songs) and there's some clever writing here with both the lyrics and the music. Particular favorites of ours include Gene's flatulent "The Fart Song"; the Gayle/Fischoeder love duet "Electric Love" (about Edison's notorious electric experiments involving an elephant); Gayle's ode to a boy she crushed on when she was in high school, "Derek Dematopolis"; and, "Slumber Party Fashion Show" which is something we've ALWAYS wanted to do! (Wouldn't you want to come to "SGS Presents Slumber Party Fashion Show"?)
Many many other people love "Bob's Burgers" and their songs as well so Seattle's own hometown music label SUB POP got involved and now you don't have to troll YouTube to find your favorite "BB" song…they're releasing all of them for home enjoyment on May 12th! (Go HERE to pre-order). There's even an option for a super duper deluxe set that includes all sorts of exclusives including a sheet music songbook, posters  and so much more.
Here's all the poo…and, we need to start seeing some "Bob's Burgers" numbers in drag and burlesque shows.
Hint, hint…
MORE: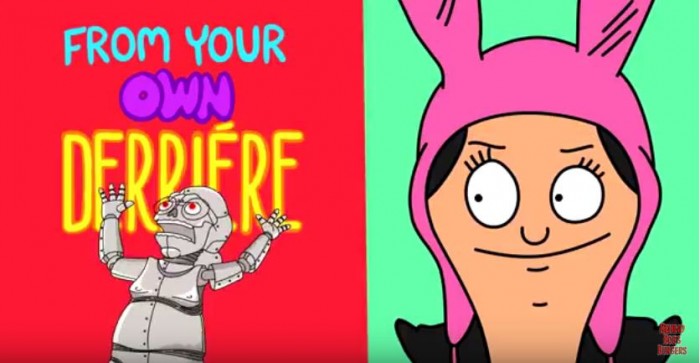 The Bob's Burgers Music Album

RELEASES WORLDWIDE ON MAY 12TH


The album, from Sub Pop Records, features 107 songs from the first 107 episodes of the Emmy-winning FOX animated hit.


Deluxe Limited-Edition Box Set includes the 3xLP gatefold on "condiment-colored" vinyl, the 7" single, a hardbound lyric book with original artwork, a sheet-music songbook, 3 original posters, and more.


Both LP editions include a 7″ single (on white vinyl)

of the "Bob's Buskers" songs


Listen:
"Bob's Theme Song" [link here]
"Bad Stuff Happens in the Bathroom" [link here]


Watch: The Bob's Burgers Music Album Unboxing video [link here]


SEATTLE AND LOS ANGELES – February 23, 2017 – On May 12th, Sub Pop will release The Bob's Burgers Music Album: an expansive collection of 107 songs from the first 107 episodes of 20th Century Fox Television's Emmy-award winning hit comedy.  The album features music performed by the main cast members – Bob (H. Jon Benjamin) and Linda (John Roberts) and their children Tina (Dan Mintz), Gene (Eugene Mirman) and Louise (Kristen Schaal) – singing original songs that build on the show's unique sense of humor.


The Bob's Burgers Music Album is produced by the series creator and executive producer Loren Bouchard's Wilo Productions in partnership with Bento Box Entertainment, with Sub Pop licensing the rights from Twentieth Century Fox Television.


The album includes many of the show's recurring and special guests, from comedians like Aziz Ansari, Sarah Silverman, Kevin Kline, Bill Hader, Zack Galifianakis and Fred Armisen, to musical guests Cyndi Lauper and Carly Simon. The album also includes an additional five "Bob's Buskers" cover versions of songs from the show performed by St. Vincent, The National, Låpsley, and Stephin Merritt of Magnetic Fields.


The standard version of The Bob's Burgers Music Album will be available in three formats: 2xCD, 3xLP+7," and digital. Meanwhile, the deluxe, limited-edition box set version of the album includes the 3xLP+7" on "condiment-colored" vinyl (ketchup red, mustard yellow & relish green), plus a hardbound lyrics book with exclusive Bob's Burgers artwork, a soft cover sheet-music songbook, three original posters, a six-piece sticker pack, and a patch. Both the standard and deluxe LP editions include the five "Bob's Buskers" tracks on a white 7" single.


The Bob's Burgers Music Album is now available for preorder worldwide from Sub Pop [link here].


A 20th Century Fox Television production, Bob's Burgers was created by Bouchard (Home Movies).  Bouchard and Jim Dauterive (King of the Hill) serve as executive producers and writers, with animation produced by Bento Box Entertainment. Fans can "like" Bob's Burgers on Facebook at www.facebook.com/BobsBurgers, follow the series on Twitter and Instagram @BobsBurgersFOX and join the discussion using #bobsburgers.


The seventh season of Bob's Burgers airs Sundays at 7:30 p.m. ET / 6:30 p.m. CT on FOX.


For more information, visit behindbobsburgers.com.
Tags: Animation Domination, Belcher Love, Bob's Burgers, Fox, Sub Pop Records, The Bob's Burgers Music Album