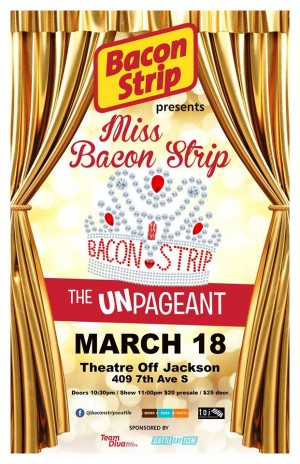 Yes, it's time for the Miss Bacon Strip "UnPageant" the ever fluctuating annual pageant at Sylvia O'Stayformore's "Big Gay Variety Show" aka BACON STRIP, her monthly drag party that has been going on for so long, we've lost count how old it is!
We say "fluctuating" because sometimes they do it in March, or April, or May, or June, or….
It's a highly prestigious honor…the first winner went on to win RuPaul's Drag Race and the 2nd winner is a New York Times bestselling children's book author/illustrator and…after that it's been all down hill but there's still hope they'll have another memorable winner someday, right?
RIGHT??!?!?!???!!!!
The 2017 pageant is this upcoming Saturday, March 18th at Theatre Off Jackson in the International District with Sylvia and her co-hostess Honey Bucket on hand with the usual gang including DJ Tony Burns and lots of trashy drag queens and barely clothed stage studs. Snatch tickets HERE!
Here's more poo from Sylvia on this year's pageant…it's a do not miss party of perversion and cheap bacon!
Sylvia O'Stayformore and Mizz Honey Bucket, local performers from the outrageous Bacon Strip, are bringing back one of the most popular shows of Bacon Strip. Miss Bacon Strip the unpagaent, is not your normal beauty pageant. Prepare to be shocked, amazed and entertained. Now in the international district at Theatre Off Jackson.

This year's constants going for the crown, $100 and the unlimited fame this title provides.

This year's contestants include:

Strawberry Shartcake
Arson Nicki
Vanity White
Kara Sutra
Plus More!

Celebrity judges will be tallying up the points for the winner: Apostrophe Linehan (Miss Bacon Strip 2016) Shana Deon (Sirens Treasured Chests), LaTrina Bidet (Lafemme Magnifique Plus International 2013, The First Fetus Empress 2000 of the Seattle Rainer Court) Michelle Braasch (Owner of Hudsons and Smarty Pants), Adrian Ryan (City Arts Magazine), and Jason Plourde (Twist Film Festival). This show is thick with talent! We promise, hot go-go boys, crazy live performances, out of control talent and fun. So come on out and get your fill of the gurls and of bacon served fresh at Bacon Strip.

Bacon Strip would not be complete without our Super Talented DJ Tony Burns, superhot James Darling, stage stud Beau Backman, and beefy meatman Deonta David Bebber serving up the main course – Bacon!
(Visited 2 times, 1 visits today)