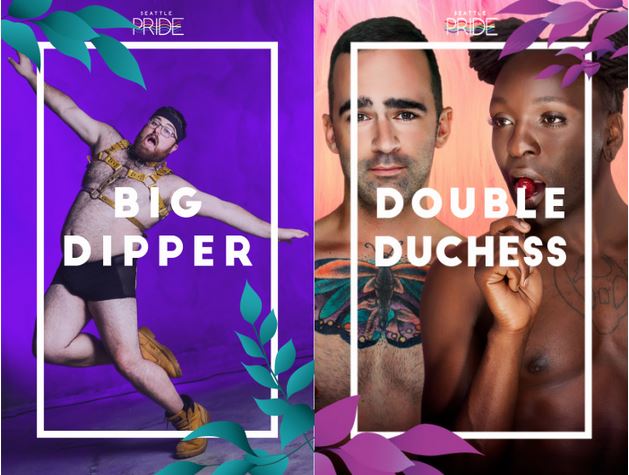 After years of complaining, Seattle Corporate Pride finally listened to me and has made an attempt to funk up the boring event formerly known as the Seattle Pride Picnic. (insert sarcastic emoticon HERE!) You remember the Pride Picnic, right? Held on the second Saturday in June and featuring community booths, community entertainment, and community hot dogs for the entire family focused community? Rather dully programmed? Like a church social in Hooterville but minus the usually terrific homemade country food you find at rural church events. Or, anything very fun to do like same sex square dancing or making out in a big pile of hay.
Last year (or the year before that?) Seattle Corporate Pride oddly rebranded the Pride Picnic to "VOLUNTEER PARK PRIDE FESTIVAL" which frankly just confused everyone since it was mostly just a name change but still featured the mostly bland elements of the Pride Picnic. Plus they did nothing to market or publicize the change since Seattle Pride has pretty much stopped bothering to reach out to local LGBTQ media (including SGS, Seattle Gay News and The Seattle Lesbian) since Northwest Polite Society's Chuck Zimmerman took over the reins at Seattle Pride a few years ago. Since local indie queer media can't afford to pony up big bucks for sponsorship, Seattle Pride has switched their media allegiances to KIRO TV, various radio stations and Encore/City Arts who can afford to spend money…or, in the case of Encore/City Arts it was the employer of Northwest Polite Society owner/Seattle Pride sponsorship kingpin Chuck Zimmerman's husband Marty Griswold, the then associate publisher at City Arts who has since moved on to be publisher of Seattle Met Magazine. Which is odd since while most of these companies can command much larger reader/viewerships than any LGBTQ only media outlet in town, they are also very unlikely to promote "Volunteer Park Pride Festival" too much on the evening news or during prime time on the radio. I don't see Steve Raible doing many reports on "DonnaTella Howe named Pride Parade announcer!" or local shock jocks urging their 98% straight listeners to check out the Gay Men's Chorus singing in Volunteer Park. Yet, Pride shut out the only media outlets who actually have any interest in promoting those announcements…
Dumb.
I digress. This post is supposed to be about Seattle Pride announcing today the line-up for this year's Pride Picnic, er, I mean "Volunteer Park Pride Festival" happening on Saturday, June 10th from Noon to 7 pm. I'm copying and pasting the info released from the FB invite because Seattle Corporate Pride failed to send out a press release about the announcement…
Join us for the annual Volunteer Park Pride Festival (formerly known as the Pride Family Picnic) on Saturday, June 10th 2017 from 12noon-7pm! The Volunteer Park Pride Festival is a chance for family and friends to come together in one of Seattle's iconic parks and celebrate our amazing LGBTQ community. As in years past, we'll have LIVE MUSIC, BEER GARDEN, FOOD TRUCKS, CRAFT BOOTHS, AND GAMES throughout the event!

2017 VOLUNTEER PARK PRIDE FEST MUSICAL LINE-UP:
Big Dipper – https://www.youtube.com/user/bigdippermusic
Double Duchess – https://doubleduchess.com/
Sassyblack – https://sassyblack.bandcamp.com/
SISTERS – https://www.sisterstheband.com/
Prom Queen – http://promqueenmusic.com/
Mode Music Studios' Nuclear Quartet – http://modemusicstudios.com/
DJ Toya B – https://djtoyabyo.wordpress.com/2015/09/15/hello-world/

Now, more than ever, it's important to have conversations about the impact of the new administration to the LGBTQ community, so we're inviting community leaders, partners, and organizers to speak throughout the event. We'll also have non-profit organizations from our community and Seattle Pride Sponsors who make this and the Seattle Pride Parade possible.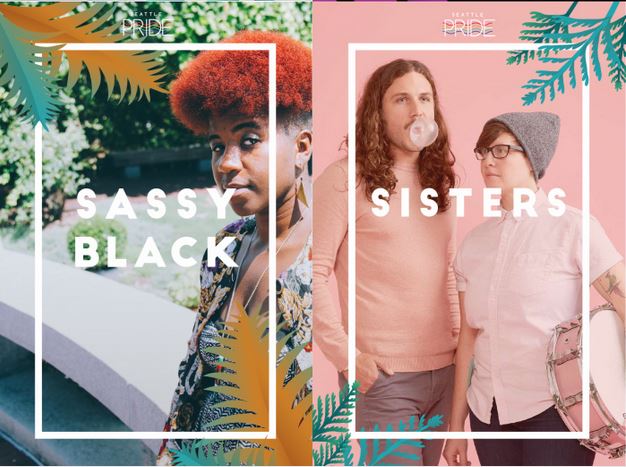 Here's a bit more detail about the talent…interesting to note that several of these names have been booked by Seattle PrideFest's L.A. Kendall for previous PrideFest celebrations on Pride Sunday at Seattle Center.
Monkey see, monkey do!!
BIG ANNOUNCEMENT! Introducing the OFFICIAL LINEUP to this year's Seattle Pride 2017: Volunteer Park Pride Festival! Don't miss it!

The 2017 Volunteer Park Pride Festival is turning up the volume this year with musical performances by:

Big Dipper; a rapper, DJ, and music video artist from Los Angeles, also known as "hip-hop's raunchiest bear."

Double Duchess; San Francisco's queer electro-hop duo, known for their "explosive and mesmerizing live performances."

Sassyblack; a space-aged singer and producer, and the "goddess of electronic psychedelic soul & hologram funk."

SISTERS; Seattle's beloved experimental pop-rock duo, whose only goal is to "make you feel, and feel good."

Prom Queen; a dreamy vintage-pop, doom-wop band who've been called "a tour de force of high camp and unrepentant glitz."

Mode Music Studios' Nuclear Quartet; a group of Seattle's most talented future rock stars who will kick-off the day's events with a selection of Pride-inspired pop cover hits.

DJ TOYA ; a soul, hip-hop and dance DJ "addicted to glitter, hip hop glamour and Barbie doll fashion."
It's nice to see Seattle Corporate Pride make an effort to funk up their "festival". I hope the family elements are still in place, too. And, cheap hot dogs.
But, they still need to do a much better job of communicating with the community.
It's not that bloody difficult. KIRO isn't going to get the word out on "Sassyblack" turning up for your event. But, SGS and SGN and The Seattle Lesbian WILL do that kind of promotion for you.
If you ask nice.
(Visited 1 times, 1 visits today)