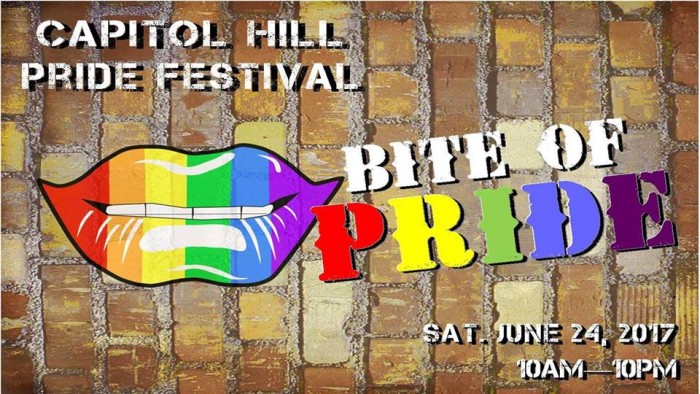 The City of Seattle has apparently had enough of the Capitol Hill Pride/Broadway Pride event producers. Last week, the city shut down their plans for a two day event that was to include a solidarity march to the national Equality March in Washington D.C. (A competing Seattle solidarity march went on as scheduled). Now, the city is telling the same event producers who operate under the names "Northwest Museum of Legends and Lore" and "Capitol Hill Pride Festival" and is headed by Charlette LeFevre that they are being denied permits to stage another event on Saturday, June 24th. That event was a rebranded version of their traditional Capitol Hill Pride/Broadway Pride Street Fair they've held on Capitol Hill's main thoroughfare Broadway between John and Aloha for the last several years. In a confusing display of organization skills,  LeFevre moved this year's event to Saturday June 10th and Sunday June 11th which annoyed many Broadway merchants as well as small businesses and non-profits who had paid for booth space during the festival. LeFevre then also created "Capitol Hill Pride: Bite of Broadway" on the original scheduled date to appease those businesses thus planning on having three days of Pride related events on Capitol Hill during the month of June 2017.
But, the city has apparently had enough of LeFevre and her confusing business practices. As reported last week, the city denied her group the permits for the June 11/12 events which LeFevre repeatedly ignored. When Capitol Hill Pride began setting up their staging areas for last weekend's event, the city quickly responded and shut down those preparations. Capitol Hill Pride's refusal to accept the City's original decision on that festival was the chief reason given in today's announcement that LeFevre and Capitol Hill Pride would be denied permits for the June 24th event. The notice also cites an injury sustained by a woman during that unauthorized set up by Capitol Hill Pride as another reason for the refusal.
It should be stressed that this refusal of permits is ONLY related to the Saturday Capitol Hill Pride events happening on Broadway. This has nothing to do with Seattle Pride's annual parade on Sunday, June 25th or the events produced by Seattle PrideFest including their events scheduled at Capitol Hill's Link rail site and in adjoining Cal Anderson Park on Saturday June 24th or the main PrideFest event at Seattle Center on Sunday June 25th. ALL those official events will continue as always.
The City's strongly worded release today on refusal of event permits for Charlette LeFevre's "Capitol Hill Pride" group seems to indicate the city is no longer interested in working with that event organization and suggests it would be happy to work with OTHER event organizers for a similar event on Broadway in the future.
"We're still absorbing this news," says PrideFest Executive Director, Egan Orion. "Rest assured, all PrideFest Capitol Hill events will still be occurring and we'll be talking with the Capitol Hill Chamber, Broadway BIA, and the Broadway businesses to determine the best way forward. This is an event that the community has enjoyed for years and the recent shenanigans around the June 10 attempted activation for an umpermitted event (hurting the community, businesses, vendors, and apparently an 83-year-old woman) seem to point to the fact that we, as the community that lives, works, and plays on Capitol Hill, and the LGBTQ community, whose historical home is on the Hill, deserve better. There will still be Pride on Capitol Hill, it just might look a little different than you're used to. For now, we'll let the Chamber of Commerce take the lead and hopefully we can find a solution that in the short time to the festival can be executed with benefit to the greater community."
UPDATE:  News has just been announced that the Capitol Hill Chamber of Commerce and Seattle PrideFest have teamed up to save the Saturday Broadway event.  Read more HERE
Here is the full release from the City of Seattle:
The City of Seattle Denies Permit for Capitol Hill Pride – Bite of Broadway  for June 24 

SEATTLE (June 15, 2017) —  The City of Seattle denied a permit for Northwest Museum of Legends and Lore (a.k.a. Capitol Hill Pride Festival) for June 24 on Broadway. The permit was denied after Northwest Museum of Legends and Lore attempted to set up an unpermitted street festival on June 9, 10 and 11th and caused an unsafe condition resulting in an injury of an elderly woman.

In that case, the event organizers were notified on May 11, June 1, and June 8 that street parking reservation and street closures for tables, vendor booths, portable toilets, and other event set up were not granted as part of the permits issued for a June 10 and June 11 free speech event, in which 4 people participated.

The City of Seattle sent a letter denying the permit request for June 24th on June 15, 2017. In the letter, the City of Seattle wrote in part:

Your application for "Capitol Hill Pride – Bite of Broadway" (formerly "Capitol Hill Pride Festival") is denied.  This is because you have violated the terms and conditions of the Special Events Permit that was issued to you for a march and rally on June 10, 2017, by 1) erecting approximately 60 or more "No Parking" signs along Broadway Avenue without permission, 2) by placing approximately eight or more port-a-potties on the Broadway Avenue sidewalk without permission, 3) by attempting to close the southbound lanes of Broadway Avenue without permission, 4) by allowing event participants to erect tents on the west sidewalk of Broadway Avenue without permission, and 5) by erecting an unauthorized 12' by 12' stage on the west sidewalk of Broadway Avenue without permission.

The full letter and supporting documents can be found here:  http://bottomline.seattle.gov/wp-content/uploads/2017/06/Capitol-Hill-Pride-Bite-of-Broadway-Permit-Denial-06-15-17.pdf

This decision does not impact the 43rd annual Seattle Pride Parade scheduled for 11:00 AM on June 25th along 4th Avenue in downtown Seattle. Nor does it impact Seattle PrideFest on Saturday, June 24th on Capitol Hill and Sunday, June 25th at Seattle Center.

The City is eager to work with other community organizers who may choose to come forward to plan an event for the traditional Broadway event that is impacted by this decision. If organizers come forward, the City will conduct an expedited permit review process to minimize the impact to the community and businesses.

The City of Seattle has a long history of support for the LGBTQ communities. The City of Seattle is proud to be home to one of the largest and oldest Pride parades in the world. The City was one of the first in the nation to recognize domestic partnerships, to offer transition as a benefit in healthcare for transgender City employees and to protect LGBTQ residents from discrimination in housing, employment, and other public accommodations. Every year, City employees voluntarily participate in Seattle Pride events with their friends, family, and coworkers. The City of Seattle also filed amicus briefs before the Supreme Court supporting nationwide marriage equality.
(Visited 1 times, 1 visits today)