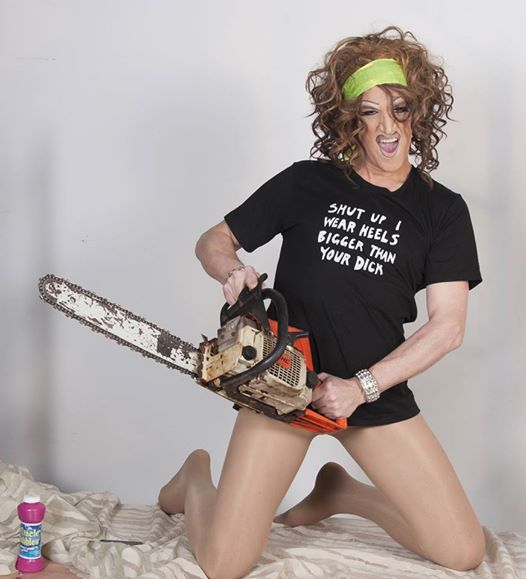 It gonna get all queer arty and shit on Capitol Hill tonight, kids…
It's the annual Queer/Seattle PrideFest takeover of the monthly Capitol Hill "2nd Thursdays of the Month" Art Walk which showcases the artistical works of dozens and dozens of LGBT QUEER artists at venues all over Capitol Hill including the trendy Pike/Pine Corridor of Gentrification but also Broadway and Olive/John and 15th Street and 12th Street and Madison and…
All over.
Times vary sorta depending on the venue (much of the art is already up and ready to go in bars/restaurants/shops) but the venues holding artist receptions will have those events open roughly between 6 pm and 9 pm tonight, Thursday June 8th.
Here's a link to a full rundown of all the participating venues with artists listed AND a handy map!
Some of the ones that pique our interest include
Mark Finley's "Someone Get Me a Chainsaw"
which is a retrospective of the career of the notorious Seattle Drag Diva Mark "Mom" Finley, that old queen you either j'adore or j'detest and to be honest we kinda j'adore the old bag of bones so we think it behooves you to head all the way up to the Inartsnw Artist's Collective up at  17th & Olive which is kinda kitty corner from Trader Joes. It's that fun arty farty airy fairy faggy waggy spooky old building with the big turret and all the fun kooky arty kids living in it. Here's more poo on what Ms Finley will be up to, tonight:
FOR JUNE'S CAPITAL HILL PRIDE ART WALK!!! MARK FINLEY!!

Beware She's Loose!!!

It's been about a decade since Mark Finley tried to make a comeback; at least 2 decades since she's done a new live show; and she's been stuck in this damn town for nearly 3 – wasn't she supposed to be dead by now?!?!

Thanks to the wonderful people at INArtsNW (1633 17th Avenue, Seattle, WA 98122) Seattle Theatre & Drag Icon Mark "Mom" Finley is doing a one night only new live show for PRIDE during the Capitol Hill Art Walk – Thursday, June 8 from 6pm to 10pm. "Mom's Museum: A Queer Life in Retrospect" will be the first public installation of Finley's unique artwork, along with some of his crazy haute couture costumes on display in the venue's lobby and gallery spaces. There will be "Docent Tours" of the installation at 6:30pm and 8:30pm led by noted Finley Historian, Beatrice Verna Louise Davis of the Wandering Gypsy Mobile Estates.

If that wasn't enough – in the black box theatre downstairs Mark will be holding audiences hostage with a chainsaw at 7pm & 9pm for his world premiere new one man show Someone Get Me A Chainsaw! The evening promises to be full of Finley's unbelievable stories, funny songs, classic performances, and maybe even some piano playing!! As the "script" will be pulled out of a button bag live during the performance, He won't know what he's performing until that minute! And you wonder why she wants the chainsaw!
We're also intrigued by the following shows happening tonight (with most of them running all month long at their respective venues).
Calypte Gallery
Queer Art Walk show! Andrew Lamb Schultz – The Garden of Faggy Delights. Scenes of a utopic queer daydream, a brief reprieve from the way things are, into to the way things could be. Tableaux of leisure, self-care, daydreams, and the highs of late spring, early summer. 5:30 – 8:30 pm.
Center of Contemporary Art (CoCa)
Seattle's Center on Contemporary Art (CoCA) announces a new temporary artist-in-residency program, "CoCA Gener8." 9 artists were selected to generate work & complete large scale projects in this large office space. Curated by Sara Everett and Nichole DeMent. Featuring Wyly Astley, Jean Bradbury, Jazz Mom, Amina Maya, Kamari Bright, Makena Gadient, Dylan Tucker, Stefan Gonzales, and Melanie Voytovich. Open 6-9PM during Art Walk.
Fred Wildlife Refuge
"Leftovers Vol. 1" is an evening built to inspire new works of art from the old. Chef team Zachary and Seth Pacleb of Brothers & Co., aim to engage all five of your senses, with a new experimental process for creating visual art work using inedible food scraps from their kitchen. We invite you to join in and help create this new piece, titled "OFF MENU." We will be joined by amazing cast of friends and collaborators: local choreographer, Hilary Grumman, and a troupe of dancers, floral designer Ashley Jade of the Jade Plot, Dylan Ward and Anthony Hoopes of Sleep Nod. They too, have been challenged to reach back and find pieces of their own that will be reimagined and showcased on this unique platform for expression. FREE, 21+
Saint John's Bar and Eatery
Featuring Seattle artist John Hunter! Bright and beautiful paintings from John's "Cosmos" series. On view through early August, also online at ghostgalleryshop.com
True Love Art Gallery
For the month of June, come explore the whimsical, colorful, immersive character art of four PNW artists. Featuring Aaron Jasinski, Abby Fields, Rhodora Jacob, & Krissy Downing. Opening reception 6-10pm with music provided by DJ Kid Amiga!
Vermillion
Queer Art Walk show! Adrien Leavitt's "Queer Feelings" is a photographic exploration of queerness and our intimate, complex relationship with our bodies, both physically and emotionally. This body of work presents vulnerability by blurring the space between private and public realities and expresses a new reality where our desire, mutability, and openness are able to gaze back at us. This ongoing project is already over 3 years in the making.
Art Cave
Queer Art Walk Show! Pride-themed, hand painted snap back hats, resistance T-shirts, and new paintings by David Johansson. Come on down the ramp to visit the Art Cave between 5:00-9:00 pm.
(Visited 3 times, 1 visits today)