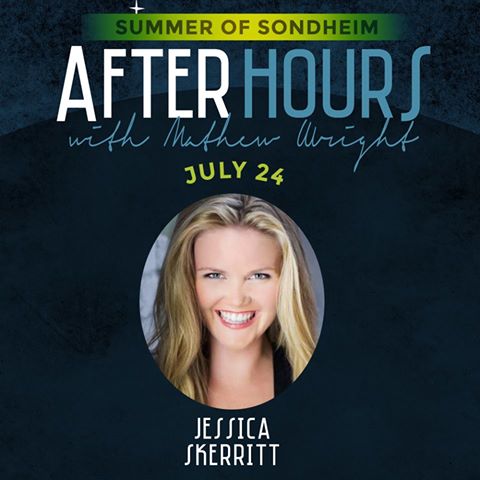 Everybody says don't do Sondheim, too offbeat, too musically complex, too dark. I would add too marvelous for words. For just as my own new Theatre company is prepped to announce a 2017-2018 season weighted with works by this sage, singular Broadway composer/lyricist, Arts West's returning After Dark with Matthew Wright cabaret series, this year solely devoted to the man who gave the world Company, Follies and  A Little Night Music,
First up in After Hours-Sondheim is Seattle musical specialist, actor/director Eric Ankrim. In a recent chat, Ankrim admitted his own song set was still being handpicked for him by fellow Sondheim lover, cabaret host and AW Artistic director Mathew Wright. "I expect a set we arrive at together will be a grab bag of well and lesser known Sondheim songs. I just hope I can get them all polished and thought out by 7:30 Monday!"
The next two Mondays two of Ankrim's contemporaries popular musical theatre actress Jessica (Grey Gardens, How to Succeed, Singin' in the Rain and A Christmas Story) Skerritt and rising playwright/actor/musician Justin (Lizard Boy) Huertas (with Rheana Atendedo) will lend their uniquely individual vocal skills and personalities to the series.
ArtsWest Cabarets can be enjoyed from stndardPlayhouse seats or an intimate Table for Two. Single tickets and subscriptions are available. With the Table for Two (both as single tickets and subscriptions) patrons will enjoy a complimentary bottle of wine and nibbles to accompany the performance.  Visit http://www.artswest.or or call (206)938-0339 for tickets and further information. Anyone can whistle? That's what Sondeheim says. Easy.
(Visited 1 times, 1 visits today)