Well, that was quick.
It's August 1st and there is already a new sign in the window at 1518 11th Ave on one of Capitol Hill's hottest night life streets between Pike and Pine. Purr Cocktail Lounge, the popular gay venue owned by Barbie Roberts just vacated those premises this weekend after a monstrous rate hike forced her out to a new location in Montlake at the northeast base of Capitol Hill.
Today, a new sign has appeared in the window at the former Purr spot: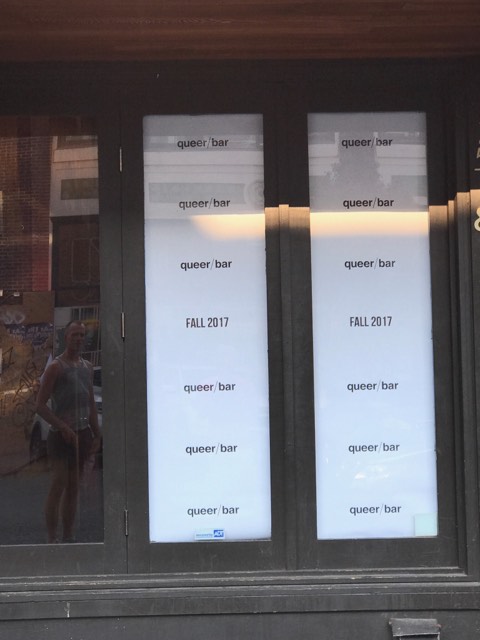 It's a simple paper banner announcing " queer / bar " and "FALL 2017".
We've checked King County's liquor licensing website and as of the last update, Monday, July 31 there hasn't been an application for a new venue under this name. There's also speculation that this might not be the actual name of the new venue but simply stating the new club's intent to continue the space as an LGBTQ establishment. A question has been raised that the Washington State Liquor Control Board might not permit a bar to use "queer" in its name; while many people have reclaimed that word, some LGBTQ people consider it a slur.
We're also investigating numerous reports from various sources that the new venue might be a new start up by the Guild Seattle group…aka Dave Meinert, Jason Lajeunesse and Joey Burgess who own the bar Grim's, just two doors down from the old Purr space, as well as Big Mario's Pizza, Lost Lake Cafe and Comet Tavern. Meinert also owns The 5 Point Cafe while Lajeunesse owns popular Capitol Hill music venue Neumos and the annual Capitol Hill Block Party. If this is true, this would be the group's first official LGBTQ designated establishment though all their other businesses are obviously LGBTQ friendly and the group employs many gay people.
Working on getting confirmation.
MORE to come.
(Visited 10 times, 1 visits today)