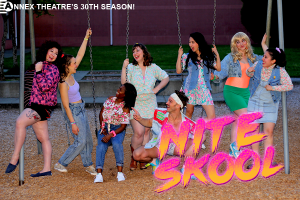 Just when it seems like the country has completely gone backwards, Nite Skool is a desperately deserved escape for those who know, and an entertaining learning experience for those who don't. Get ready to get back-to-basics, shout, wave your arms, and enjoy a cathartic romp through the spectrum of life's lessons, brought to us by The Libertinis and their ultra-multi-talented friends.
There's a little something for everyone in this show. They sing beautifully. They dance cohesively. There's even a puppet, a burlesque dancer, and a big dog who delivers mail. The show is campy and over-the-top, yet also reaches toward intellectual and emotional understanding during a chaotic social and political time.
There are several characters throughout the show. Each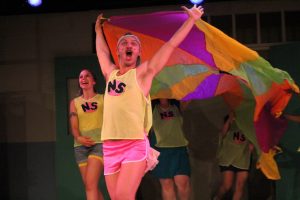 is vibrant and unique, thoughtfully conceptualized and executed. Some of the characters I related to quite deeply and I think a lot of folks who are living in the city of Seattle will appreciate many of the perspectives offered in the writing.  In terms of ensemble performances, this is one of the best I've seen in years, with each performer contributing scene-stealing moments and coming back into the group fold seamlessly.
Oh, how I wish Nite Skool could be performed throughout the nation.  While the show is continuously entertaining and high-energy, there are a treasure trove of gold nuggets containing l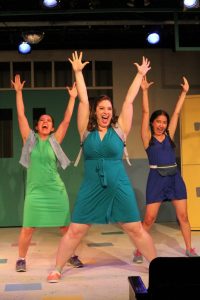 ife-affirming education. I wish some of my friends and family members in more conservative areas of this country could be exposed to this kind of art, as I think this show could change the hearts and minds of many.
If you're anything like me and you could use a real break from the world, I highly encourage you to come see this gem of a show.  Bring your friends and get ready to have a great evening. I know I did.
Nite Skool runs July 28 through August 19 – Thursdays, Fridays, and Saturdays at 7:30 pm. Industry night on Monday, August 7 at 7:30 pm. $20 general / $12 TPS, Senior, Military / $5 Students. All Thursdays are Pay-What-You-Can at Annex Theatre at the corner of 11th & Pike in Capitol Hill. Tickets at annextheatre.org.
(Visited 1 times, 1 visits today)