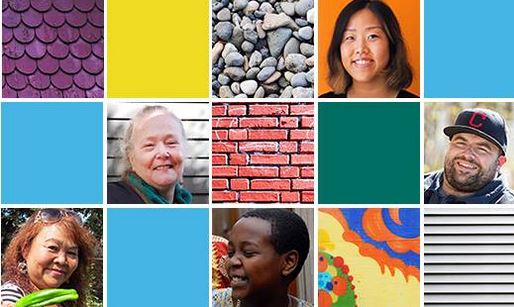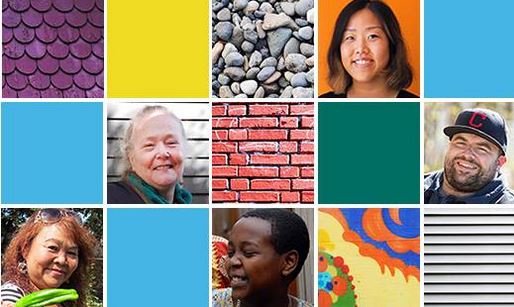 What's not to j'adore about Capitol Hill Housing? They've been building/creating affordable housing options for low-income Seattleites for decades. We're still in the the "honeymoon" phase with the fantastic 12th Avenue Arts building that turned an awful parking lot for Seattle Police Department into a fantastic multiple use space that manages to include that parking for SPD, plus two terrific theaters that allow dozens of artists access to badly needed arts space, plus office space for great non-profits like Three Dollar Bill Cinema who produce queer film events year round, PLUS street level commercial space, PLUS/PLUS/PLUS low income housing for artists!
It's probably the smartest and best multi use building in the city.
Capitol Hill Housing has all sorts of new works in development including a property to be targeted for LGBTQ elders at 14th & Union currently a parking lot next to CHH's Helen V building (discussed here and check out this great video about the need for LGBTQ elder space).
And, the just back from sabbatical CAPITOL HILL SEATTLE blog has a story about the plans to get development started at the Capitol Hill's Metro Light Rail station at Broadway and John. Capitol Hill Housing's Site B North building, one of several building planned for the site will feature 110 units that are permanently affordable. It will sit on the corner of John Street and 10th Avenue East.
n 2013, the Seattle City Council approved a development agreement allowing developers to plan for 85-foot tall buildings along Broadway in exchange for going above minimum affordable housing requirements long before recently proposed upzones in the ongoing HALA discussions. Overall, the development plans call for more than 400 apartments with around 40% of units to rent for below market rate for 12 years and Capitol Hill Housing's Site-B North's 110 units designated for "permanent affordable housing." Plus, here's a development rarity, there are 24 three-bedroom units, and 84 two-bedrooms. Combining those, that means nearly a third of the housing can be for families and multiple roommates.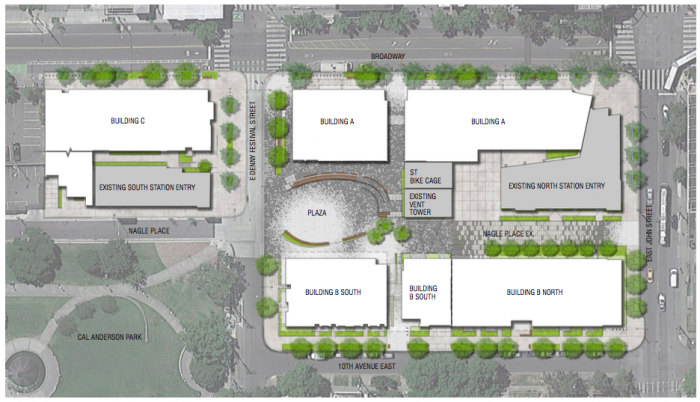 FINALLY, if support the work of Capitol Hill Housing then think about attending their big delicious fundraiser this Thursday, October 12th… Omnivorous: Small Plates/Strong Community is a tasty way to support their mandate to provide affordable housing in Seattle. A FEW tickets remain, so go snatch them up.
More to know about the event:
Join us on October 12th at the newly restored historic Washington Hall for an evening of fine food, exquisite cocktails and an opportunity to support Capitol Hill Housing's work building vibrant and engaged communities.

We have an ever-growing line up of bars, restaurants and distilleries all contributing to this one-of-a-kind evening: Bakery Nouveau, Big Mario's, Sparkle Donkey Tequila, Café Presse, Caffe Vita, Chavez, Hello Robin, Hot Cakes Le Pichet, L'Oursin, Lost Lake Cafe & Lounge, L'Oursin, marjorie, OOLA Distillery, Optimism Brewing Company, Pel Meni Dumpling Tzar -Capitol Hill, Plum Restaurants, Rachel's Ginger Beer, Revolver Bar Rumba Seattle, Tallulah's, Tango Restaurant-Seattle, Terra Plata, That Brown Girl Cooks, The Tin Table, Via Tribunali Neapolitan Pizzeria The Wine Group Wood Shop BBQ and more to come!

Tickets are $85, and entitle you to unlimited plates and cocktails from our participating restaurants. Get your tickets here: omnivorous.splashthat.com/facebook
Doors at 5:30 PM 

Thursday, October 12th, 2017

Washington Hall

153 14th Ave, Seattle, WA 98122
(Visited 1 times, 1 visits today)