November 30, 2017

•
by
Michael Strangeways
"You have to get your junk hair removed…"
We. Love. Jessie. Gender.
For those not in the know, Jessie "Gender" aka Jessie Earl is a transgender webcaster for The Advocate who produces funny, informational videos for that magazine's web media outlets that mostly focus on transgender issues. We j'adore Jessie because she's frankly fearless (and very funny) about talking about serious and delicate subjects like she does in this video focusing on the complex steps required for trans women to undergo sexual reassignment surgical/medical procedures.
This video is very informative but does contain frank descriptions of the surgeries required so a trigger warning for people who have problems hearing graphic material, albeit graphic material related in such a charming way.
Yay for Jessie and The Advocate for these great videos!
(Visited 46 times, 1 visits today)
As the Editorial Director/Co-Owner, Michael Strangeways writes, edits and does about a million other jobs for Seattle Gay Scene, Puget Sound's most visited LGBTQ news, arts and entertainment website now celebrating its 14th year as a media outlet. A semi-proud Midwesterner by birth, he's lived in Seattle since 2000. He's also a film producer who would like you to check out the Jinkx Monsoon documentary, "Drag Becomes Him" now available on Amazon.com. In his spare time, he gets slightly obsessive about his love for old movies, challenging theater, "otters", vodka, chocolate, "I,Claudius", Lizzie Borden, real books made out of paper, disaster films, show tunes, Weimar era Germany, flea markets, pop surrealistic art, the sex lives of Hollywood actors both living and dead, kitties, chicken fried steak, haute couture and David Bowie. But, not necessarily in that order.
Related Posts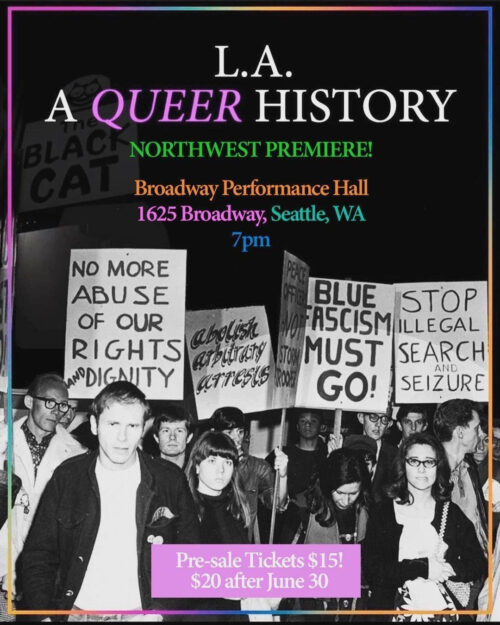 *Resist. Protest. Obstruct. Inform. • *Seattle Cinemaland • Arts & Entertainment • Coming Attractions • Community • Community Events • Film • Film Events • Gay 101 • Hollywood Gay Scene • LaLa Land • Legends • Mark Your Calendars • Queer Film • Queer History • Seattle Lesbian Scene • Seattle Queer Film • Stuff to Do • Three Dollar Bill Cinema • Weekend Calendar
There's a must see film making its Pacific Northwest debut
...