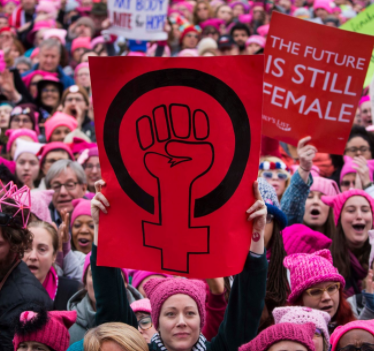 In solidarity, women (and allies; everyone is encouraged to participate) will gather Saturday, January 20, 2018 to march for "collective empowerment" as well to protest the failures of the current government in Washington D.C. as part of WOMEN'S MARCH 2.0 which will mark the one year anniversary of the original march which was staged the same weekend of Trump's dismally attended inauguration.
The march will begin at 10 AM in Cal Anderson Park on Capitol Hill with pre-march speeches. Looks like the actual march will begin around 11:30 AM and will take a route down Pine Street to Downtown Seattle then follow 4th Avenue north to Seattle Center. 
Note: this is a PEACEFUL, family friendly march. 
More info via Facebook invite:
It's time to make history again!

Get ready, Seattle and join us for a day of collective empowerment. Why are we marching? To engage all people to support women's rights, racial equity, human rights, civil rights, disability rights, LGBTQIA rights, veteran's rights, workers' rights, immigrant rights, reproductive rights, Indigenous people's rights and environmental justice.

This year's march is intended to highlight organizations who are working to bring about change in our communities every day, while energizing all of us in the year to come to continue intensive civic engagement, in a non-partisan but progressive way.

We are currently partnered with:
Be the Change Network
Truman National Security Project — Seattle Chapter
Huskies for NARAL Pro-Choice Washington
ACLU
NAACP
NARAL Pro-Choice Washington
Oxfam
Outright Action International
One America
CAIR
Fuse Washington
Planned Parenthood
Stronger Together
The Yemen Relief and Reconstruction Foundation
Act Now Mantra
SEIU775
The Riveter
CMS

Like last year, this will be an all-inclusive, peaceful and family-friendly event.

The march will start at Cal Anderson Park and head to Pike Street before turning right onto 4th Avenue. Marchers will enter Seattle Center via Thomas Street. Pre-march programming, which will include speakers, performers and musicians, will start at 10.00AM and run till 11.30AM. We strongly encouraged to use Seattle's Light Rail system to get to the start of the march. The Capitol Hill Light Rail Station is steps from Cal Anderson Park.

If you indicated earlier that you were INTERESTED in the march and know you will be attending, please mark GOING so we have an accurate headcount!

If you are interested in volunteering:
https://docs.google.com/forms/d/1FhgUYbaT5Qe2XAonwp5-YXfhkMNefbzJZJCbkNCVv3s/edit

If you would like to donate:
https://seattlewomensmarch2018.com/donate/
(Visited 1 times, 1 visits today)