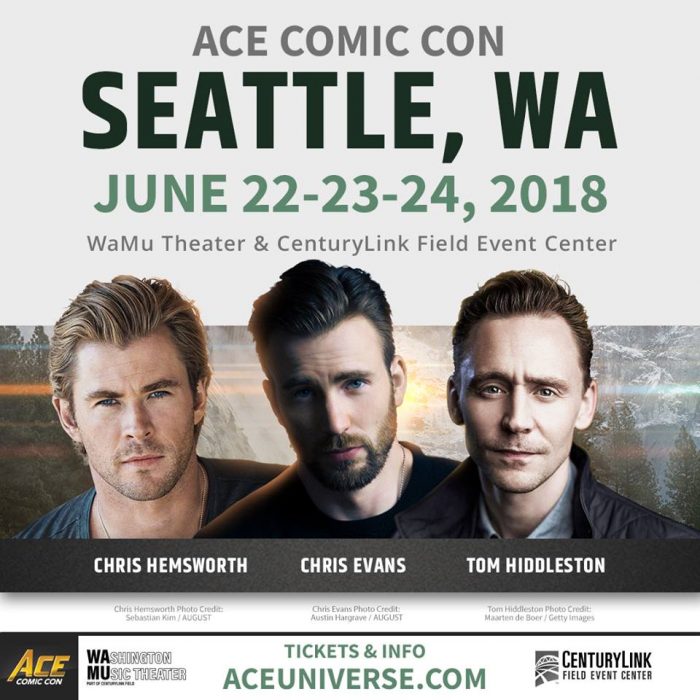 Uh, if I was a person in charge at Seattle Pride or PrideFest I'd IMMEDIATELY reach out to Ace Comic Con because they JUST announced that they are bringing THREE of the biggest film stars around to their huge Seattle event which is happening Friday through Sunday, June 22, 23 and 24…which just happens to be Seattle's huge Gay Pride Weekend with thousands of people in town to attend dozens of parties, festivals and events all over the city.
All three actors, stars of the huge Marvel Universe in  one of the many installments in The Avengers and Thor film series will be in town for this mega event that's happening at WaMu Theater and Century Link Field Event Center and will also feature more guests and many events including some VERY pricey packages that get you up close to the stars. 
Poo:
ACE Comic Con is proud to announce our next event, coming to Seattle, WA June 22-23-24! We are bringing 3 of your favorite 

#Avengers

, 

Chris Evans

,

Chris Hemsworth

, and 

Tom Hiddleston

 and many more for an unforgettable weekend at the 

WaMu Theater

 & 

CenturyLink Field

 Event Center. As if that wasn't enough, we will also have 60+ of the top comic writers & artists in the industry, 100+ curated vendors

 & exhibitors, and 30+ hours of panel programming across multiple stages! VIP packages, photo ops, autographs, and general admission tickets go on sale at 10am Pacific Time Thursday, March 29th via www.aceuniverse.com. More guests will be announced shortly, so make sure to keep following us right here for up-to-the-minute updates.

ALL TICKETS GO ON SALE THURSDAY, MARCH 29TH AT 10AM PACFIC TIME

Info on our VIP packages can be found here:

Avengers TRIPLE VIP – http://ow.ly/FQHm30jbB22
Thor / Loki DUAL VIP – http://ow.ly/qu9a30jbBbt
Chris Evans VIP – http://ow.ly/4cFd30jbAHD
Chris Hemsworth VIP – http://ow.ly/zNp430jbAQ8
Tom Hiddleston VIP – http://ow.ly/Lh3s30jbATB

Info on Photo Ops: http://ow.ly/XJn030jbBfU
Info on Autographs: http://ow.ly/HTUc30jbBiZ
Info on General Admission:http://ow.ly/e90D30jbBmN
Can you imagine? Every Gay Fan Boy/Girl in town will be freaking out wondering if Chris E., Chris H., or Tom will be out and about…it's probably pretty unlikely but hey….stars need to get out and have some beers after posing for photos all day and making HUNDREDS OF THOUSANDS OF DOLLARS while doing so.
Someone needs to lure them to Queer Bar's huge street party which isn't officially announced yet but I have a big mouth…imagine the squeals if Chris Evans turned up in cut offs and boots?
(Visited 1 times, 1 visits today)