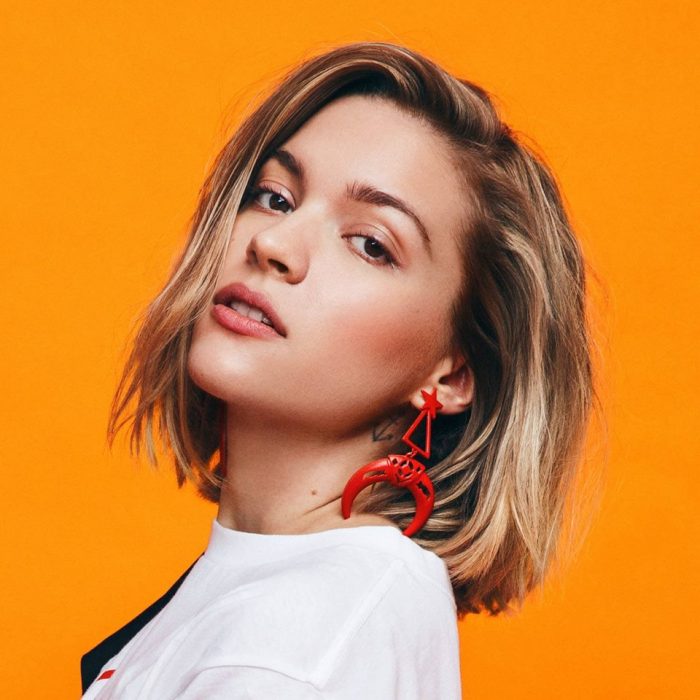 The adorably talented 25 year old Swedish Princess of Pop, TOVE STYRKE is bopping into Seattle this Friday, March 9th to open for New Zealand's Pop Princess LORDE for a mammoth show at Key Arena. Tove Styrke's "catchy boom pop" has been compared to Robyn and Lykke Li. (A few tickets still remain for the Seattle show, go HERE to snag them. And, note the tour continues in Portland, OR on Saturday.)
AND, Tove just announced today on her social media, she's going to open for Katy Perry in select cities on Perry's European tour later this spring.
The tour is just a warm up to Styrke's forthcoming new album, Sway, slated for a May 4 release via RCA Records.
This month of shows opening for Lorde caps off a terrific year plus of activity for the star who had a popular hit with her single and video with her spring 2017 hit "Say My Name" and then again in the fall of last year with her single/video for "Mistakes" which led Idolator to call it, "minimal electro-pop with maximum impact," and TIME raving that the star is, "carving out her own sweet spot in contemporary pop."
And, Styrke explained to The FADER, "The song is about embracing your wrongs, letting go of yourself and not be perfect. The bride to me is a nice image of 'perfection' and it was fun to put a twist on that…it's more like she's running back to herself rather than running away." 
More on "Mistakes":
Swedish recording artist Tove Styrke has released the stunning official video for recent single "Mistakes." Following Styrke through a runaway bride episode with a twist, the video is directed by Swedish director Joanna Nordahl, who describes, "In the early stages of making this video Tove told me about the track and how it to her represented this feeling of breaking something that's perfect, something you might even consider perfect yourself, just to reach a sense of freedom. Basically messing up on purpose to feel in control of your life. With this in mind I wanted to move away from a typical love story and we ended up speaking about religious symbolism, the Madonna-Whore complex, femininity, 90s rom-coms, Britney Spears and the well behaved, wholesome Bride as a traditional representation of the 'perfect woman'."  Further, Styrke adds, "We dreamed up this idea where I could live out all my pop star fantasies while still keeping the whole thing very real. I love how it all came together and shooting the ending was hands down the most fun I've had in forever."


The single "Mistakes"  is co-written and produced by fellow Swede Elof Loelv (Rihanna, Zara Larsson, Icona Pop), "Mistakes" is available now at all digital retail providers via Sony Music Sweden/RCA Records. About the track, which hit #1 on Hype Machine, Entertainment Weekly further proclaimed, "Styrke is making some of the most interesting and daring pop songs of 2017," and NYLON asserted, "This is your new anthem for getting lil' naughty." The track has quickly received over 3.5 million Spotify streams and continues to see upward momentum. 
TOVE STYRKE SOCIAL MEDIA:
Styrke will join Lorde on a 15-date spring 2018 U.S. tour. See date listing below. Tickets are on sale now HERE.
Mar 1 // Milwaukee, WI @ BMO Harris Bradley Center ^
Mar 2 // St. Louis, MO @ Chaifetz Arena ^
Mar 3 // Kansas City, MO @ Sprint Center ^
Mar 5 // Denver, CO @ Pepsi Center ^
Mar 8 // Vancouver, BC @ Rogers Arena ^
Mar 9 // Seattle, WA @ KeyArena at the Seattle Center ^
Mar 10 // Portland, OR @ Moda Center at the Rose Garden ^
Mar 12 // Sacramento, CA @ Golden1 Center ^
Mar 13 // Oakland, CA @ The Oracle Arena ^
Mar 14 // Los Angeles, CA @ Staples Center ^
Mar 16 // Glendale, AZ @ Gila River Arena ^
Mar 18 // Dallas, TX @ American Airlines Center ^
Mar 19 // Houston, TX @ Toyota Center ^
Mar 21 // Tulsa, OK @ BOK Center ^
Mar 23 // St. Paul, MN @ Xcel Energy Center ^
(Visited 3 times, 1 visits today)