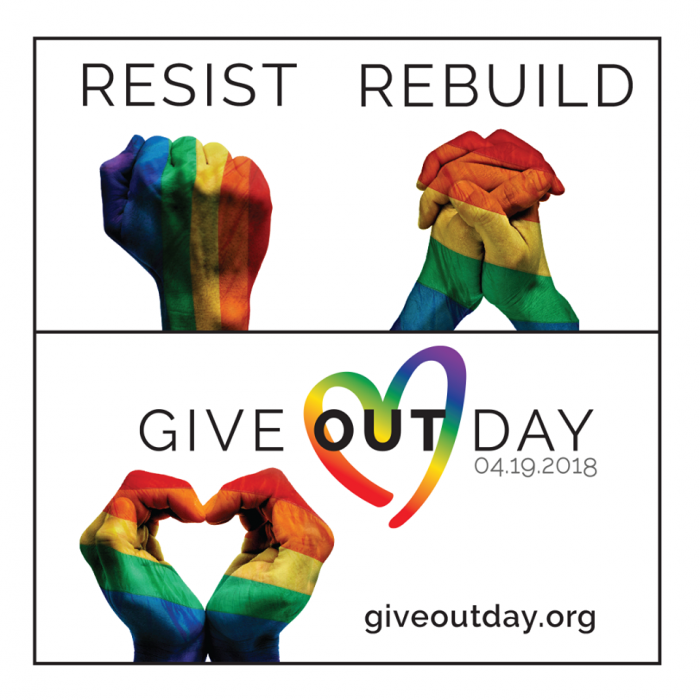 Did you know … ?  Today is GiveOut! But you can give anytime, too.
If you've appreciated all the progress made on the queer rights front in the past decade or two — and the mighty standoff to block regression in this past year — your life is probably better thanks to queer organizations.  Today is a great day to thank them for it! GiveOut is a day that many of those organizations make a collective push to raise funds toward their operations for the year, from donors new and veteran, small means and large, across the country.  
Even a few dollars will help: many organizations have fundraising goals and match grants tied not only to the amount raised but to the number of donors involved.  And the organization that rounds up the most individual donors will win an extra $10,000 grant, too!
My pick?  The National Center for Transgender Equality (NCTE), which is celebrating its 15th anniversary this year.  In that time, NCTE has advocated successfully for enormous progress at the federal, state and local levels; stood firm against numerous attempts to discriminate against and target trans people for harassment and prosecution for simply trying to live their lives (bathroom bans, anyone?); and helped trans women and men take power in decision-making positions at local levels.  
NCTE was the early leader in telling trans people of each state what they can do to update their major government documents (ID, driver's license, birth certificate, passport, Social Security card, military identification) — information which varies by state and, in the organization's early years especially, was very hard to come by at all, let alone in a centralized location.  NCTE also does the national trans survey every 10 years, a massive undertaking — with 28,000 respondents on the most recent one — that allows organizations and policymakers to cite data as they work for policies benefiting their trans constituents.
Unlike most large organizations, NCTE is also trans-led and heavily trans-staffed.  Founding Executive Director Mara Kiesling, who's witty, wise and wonderful, has both worked herself into a powerhouse in the nation's capital — forging alliances with the right people to get national policies passed and implemented — and isn't afraid to hit the ground in local and state battles that matter the most in trans people's lives.  (If you followed her during the battle against the ridiculous HB2 bathroom ban in North Carolina, for example, you would have seen all sorts of posts about the supposed trans infiltrator — her — who, no surprise here, did not in fact cause the collapse of all civilization by using the bathroom, as certain politicians predicted.)
Now is, as Kiesling notes in their GiveOut video, "This amazing moment in history where trans people are finally asserting themselves and speaking up."  You can watch the video, find out more, and donate to NCTE here.
Want more local options?  GiveOut has plenty of those too.  Scroll down to the end (to Washington) from this page.  
Another great local organization, Gender Justice League, is not participating in GiveOut this year, but is happy to take your donations anyway.  You can donate on their giving page here.  
Other great organizations not on the list include Chicken Soup Brigade/Lifelong AIDS Alliance, Seattle Counseling Services, and Three Dollar Bill Cinema.  
If your preference is to give to very small, grassroots organizations instead, you have great options there too.  Trans Justice Funding Project is a national mini-foundation of sorts that supports small, trans-led, hyper-local operations (and has a big campaign going to give that support).  Social Justice Fund, meanwhile, is a Seattle-based similar organization, which funds all types of justice-oriented, hyper-local operations; view their Gender Justice Giving Project (centered in Portland) here.  
And if you missed GiveOut, don't worry: organizations are happy to take your money — and put it to good use — any day of the year.  Let the GiveOut list or the above suggestions be your start, or donate to a queer organization you already know and love.  Many of them accept donations in recurring amounts too, if that makes it easier to give.
As we enjoy all the advances in pride — remember all the hard work it takes to get (and keep) us here!  And help keep these organizations going, accordingly.
(Visited 3 times, 1 visits today)