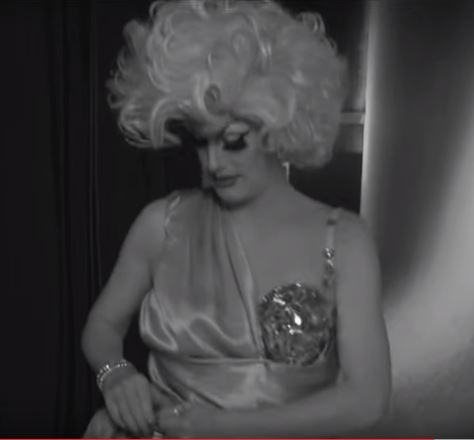 Following yesterday's reports on the lack of evidence in the "Robbie Turner Claims She Was In A Fatal Accident" drama which played out in  national gay media, social media and on Reddit following our breaking of the story, QUEER/BAR, the home bar/employer of Seattle drag diva ROBBIE TURNER just announced that Robbie will be on "personal leave" to focus on "health and wellness". 
For those just tuning in, Turner (actual name: Jeremy Baird) claimed on his social media that he was involved in a car accident early Sunday morning, April 15th where his Uber driver was killed and Robbie minorly injured. The story went national early Wednesday with several gay media outlets reporting on the alleged accident but without any confirmation from official sources that such an event had occurred. Seattle media, beginning with Seattle Gay Scene followed several hours later by The Stranger, contacted the Seattle Police Department and Uber to get confirmation on just such an event but no evidence could be found to corroborate Robbie Turner's story.
This morning Queer/Bar's owner Joey Burgess released the following statement that Robbie would be on personal leave for the time being and that a series of hosts would be brought in to Seattle to headline weekly drag events at the Capitol Hill lounge which opened last fall in the space previously occupied by Purr Cocktail Lounge.
Filling in as chief host for Queer/Bar through June: Los Angeles performer Barbie's Addiction, Kalorie Karbdashian from RuPaul's Drag Race Season 10, and Las Vegas performer Nebraska Thunderf*ck.
The release:
QUEER/BAR CLARIFIES POSITION ON ROBBIE TURNER

Robbie Turner will be taking a personal leave from his role as Queer/Bar's Entertainment Director and weekly drag show host. We sincerely hope that this time will be used well to focus on his health and wellness. We will continue to ensure he has access to adequate resources to help him succeed.

The company learned of this supposed incident last weekend from Robbie's social media post. In full support of our friend and manager, we reached out to evaluate Robbie's condition and offer any help with his physical and mental recovery. We also reached out in an attempt to support the driver's family in their difficult time. And then we discovered some inconsistencies with the story.

Robbie has been with Queer/Bar since its opening in early October of 2017, helping curate the local weekly talent as well as hosting some events at the bar, including the weekly drag show Mx. and the Ru Paul's Drag Race Viewing Parties on Thursday nights.

While we appreciate Robbie's diligent effort in coordinating weekly local talent, his responsibilities do not include producing large events or national bookings so we do not anticipate his departure from the company effecting our entertainment programing. We will continue to deliver fantastic, inclusive shows and events each week and an amazing Pride festival. We look forward to inviting very special guests to host our Mx stage and weekly RuPaul Dragrace Season 10 viewing parties. We are welcoming Los Angeles performer Barbie's Addiction, Kalorie Karbdashian from RuPaul's Drag Race Season 10, and Las Vegas performer Nebraska Thunderf*ck as resident hosts from now through June.

Queer/Bar is grateful for the opportunity to bring this amazing talent and LGBTQIA+ role icons to our Seattle family. We support Robbie's art and wish them a speedy recovery so that he can continue to create and express himself to the world.
(Visited 1 times, 1 visits today)