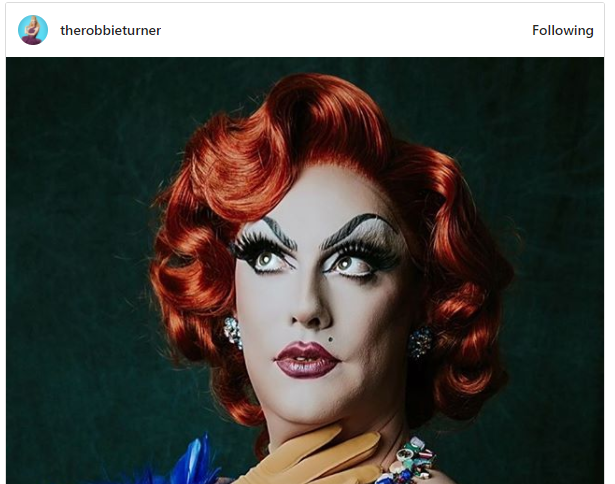 Well, ok…
We sorta/kinda thought "ROBBIE TURNER DEAD UBER DRIVER GATE" was over and done with as the most current Scandale du Jour and had been replaced by "HOMO FOR THE HOLIDAYS CAST/TEAM PUBLICLY DISINTEGRATE ON SOCIAL MEDIA" GATE.
However…
Robbie Turner, the Seattle drag queen and contestant on Season 8 of RuPaul's Drag Race has emerged from her "radio silence" for an EXCLUSIVE interview with Entertainment Weekly about what REALLY happened in the wee hours of Sunday morning, April 15, 2018. Originally the diva posted on her social media that she had been in a terrible car accident on her way home from working at Queer/Bar her main gig in Seattle. She stated that she had been knocked unconscious and woke up in a hospital and allegedly had been told the driver of the Uber car she was in, had been killed.
While fans of the star rushed to offer condolences on the apparent tragedy, others questioned the validity of her claims. There had been no media accounts of a fatality car crash in Seattle at the time in question and after contacting both the Seattle Police Department and Uber, local media outlets including this one, discovered that it appeared that no such accident had occurred on April 15th. Seattle Gay Scene broke the story on Wednesday, April 18th, followed by The Stranger who did follow up.
Immediately, a backlash against Robbie Turner led to numerous call outs on social media as well as memes created that belittled the performer. The furor reached a point that mainstream media reported on the story and after Robbie Turner's main employer Queer/Bar announced that she was taking time off from her duties at the popular Seattle night club, she vanished from sight.
Until now.
In an exclusive interview with Joey Nolfi of Entertainment Weekly, Robbie blames her tall tales told on social media on….
Several things.
She was drugged. She fell in the shower. Both.
EW: I'm sorry, but to confirm: You think you slipped in the shower or you were slipped something in your drink?


Robbie Turner: Both, because I didn't drink that much that night… I went home immediately after [being out]. I don't 100 percent remember leaving, and I do not remember coming home at all. At the time that I came home, I had this vivid dream and thought it was 100 percent real, especially once I woke up and had large contusions on my thighs, shoulder, and my head was pounding.
Then later in the interview she adds "mental break" to her list of probable causes.
Robbie Turner:  I thought I was losing my mind…. A friend of mine who is a therapist came over and told me that I should get a psych evaluation for the whole scenario, so I spent the next few days after that speaking to crisis counselors, and when I was finally seen by a psychiatrist. I talked to them about everything that has been going on, even prior to the accident, because it's just been kind of a nightmare in my personal life. There have been many deaths and a lot of loss, and the social worker and psychiatrist [said] it sounds more like I had a mild mental break, and it was triggered by slipping in the shower and being slipped something [in my drink].
She also addresses the public reaction to the incident and non-supportive comments made by her RPDR co-stars.
EW: Is there something to be taken away from this experience, not just for you, but for fans of the show who were giving you a lot of grief?


Robbie: There's absolutely a larger bullying community now, and I think people like to use the term "calling out" as a cover, as a guise to what they're actually doing, which is bullying someone. I personally don't read a lot of the comments, and the things that I have seen have been screen shots that a friend will send… I don't want to see any of it. I'm already fully aware of what happened and what's happening. But it is interesting to see that side of people that I've worked with in the Drag Race community. It's like, well, I hate to point it out, but no one is perfect and everyone makes large mistakes that they regret whether it be on a public level or not… 
Robbie also confirms she's going on a mental health break for the foreseeable future.
We've reached out to Queer/Bar for a comment on Robbie's public statement. Owner Joey Burgess told us: "We've seen the interview and wish Robbie the best in her recovery."
UPDATE: Robbie Turner also issued an apology via Instagram on Friday evening:
Much public attention followed my recent posts on social media. 
These were posts I regret sharing. 
I don't remember much of that night, including leaving my place of employment. I do recall waking up bruised, disoriented, sore, and with an extremely vivid recollection of events that had, to my mind, absolutely occurred. It is clear to me that they did not, in fact, happen. 
The past few months have been very stressful for my family and I. The stress, depression, heartache and confusion during this time have overwhelmed me. On the advice of physicians and caring mental health professionals, I am taking a break from work and social media to spend more time with family and practice some important self-care. 
In addition, I apologize to Dara Khosrowshahi, Uber's CEO, for naming a company I respect in such a negative public way. That's not who I am, but it's what I did, and I am sorry for it. I also extend my apologies to Queer Bar, as well as anyone who may have felt that my original post lacked sensitivity. For that I am also regretful. 
I appreciate the continued support of my fans and respect for my privacy during this time. I hope to take better care of myself, learn from this painful season and nourish what brought me joy about my art to begin with.

-Robbie Turner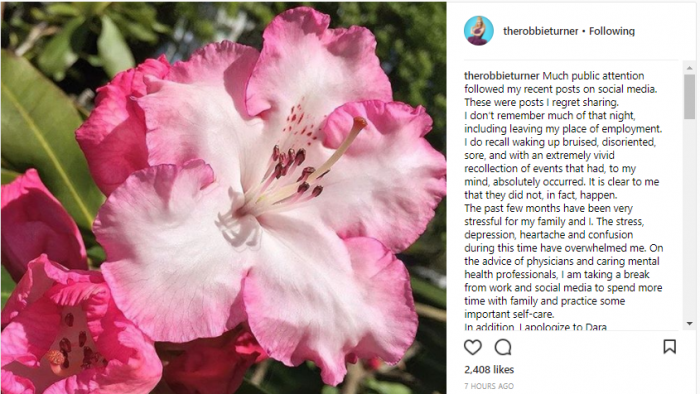 Tags: Entertainment Weekly, Robbie Turner, Robbie Turner Car Crash, Robbie Turner Uber Accident Scandal