April 11, 2018

•
by
R Barron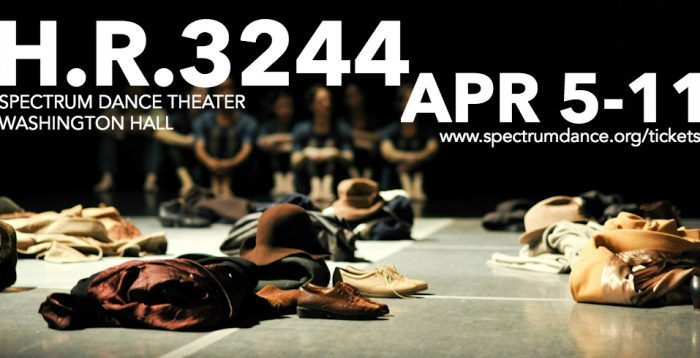 If you think Spectrum is just some dance thing, I hope you'll rid yourself of that notion.  Tonight (4/11) — which is your last chance to see the company's powerful new work, H.R. 3244, at Washington Hall — would be a good opportunity to do that.
Over the past few seasons, Spectrum has examined the stickiest of social justice issues and social ailments — obliteration of gay people, from the AIDS epidemic to the Pulse nightclub shooting; police violence against Black people; immigration; race — and provided an emotional response through dance, movement and sound.
With H.R. 3244, Spectrum continues its artistic justice arc to contend with the widespread, little-talked-about, global and local crisis of human trafficking.  
The original H.R. 3244, which provides the piece's title and inspiration, is the 2000 federal law that provided for harsher criminal penalties for human traffickers.  In this modern form of slavery, business opportunists lure women, teenagers and children, whether internationally or domestically, with promises of modeling contracts, domestic work, or other employment with which they might build an independent life.  Instead, they are trapped in a cycle of violence and labor, and often non-consensual sex work, for which they don't even receive the promised compensation with which to eventually gain financial freedom.
The law also provided some protection for survivors of human trafficking, who are often in the country illegally and thus subject to prosecution themselves.  Systemic injustices — including insufficient punishments under laws for lesser offenses and steeper punishments for the victims than their abusers/traffickers — made H.R. 3244 necessary.
The law begins with 24 findings ("Congress finds that …"), which go on for a few pages of code book — and the piece features a robotic-voiced reading of all of them.  It provides a useful backdrop by orienting the audience in the problem, the law's purpose and target areas, and the piece's response to them.  It is also very creepy and moving to hear them read aloud like that. The law with findings total some 85 pages; you can read them here:
Choreographer and Artistic Director Donald Byrd required his dancers to ground themselves in the law — first, by reading its text (not only the 24 findings on three or four pages, but the whole 85-page thing), then by reading articles Byrd sent around on the realities of human trafficking, and then by beginning to grapple with them.  
Though the law and its text play a prominent role, Byrd makes clear about the piece up front that "H.R. 3244 is not about human trafficking but rather is my emotional response to human trafficking.  It is about the feelings that come up when I think about human trafficking."  
The piece is engaging to watch, and features the multiplicity of styles — at times it feels like ballet, modern, and stomp all rolled into one — and relentless movements that characterize Byrd's choreography.  The space is large, but they still play close frequently, and fill it up well — both in the quieter moments with two dancers on stage and in the few, well-used times when all 15 dancers storm the stage in unison.  The soundtrack is dramatic — between the reading of the law's findings in a robotic fashion and the live violin from Nicholas Tavani, who plays Bach through nearly the whole 80-minute piece, providing sharp contrast.
It is occasionally difficult to watch as well.  One standout moment in that regard features three female dancers at center stage, lifelike dolls strapped to their chest like children.  They dance, roll around, struggle; and the dolls are dumped unceremoniously to the stage.
Ultimately, H.R. 3244 ends in a place more upbeat and positive than sounds possible with a piece around this theme.  One reason could be that the movement keeps coming back around to the dancers clustering together, inwardly focused, relying on each other, which Byrd said (in the talkback yesterday) was in recognition that we all face our journey of life together.  
The audience does not leave crushed — just contemplative — and the mood was right for the solid post-show discussion led by Vivian Phillips with Byrd and several of the company members.  The discussion allowed for further, directed contemplation, particularly on the creative, collaborative, and research-heavy process that built the piece. (Read more on the research and process in a Crosscut article here.)  
In the talkback Byrd also revealed one of his aims, credited to a photojournalist he knows: to "show their dignity in these horrible circumstances."  It helps make the segments of beauty in this piece more recognizable, and their inclusion more understandable.
That ability — to capture a quiet beauty and dignity from a LOUD trauma and despair — has become something of a Spectrum signature.  It is a powerful one, and makes for powerful dance.
Spectrum's season comes to a close with this piece, which closes April 11th at the recently renovated Washington Hall (153 14th Avenue, in the Squire Park neighborhood near the Central District).  Tickets are $25, and available at https://spectrumdance.org/.  Spectrum's 2018-19 season will be announced soon.
Later this month, look for excellence from two other Black choreographers around town: Dani Tirrell's Black Bois at On the Boards, April 26-29, and Alvin Ailey American Dance Theater at the Paramount, April 27-29.  Tirrell's show is nearly sold out; early tickets are recommended for both.
(Visited 1 times, 1 visits today)
About the Author: R Barron
R. Barron is in finance by day and, more often than not, a theatre seat by night. R. dabbles in writing and directing, with particular focus on issues of justice, queer and trans experience, and systems of control (incarceration, constitutional theory, family, religion, and political representation, among others). R. is an Artistic Connector with Other Voices Theatre and the Other Voices Calendar (http://localendar.com/public/othervoices), a new project that seeks to promote stories from underrepresented voices in theatre.
Related Posts
*Resist. Protest. Obstruct. Inform. • *Seattle Theaterland • #BLM Protests • Arts & Entertainment • Arts News • Dance • News • Queer - Black • Seattle LGBTQ African American • Stage • Video Fun Land
In his fifth collaboration with Alvin Ailey's American Dance Theatre,
...