There must be something about June that makes people want to dance — even aside from the Pride parties and parade contingents.  Get out your calendars, because this month is packed to the heels with modern dance festivals and special shows! Here are a few notable picks, heartily recommended.
On the Boards: NW New Works Festival
When: June 8-10 & 15-17
First weekend:

Showcase 1 (studio): Friday 6/8 (8 pm), Saturday & Sunday 6/9 & 6/10 (5 pm)

Showcase 2 (mainstage): Saturday & Sunday 6/9 & 6/10 (8 pm)

Second weekend:

Showcase 3 (studio): Friday 6/15 (8 pm), Saturday & Sunday 6/16 & 6/17 (5 pm)

Showcase 4 (mainstage): Saturday & Sunday 6/16 & 6/17 (8 pm)
Now in its 35th (!!) year, the Northwest New Works Fest consists of two weekends, of two showcases each — one is the smaller studio show that plays thrice, the other is the big mainstage show playing twice.  Each showcase has four artists. The second weekend, start all over again with new studio and mainstage shows with new artists — 4 separate lineups in all.
How much: The 2, 3, or 4-show passes are by far the best deals.  See all 4 shows for $34, 3 for $27, 2 for $22, or just one for $16.  Advance purchase likely required for these (and by the way, this series usually sells out, so advance is recommended regardless).  Order in advance here.
Who's there: Most likely, some artists you'll know and a lot you won't.  This is a very fine way to explore what's new out there around town, and for artists to put up developing work.  Not all of it will be your favorite; some will be wonderful; some you might ponder for years to come; and all will be in quick chunks.  
The lineup this year looks more relevant, artistically accessible, diverse, and queerified than ever.  Read about the showcase content here (showcases 1 & 2) and here (showcases 3 & 4), along with details on the artists.  Note: while the descriptions should get you excited, the best route is to skip the pick-and-choose and go see the whole thing.  The sense of adventure is half the fun.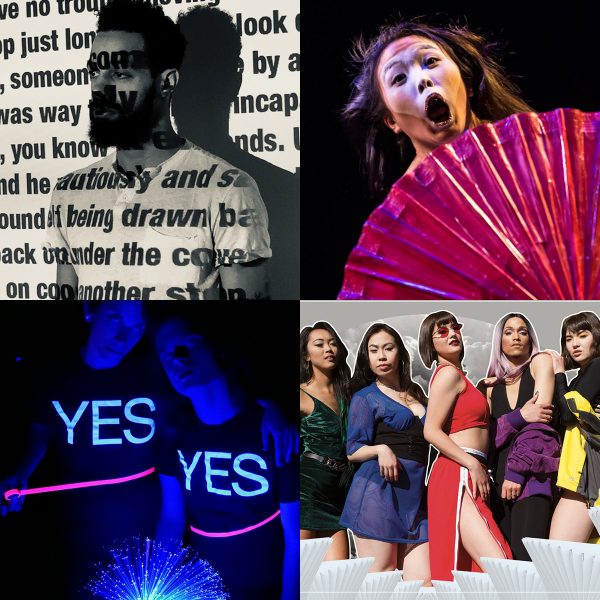 SHOWCASE 3
Studio Theater
Fri, Jun 15 at 8 pm | Sat-Sun, Jun 16-17 at 5 pm 

Boon: o c e a n   c a n ' t   s w i m   [part 1] (Music/Theater | Seattle)
Rap verses wrap 'round a modern myth of rhythmic prose—the story of a man, his anxiety, and his developing relationship with the ocean.

Pam Tzeng: "SHE" by Jo-Lee (Performance/Dance | Calgary, Alberta)
SHE who discovers, embodies, and confronts the 'asian mystique'. Pleasure and shame climax to transform Jo-Lee's questionable reality.

Eli Steffen | Corinne Manning: A Time for Choosing (Performance | Seattle)
Exploring white America's obsession with numbness in search of the radical possibility of desire

Malicious Allure: Unladylike (Dance/Performance | Seattle)
A reminder to the world: femininity is nothing to be mocked nor provoked.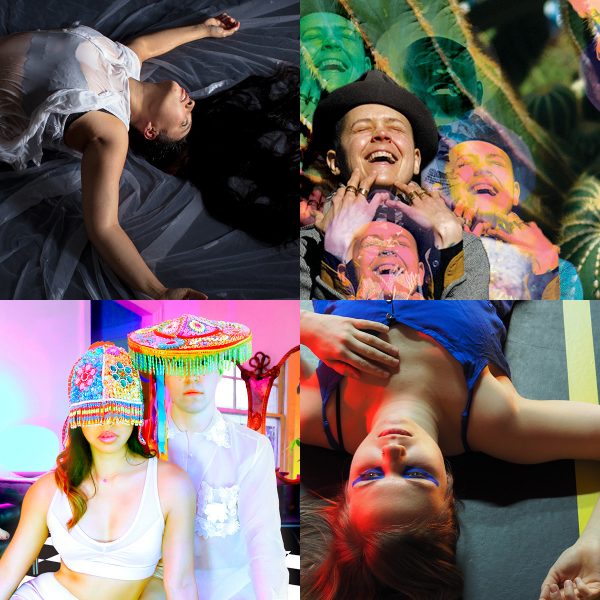 SHOWCASE 4
Merrill Theater
Sat-Sun, Jun 16-17 at 8 pm    

Alicia Mullikin: REINA
An exploration of the innate beauty and power that comes from women of color. Through a multi-cultural cast, familial histories, and emotional experiences, four women will reveal the queen that lies within.

ilvs strauss: desert/DESERT
A solo journey into the desert in search of god, self, happiness. Drugs were involved.

Fausto Rivera + Cheryl Delostrinos: Tequila con miel y limón
A remedy: cough syrup, un jarabe. The cure for contemporary maladies comes in multiple forms—including the relationships that sustain us.

Rainbow Fletcher/HYPERNOVA: Eleven Eleven: A High-Energy Meditation on Coincidence
Coincidence can be interpreted as fate, chance, accident or design. Dance and film illuminate the moment when two unexpected things align in time and space.
What else to know: To make life easier and tastier, OTB has brought in a food truck — Nacho Mama's Tamales (cuz they're MY tamales! … or maybe their mama's?) — for the hour between showcases on Saturday and Sunday.  Other great picks are The Sitting Room next door (happy hour from , or bring your ticket stub for special deals), and of course theatre/artists' favorite Solo Bar a few blocks down Roy.  You've also got Caffe Ladro, Pagliacci, and a million other things nearby, but most of these will be a stretch to get to and back and relax and enjoy in an hour.  Tamale truck, you're on!
Located at On the Boards, Studio & Mainstage theatres, 100 W Roy (Lower Queen Anne).
Seattle International Dance Festival
When: June 9-10, 12-16, & 19-23
Shows @ 7:30 pm
Overlapping considerably in day/time with the NW New Works Festival (really??) is the also-awesome-looking SIDF, a giant showcase of dance acts from around town, the country, and the world.  
There are 10 showcases in the full festival lineup: six in the Inter/National series (combines local and international artists); and four Seattle-focused ones: two in the James Ray Residency Project, one in contemporary ballet (curated by Spectrum Dance Theatre Artistic Director Donald Byrd and others), and one called Seattle Now that attempts to describe "Seattle in a nutshell" (curated by On the Boards Executive Director Betsey Brock and others).  
How much: Like with NWNW, the more you see, the cheaper per show. The basics: $25 for one, $40 for two (with a two-show pass), $85 for everything, $135 for a "premium" everything pass (which includes all shows + reserved seating and free drinks).  Order passes and advance tickets here.  
Who's there: An enormous variety, from Seattle veterans to emerging international artists. It depends heavily on the show, which each have a specific focus — or a blended one!  (A showcase in the Inter/National series, for example, features Israeli choreographer Idan Cohen and local favorite KT Niehoff.  The James Ray Residency showcases include local artists who have received a year of festival support. Two other local-only showcases focus on contemporary ballet and Seattle across various dance forms.  View the full lineup here.
Most shows take place at the Broadway Performance Hall and Erickson Theatre (Seattle Central College campus, Capitol Hill).

Earth Pearl Collective: Tail Feather
When: June 14-16
Coming soon to Langston Hughes is a multidisciplinary creative tribute to the "bois of a feather": boi, stud, butch, gender non-conforming Black folk, not conforming to their stereotypes and instead celebrating their unique role in the margins.  Tail Feather is about the magic of the butch woman — her experience of masculinity as safety, seduction, and seclusion, paralleling the display of masculinity in male bird species all over the world.  
Tail Feather uses dance, spoken word, boilesque, and theatre to share stories of masculinity from the masculine-centered woman.  The showcase is created and directed by Sadiqua Iman.
How much: Tickets are $25 ($28 with fees), available here.  
Who's there: Six established queer Black artists with whom you can entrust your night.  Performances include drag by D'Dynasty; boilesque by Seductive Tease, Justice, and Namii; pop-lock solos by Taqueet$; and spoken word by Naa Akua.  The showcase features original music by Be Steadwell and choreography by Alia Kache.
What else to know: Earth Pearl Collective is dedicated to excellent art and the healing of queer Black womyn.  The Collective is a health and arts organization that challenges racial, gender, and sexual orientation stereotypes by inspiring action amongst queer Black womyn to empower themselves and heal their communities.  Their three-day Sovereign Festival last year at 18th & Union included excellent, deeply resonant solo pieces by Amber Flame, Anastacia-Renee, Angel Gardner, Namii, Om Jahari, and Po'Chop. Rumor has it the Festival will return this year; you can view last year's info here.
Located at the Langston Hughes Performing Arts Institute, 104 17th Ave S (Central District), where the space is historic and parking is free & ample.
And for more in modern dance/performance this month, catch …
Base: Experimental Arts + Space
Base is a relatively new performance space, mostly hosting modern dance works, often in collaboration with On the Boards — including picking up the long-running, celebrated OTB favorite 12 Minutes Max.  There's usually something interesting happening there; up next is:
Friday-Saturday (6/29-6/30):

BLEED!

presented by Malden Works.  "Cutting-edge, Iron-rich, Crimson Performance from Seattle's Pulsating Atrium."  I'm not actually sure what that means or what to expect, but info and tickets ($20) are

here

.  

(Probably more informative are some capsule reviews of prior work from one of the artists, which you can check out

here

.  My favorites are "[I]t was sort of like the heavens split open and a choir of angels began

vomiting unicorns

down on us all," and "At one point, the audience applauded her for simply

eating a Dorito

."  Amen.)

 
Spectrum Dance Theater
Spectrum is an established contemporary dance company that deals with pressing issues of social justice through dance and multimedia staged reflection.  The company is mostly off for the season, but catch these member events around town:
Sunday, 6/17 (7 pm show): Artistic Director/Choreographer

Donald Byrd

joins Shontina Vernon and Tracy Hyland at ACT for a discussion following

Until the Flood

, written and performed by Dael Orlandersmith.  This solo performance digs into the aftermath of the police shooting of Michael Brown in Ferguson, Missouri, and should connect beautifully with Byrd's recent works in social justice, including race and violence.  Info

here

.

Various members/alums/partners will participate in the Seattle International Dance Festival (see above).  Included:

Donald Byrd

co-curates the Contemporary Ballet showcase (6/19 & 6/20), and alum

Alex Crozier's work, Millennials

, is shown in the Seattle Spotlight showcase (6/21).

And also: Spectrum is hosting various groups and shows in its space, right on the shore of Lake Washington.  On 6/15, catch "Shared Platform: Pepper Fajans & Ilona Bito," through

Brooklyn Studios for Dance

; info

here

.
Velocity Dance Studio
Velocity has mostly classes going on in June, but puts up a lot of great work right there in the heart of Capitol Hill that, if you're not in the in-club, you might not hear about.  Looking further ahead, here's a July pick:
July 8-28 (classes + festival); performances 7/27-7/28: One of Velocity's flagship summer festivals, Strictly Seattle is described as "a complete immersion into the Seattle dance scene.  Three weeks of daily classes and rehearsals inspire beginning-to-professional dancers with rigorous physical and compositional training in a challenging, invigorating environment. The festival culminates in a weekend of professionally produced performances."  Info

here

.
Yaw Theater
Located in the same multi-purpose industrial/arts building as Base, Yaw is a large dance studio that also hosts performances.  They have one production coming up, on the same nights as the show at Base — so be prepared for parking issues and bathroom lines?  Hopefully that dance works itself out.
Friday-Saturday (6/29-6/30):

Double Vision: Duets in Dance

, an evening-length dance performance with four live performance duets and one dance film short, all of which "reimagine the dance duet outside of the limiting norms of the traditional ballet/contemporary duet."  Info and tickets ($15)

here

.
Stay hydrated.  And enjoy!
(Visited 2 times, 1 visits today)