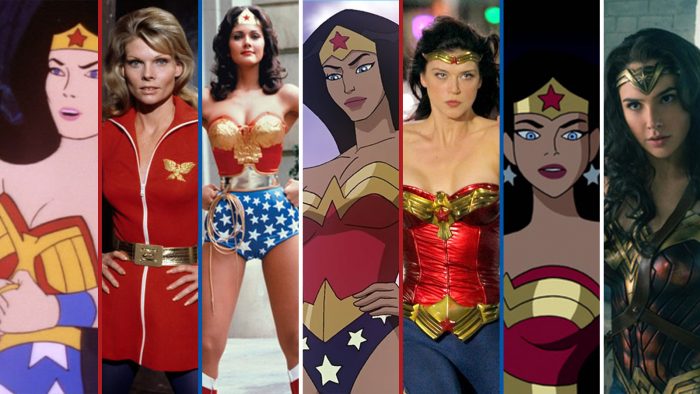 There's something divinely empowering about Wonder Woman that touches so many gay women and men. She's strong, she's fierce and she really knows how to rock a ridiculous outfit!
For those of us of a "certain age" we probably fell in love with WW via the campy 1970s television show starring the deliciously statuesque tall drink of sparkly water, Miss Lynda Carter. The show was ridiculously silly with wooden acting (Hello, Lyle Waggner!!!), limited special effects and pedestrian plots but it was still fabulously campy and featured a strong woman at the center of its story.
The huge success of last year's big budget film has led to a brand new generation j'adoring our favorite Amazonian so to honor the Wonder of Wonder Woman, SIFF is putting on a terrific one day, 4 hour "class" called, "Wonder Woman: Herstory of a Heroine on Screen" that will discuss, in depth, the entire media history of this pop icon figure.
More info below on the event happening this Saturday, April 7th at SIFF's Film Center at Seattle Center (in the old Northwest Rooms section of the park). Check it out and if you wanna go, grab those tickets NOW since they're going fast!
If you sobbed and cheered when Princess Diana charged across No Man's Land in 2017's Wonder Woman, then you'll want to join Jen for an in-depth look at Wonder Woman's cinematic evolution. Starting from Cathy Lee Crosby's 1974 pilot, we'll continue through Lynda Carter's iconic turn, a variety of animated characterizations from the past forty-five years, the disastrous 2011 pilot featuring the otherwise glorious Adrianne Palicki, and arrive at Patty Jenkins' blockbuster starring Gal Gadot. We will view and discuss clips, some hard to find, and Jen will provide cultural, social, political, and historical context – deepening our understanding of the character and her significance in the pop culture pantheon. A familiarity with the comics is not critical to class enjoyment. Cosplay is encouraged!
TICKETS

SATURDAY, APRIL 7, 2018
Event Specifics:
Saturday April 7, 2018
12:00PM – 4:00PM
SIFF Film Center
$20 | $15 SIFF Members

About the Instructor:
Like most girl-children of her generation, Jennifer K. Stuller was inspired by Lynda Carter's Wonder Woman, and spun herself dizzy hoping to transform into the Amazon Princess. As an adult, she has instead transformed into an internationally renowned pop culture scholar and written extensively about Wonder Woman in books and articles. She has been a featured talking head in numerous documentaries about the character – from Wonder Women! The Untold Story of American Superheroines to the recent AMC documentary series Robert Kirkman's Secret History of Comics – and appeared on Minnesota Public Radio to defend the United Nation's controversial choice in naming Wonder Woman a global ambassador for gender equality. Like Gal Godot's Diana, Stuller believes in Love, and has vowed to use her powers only for good.
(Visited 13 times, 1 visits today)