Accessible Arts: Translations Film Festival and Sound Theatre Provide Great Options for the Deaf Viewers and Low-Budget Viewers Alike This Month  
For deaf and hard-of-hearing arts enthusiasts, the accessible, appealing options aren't always plentiful.  This month, two very different events held in the heart of Capitol Hill place accessibility and artistic excellence at the center of their productions.  In addition, both offer discounted and pay-what-you-can options for some of the shows, embracing financial accessibility as well.
Translations Film Festival @ Erickson Theatre (and other locations, mostly on Capitol Hill)
The Translations Film Festival opens on May 3rd and runs through May 12th.  Now in its 13th year, Translations prides itself as "the world's largest transgender film festival."  This year, they're emphasizing auditory accessibility as well, with a whole lineup of deaf-friendly programming, including closed-captioned films.
The deaf-friendly lineup (which can be viewed here) includes 11 feature films, two programs of short films, and a trans-ally workshop; the two Saturdays (May 5th and 12th) have the highest concentration of films, in both deaf-friendly and general programming.   
In addition, the Festival is continuing its commitment to including some free and low-cost screenings available to all.  The free and reduced-rate lineup this year includes:
5/5 @ noon: Change in the Family ($5 general, free for students) (Erickson)
5/5 @ 4:30: Transfigurations: Transgressing Gender in the Bible (free for all) (12th Ave Arts)
5/7 @ 6: Trans Shorts & Speed Friending (free for all) (University Library)
5/10 @ 7: How to Be a Trans Ally (free for all) (12th Ave Arts)
5/12 @ noon: Woman on Fire ($5 general, free for students) (Erickson)
5/12 @ 4:30: It's Alright Michel (free for all) (12th Ave Arts)
See the full festival schedule and film descriptions here; tickets available on the individual film pages.  Full festival passes available here.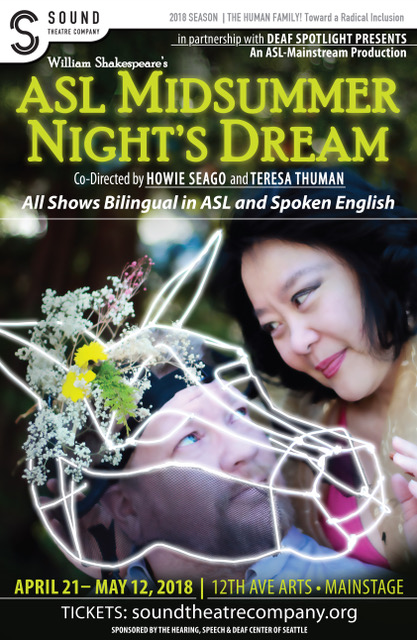 ASL Midsummer Night's Dream @ 12th Ave Arts
Currently in its run, the Gregory Award-bedazzled (including reigning Theatre of the Year) Sound Theatre Company presents ASL Midsummer Night's Dream, a co-production with Deaf Spotlight.  The production is co-directed by Howie Seago (of Oregon Shakespeare Festival, among others) and Teresa Thuman (Founding Artistic Director of Sound).
The production is a fully bilingual performance, with all lines signed and spoken simultaneously by different cast members on the same stage.  It's a unique experience and features a great cast. Read a behind-the-scenes preview by Seattle Gay Scene contributor Sameer Arshad here.  
In addition to embracing fully its deaf and hearing audiences alike with ASL Midsummer's, Sound makes its shows financially accessible as well.  General shows are only $25 (much cheaper than the usual top-quality local theatre tickets), plus a few shows with pay-what-you-can tickets throughout the run.  Tickets and information available here (scroll to bottom of ticketing page to select date).
Also added: a relaxed, sensory-friendly performance, which includes brightened house lights, lowered sound cues throughout the performance, and other accommodations for sensitive audience members on the developmental or autistic spectrum.  This Saturday (5/5) at 2 pm.
Note:  Parking on the Hill, of course, remains financially challenging on weeknights and Saturdays, with most street parking in the area now charging until 10 pm, instead of the usual 6 or 8 pm.  The 12th Ave Arts building is served by nearby light rail, bus and streetcar; and some neighborhood parking (such as the 15th Ave corridor and points east) is free if you can get it. Just pay close attention to weird time limits, zone restrictions, and other signage.
(Visited 1 times, 1 visits today)