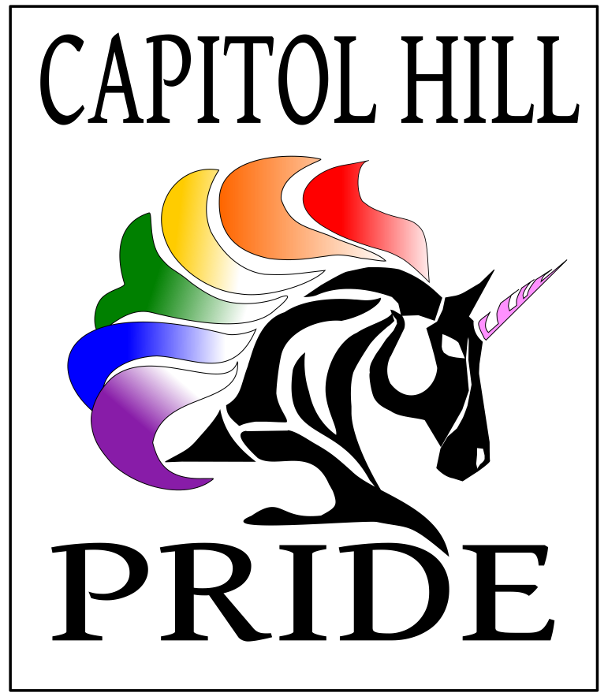 Like Cher and Cockroaches, you just can't get rid of Charlette LeFevre's CAPITOL HILL PRIDE group. 
If you can recall, LeFevre and partner Philip Lipson were among the people who started the original Capitol Hill Pride event (aka, the Pride Saturday street fair held on Broadway between John and Roy) nearly a decade ago in response to Broadway businesses and old school LGBT Seattlites lamenting the loss of official Seattle Pride events to downtown and Seattle Center to handle the increasing size of the event. The event was a popular addition to Seattle's Pride line-up; a low key, family friendly event with some stages, lots of booths and the "Doggy Drag Queen Contest". 
When Seattle PrideFest, the producers of the official Pride Sunday festival at Seattle Center started producing Youth/Family Pride events near the Broadway event in adjacent Volunteer Park on Pride Saturday a few years ago, that seemed to spark a minor rivalry and feud between the two groups.
That rivalry got fractious in 2017 when both Capitol Hill Pride and Seattle PrideFest started planning separate "Equality Marches". PrideFest got the majority of Seattle's LGBTQ organizations on board while LeFevre's group countered by announcing they were moving the Capitol Hill Pride event from Pride Saturday, to the day of the march which annoyed not only sponsors already signed up for booths, but the City of Seattle as well who eventually denied LeFevre's group permits to hold any public event. PrideFest took over the production of the Broadway street festival on Pride Saturday and many assumed that LeFevre and her group were done with producing events related to Pride celebrations in Seattle.
(Catch up on all the old Capitol Hill Pride Drama by clicking HERE to see the coverage from last year…)
But, earlier this year, "Capitol Hill Pride" announced they had reformed with LeFevre, partner Lipson and a few others, to create a new group and issued this press release:
ANNOUNCEMENT – New Organization and Logo
Feb. 6, 2018

Capitol Hill Pride is proud to announce itself as a new non-profit organization and Trademark name established by the organizers of The Capitol Hill Pride Festival and a Board of Directors which is looking forward to its 9th year on Broadway.

The Directors are encouraged that this year's permitting will go smoother as the last two years saw permitting denial for a second day and severe restrictions which resulted in a decreased attendance at the 2017 festival under former Mayor Ed Murray favoring other Pride events during his re-election campaign.

The Capitol Hill Pride Festival has grown to become the Northwest's largest Pride street festival since 2009 and Capitol Hill's largest Constitutionally protected annual event since 2013.

Development on events, registration and stage schedule will be announced on the website.

The new Capitol Hill Pride logo is a black/white unicorn reflecting the colors of the Pride flag including pink representing the large diversity of the community.

Capitol Hill Pride is confident in the many restaurants, businesses non-profits and artists in promoting the LGBTQAI cause whether it's through their art, business or personal expression and support of the community all year long.

Developing Board
Charlette LeFevre
Philip Lipson
David Kennedy
Laura Ingalls Wilder
Bo Odyssey
Today, June 13th, Capitol Hill Pride sent out a new release announcing they have partnered with Seattle Central College to stage a March & Rally on Pride Saturday, June 23rd from 10am to 3pm then will return for an evening concert from 8pm to 10pm. 
The popular Dyke March & Rally will take over the Seattle Central Plaza gathering space in-between those two blocks for their annual rally/march.
Capitol Hill Pride released the following, with a partial schedule of events/performers. 
Schedule and Performers Capitol Hill Pride

June 13, 2018

Capitol Hill Pride is proud to announce a finalized agreement with Seattle Central College for its March & Rally on Sat. June 23 on the campus which will now also include donations and vendors and additional hours of 8-10pm for a music concert.

We are excited to announce the Schedule and lineup of Speakers and Performers to date:

March 10am – 11am

11am Intro, MC Asukaa Jaxx – Intersex Representative and community activist

Opening: Directors – Charlette LeFevre and Philip Lipson

11:10Teri Rogers Kemp.
Teri Rogers Kemp is an attorney and has practiced criminal law in WA state since 1995.  Attorney Kemp is active in the effort to modify RCW 9A.16.040, regarding police use of deadly force and will be talking on the history of Stonewall and its relation to the defense of Black Lives Matter Activists.

11:30Mac McGregor – Seattle City Commissioner in 2011 – 2016. Mac is the transgender and gender non-conforming outreach director for Social Outreach Seattle and a former board member for Seattle Counseling Center. He is on the Seattle Police Department LGBT advisory board.  And continuously speaks on panels and solo at numerous colleges, non-profit groups and state and city government on gender & sexuality.

Noon: Capitol Hill Pride Doggie Drag Costume Contest

Judges:
Charlette LeFevre – Director Capitol Hill Pride
Mac McGregor – Transgender Community Leader

Kevin Haywood – Jet City Animal Clinic

12:30pm Capitol Hill Cupcake Decorating Contest

1-1:30pmMac High 

Mac High, Seattle Born and Raised Started Singing During High School and since then, He's Lead Numerous Bands and featured In Many Bands In High School. Now Mac is Performing Solo for the first Time since High School and the Mac High & The Groovs Hiatus.

1:30 – Maurice Crowlie, Artist Performer, Michael Jackson impersonator

8-10pmLies in Dust Band

In 2014 Lies in Dust started spreading their dark interpretations of their favorite 70's, 80's and 90's songs all across Seattle. Fish Jones (bass), Chad Hultgren (guitar/ vocals/programming) and Lola Vast (vocals and founding member) have a diverse list of musical influences such as Patsy Cline, Madonna, Depeche Mode, Alice in Chains, Celldweller, Ministry, The Ramones, Nine Inch Nails, Pink Floyd  and Ministry. They are looking forward to bringing the original music they are working on to a stage near you soon! Personal Jesus – Depeche Mode
Metro – Berlin
Like a Prayer – Madonna
White Rabbit – Jefferson Airplane

We believe Capitol Hill will again receive over 35,000 visitors for Pride weekend throughout the day and the annual Dyke March which steps off from Seattle Central Campus brings an additional 1-2,000 attendees directly into the area.

Capitol Hill Pride is a new non-profit organization established in 2017 by the organizers of The Capitol Hill Pride Festival established in 2009 which is looking forward to its 9th year on creating awareness of the LGBTQAI community through events.

Full Event Information and developing schedule at:
http://www.capitolhillpridefestival.info/
We've requested info from Capitol Hill Pride about the status of their city permitting to hold the event. Stay tuned. 
UPDATE: We contacted sources at City Hall and discovered that since the Rally is being held on Seattle Central property, Capitol Hill Pride would not need City of Seattle permits to have the event, just permission from the college. As for the proposed march to be held, the group has applied for a permit to hold one on the 23rd and its likely to be granted. 
(Visited 1 times, 1 visits today)