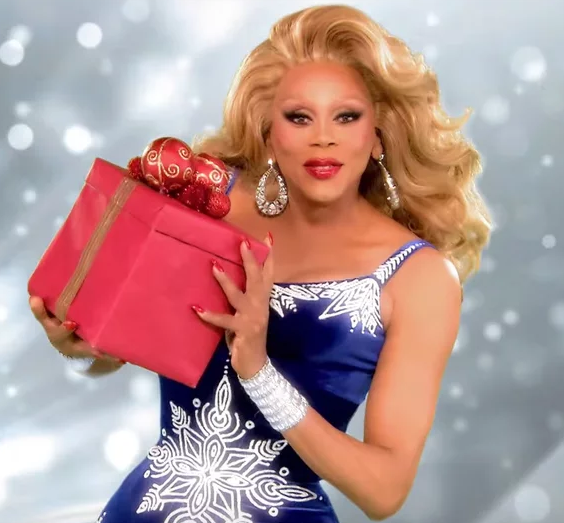 Also:
WHAT THE HELL HAPPENED TO RUPAUL'S FACE IN THIS PHOTO?!?!?!?
IS SHE ILL?
CHANGED HER MAKE-UP?
IS SHE NOW BEING "PORTRAYED" BY BRENDA VACCARO?!?!?!?
Maybe the photog needs fired….at the very least, she should never do a full frontal face shot. 
Anywho, back to the news that VH1 will air RuPaul's Drag Race Holi-slay Spectacular on Friday, Dec. 7, a holiday special featuring former contestants vying to be "Drag Race Xmas Queen".
The contestants are:
Eureka O'Hara, Jasmine Masters, Shangela, Kim Chi, Latrice Royale, Mayhem Miller, Sonique, and Trixie Mattel.
Structured similar to a standard installment of Drag Race, the holiday special will include a series of performances, choreographed by Todrick Hall, featuring the queens dancing and lip-syncing to original Christmas music from both of RuPaul's holiday albums: 2015's Slay Belles and the upcoming LP Christmas Party.

"Nothing says Christmas like 'Chestnuts roasting on an open fire, and drag queens slipping on their pantyhose,'" RuPaul said of the episode via press statement. "Celebrating the holidays with my most festive girls inspired me to record my new album, Christmas Party. And this VH1 holiday extravaganza is my way of saying thank you to my Drag Race family by spreading a little bit of love, laughter, and light across the country and around the world."
I'm guessing every bar in town who normally screens RPDR will host viewing parties on December 7th.
Meanwhile, RuPaul needs to fire her make-up person or her photographer. 
Or, lay off food/drink that makes you so puffy…
(Visited 1 times, 1 visits today)