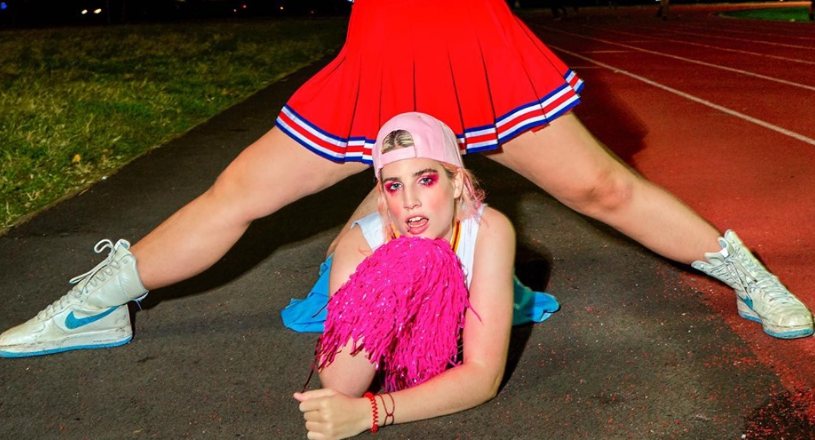 I dunno…she's kinda rad. Sir Babygirl aka Kelsie Hogue, is a non-binary bisexual singer/songwriter with a wicked sense of humor and a talent for smart snarky lyrics attached to some catchy beats. She's got Billboard, AND Rolling Stone singing her praises not to mention MTV and Paper Magazine and Stereogum and NPR and…
You get the picture.
She's also happy and proud to fly her queer flag, telling Rolling Stone:
"The whole essence of Sir Babygirl is that I [embody] a binary opposition," she says. "I'm a boy and a girl, I'm a man and I'm a woman, I'm funny and I'm serious….My girlfriend always says that when I go and perform as Sir Babygirl, and I put on a makeup look, it's like I'm going into drag. And it does feel like a nonbinary drag character."

-Sir Babygirl
Her current single/video "Haunted House" is seasonally appropriate, a Britney Spears anthem except instead of crushing on male back-up dancers destined for beer bellies and regret, Hogue is probably pining for the cute alt-girl next door at one of those tragic house parties where there's a drama going on in every room of the house.
We've all been to one of those.
Sir Babygirl is bopping into Seattle on Monday, November 4th for a gig at Barboza (Neumos' funtastic little sibling club) on the West Coast leg of a tour supporting her 9 track album Crush on Me. You can, and should, snag tickets (only $12!!!) over HERE!
MORE on the album and its tracks:
Sir Babygirl chronicled each revelation in song, reclaiming and celebrating all the deep dives, detours, and divas that led her to her debut album Crush on Me. Crush on Me dances through discovery—from opener and debut single "Heels," which sets Sir Babygirl as a bewildered, bisexual Cinderella bailing on the ball, all the way to the gentle self-courting of the closing title track. Along the way, Sir Babygirl rages through the agony and ecstasy of queer flirting ("Flirting with Her"), peels past layers of latent shame ("Cheerleader"), parties with old ghosts ("Haunted House"), trudges through social anxieties ("Everyone is a Bad Friend"), and basks in the glow of neon-lit nights out ("Pink Lite"). On the other side of the journey, Crush on Me ultimately celebrates the silliness and sanctity of a second adolescence, a rite so quintessential to the queer coming-of-age experience. Imagine Karen O performing Robyn's "Dancing On My Own" with Courtney Love strumming the synth line… or maybe a Max Martin-produced cover of Lauryn Hill's "Ex-Factor" performed by My Chemical Romance's Gerard Way. Wrap it all up in an aesthetic that marries Grimes to Ashlee Simpson in the uncanny valley of celebrity culture and neo-Absurdism. Somewhere out there, in between a girl group and a boyband, is Sir Babygirl… and her pug Baby Diva. Along her journey, she has discovered the sugar-rush sweet spot between melodic emo confessionalism, cartoon character plastic-is-fantastic vocals, and PC music-adjacent synthpop fantasia. That place is real, and its lord is our knight Sir Babygirl. Crush on Me is out now on Father/Daughter Records.
Tags: Barboza, Sir Babygirl