Oh, it was indeed a treat to see Democratic presidential candidate seeker Senator Elizabeth Warren rise to the challenge and just lay into media billionaire and former NYC mayor Michael Bloomberg at the Nevada Democratic presidential debate on Wednesday night. Here's a delicious quote from Liz: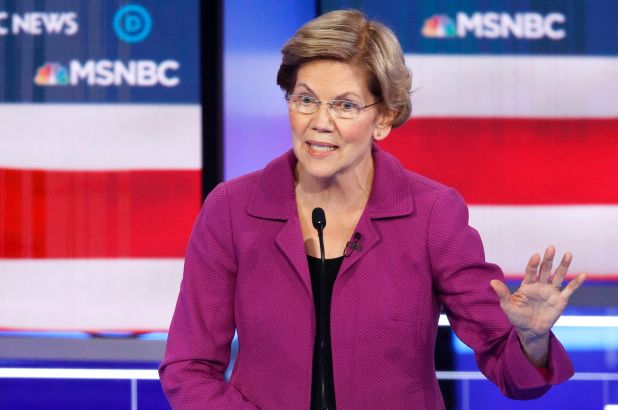 "Democrats are not going to win if we have a nominee who has a history of hiding his tax returns, of harassing women, and of supporting racist policies like redlining and stop-and-frisk….Look, I'll support whoever the Democratic nominee is. But understand this: Democrats take a huge risk if we just substitute one arrogant billionaire for another." – Elizabeth Warren
Bloomberg fumbled and bumbled his way through the debate which hopefully tarnished the campaign he's paying for with his own billions of dollars.
Meanwhile Warren, who hasn't performed well in the first two primaries/caucuses of the season scored high marks and may have improved her chances to do well in Nevada this week and South Carolina next week.
The Senator is also seeing ahead to March contests which include Washington State on Tuesday, March 10th and she'll be in Seattle this coming Saturday, February 22nd to attend a rally at Seattle Center's Armory. Here's the information:
Elizabeth Warren is coming to Washington! She will be hosting an event in Seattle on Saturday, February 22 as we build our movement for 2020. We'd love to see you there!

Doors open at 4:00 PM and the event will begin at 6:00 PM. This event is free and open to the public, so feel free to bring your friends and family along too. Tickets aren't required, but an RSVP is strongly encouraged. Admission will be first come, first served.

RSVP: https://events.elizabethwarren.com/event/235987/?utm_source=facebook

The location of this event is ADA-compliant. Reply to your registration email to confirm any of your accessibility needs or request more information.

WHERE: Seattle Center Armory
305 Harrison St
Seattle, WA 98109

WHEN: 4:00pm–8:00pm PST

Thanks, and we hope to see you in Seattle!