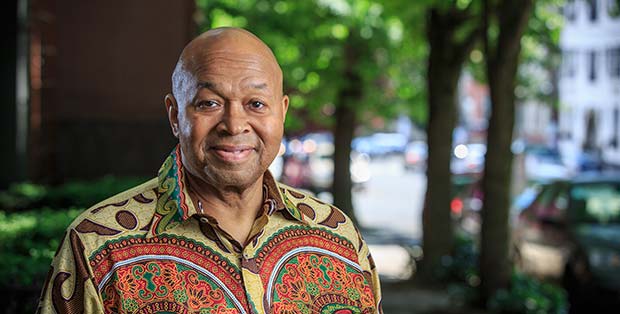 Beloved human rights and HIV activist Wakefield (who prefers to go by just his last name) has announced his retirement from Fred Hutchinson Cancer Research Center's HIV Vaccine Trials Network after 20 years serving as external relations director. During his time with Fred Hutch, Wakefield traveled to 32 nations to bridge relationships between Fred Hutch, one of the leading HIV researchers in the world with under served communities globally.
"What I can do at the age of 67 is not what I could have done as a younger man," he said. "My cardiologist has become my interior decorator: My first week of retirement I will get rid of either my sofa or my La-Z-Boy and replace it with an indoor bike."
He also stated that he thought it was time for a younger person to take on the reins of a job which requires long hours which also now includes the desperate search to run clinical trials on vaccines for COVID-19, the pandemic which has brought the entire world to its knees over the last six months.
Wakefield has been an activist for nearly 60 years, volunteering for non-profits in his native Chicago since he was a child and becoming a community leader during the onset of the AIDS Epidemic in the early 1980s not only working on trying to save lives during those dark days, but also continuing his work for civil rights and increasing the visibility of Black gay men and women within the LGBTQ community.
The activist received praise from colleagues from around the world upon the announcement of his retirement via Fred Hutch News:
"He has been, for me, a moral compass, a wise adviser and a close friend," said former Fred Hutch president and director Dr. Larry Corey, who cofounded the HVTN. When the organization received funding from the National Institute of Allergy and Infectious Diseases in 2000, Wakefield was a key initial hire. "His values, his voice and his intellect just don't permeate our culture — he created the DNA of our organization. No one has had more of an impact on how we operate."
Renowned HIV researcher Dr. Glenda Gray, leader of the South African Medical Research Council and co-principal investigator for HVTN, said Wakefield helped to expand clinical trial capacity in her country through his skill in working with both scientists and community advocates. "His vision and passion for Africa resulted in a vibrant and highly successful program. He rejected the concept of Afro-pessimism and helped promote the growth of science in Africa. For that I will always be grateful," she said.
Replacing Wakefield in his role of director of external relations is Dr. Stephaun Wallace  who has 25 years experience in social justice and community mobilization experience and joined the HIV Vaccine Trials Unit in 2016. Dr. Wallace calls Wakefield both "a friend and a mentor".
Wakefield's retirement will not only be felt at Fred Hutch but around the world by the lives of the many people he touched. He was honored as a Grand Marshal at Seattle Pride's parade in 2018, but all of Seattle honors Wakefield every day for the work and the passion he brought to his commitment to civil rights and HIV/AIDS advocacy.
(Visited 1 times, 1 visits today)