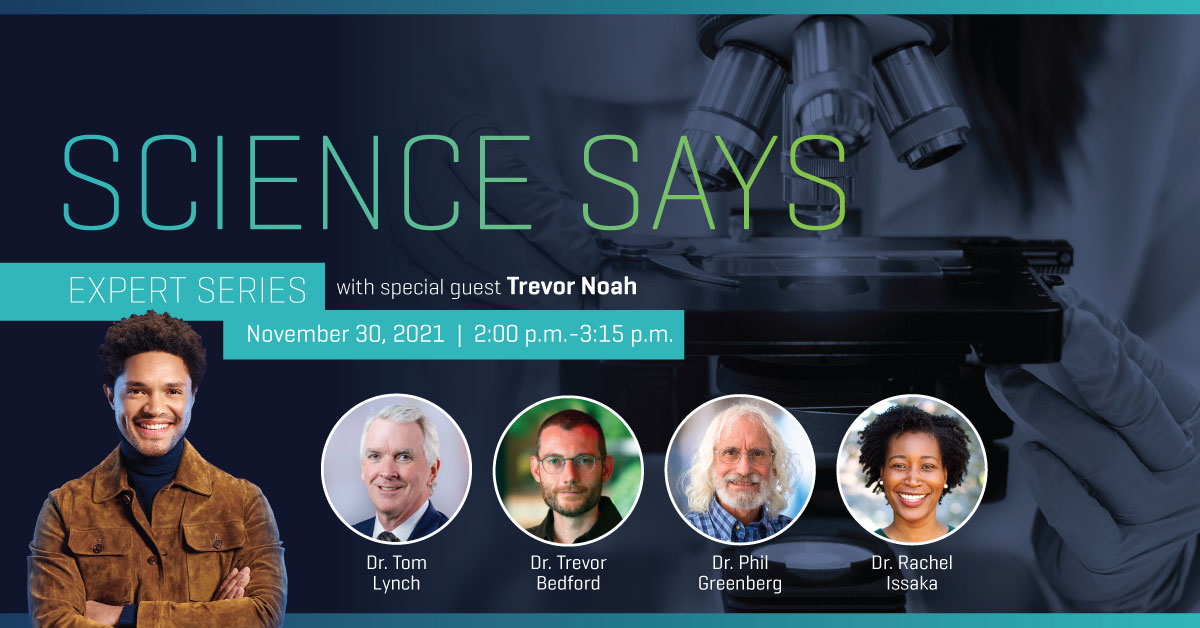 Virtually….the event is VIRTUAL. So don't be fan boyin'/girlin' over to Fred Hutch trying to track down the adorable Trevor Noah…it would be unseemly.
This Tuesday, November 30th at 2pm pst, you can virtually join Trevor Noah, comedian and host of Comedy Central's "The Daily Show," will chat with three Fred Hutch researchers who are fearlessly working to end cancer and COVID-19.
Hosted by Fred Hutch president Dr. Thomas J. Lynch Jr. the speakers are: Dr. Trevor Bedford, Dr. Phil Greenberg, and Dr. Rachel Issaka.
Go here to RSVP: https://www.fredhutch.org/en/events/science-says-nov.html
More on the speakers:
Dr. Trevor Bedford
Dr. Trevor Bedford was named a Howard Hughes Medical Institute Investigator and a MacArthur Fellow, also known as the MacArthur "genius grant," for his research and public health contributions in tracking the spread and evolution of viruses, particularly SARS-CoV-2, which causes COVID-19. Trevor uses powerful computers, complex statistical methods, and the software tool he co-developed, Nextstrain, to study a range of viral outbreaks, including influenza, Ebola, and Zika.
Dr. Phil Greenberg
Dr. Phil Greenberg is a pioneer in the field of cancer immunotherapy, a form of treatment that aims to harness the power of the immune system to eliminate cancer. Nicknamed Dr. T-Cell, his early discoveries showed how to target diseases with immune T cells and helped drive a burgeoning field. Phil's team continues to develop and test strategies to genetically reprogram a patient's T cells to more effectively target cancers, including solid tumors. He holds The Rona Jaffe Foundation Endowed Chair.
Dr. Rachel Issaka
Dr. Rachel Issaka is a gastroenterologist and clinical researcher who has gained national recognition for her work to prevent colorectal cancer deaths — and increase health equity — by developing novel ways to reach, screen, and ensure follow-up for at-risk individuals. She is also a leading voice on dismantling racism in the medical field. Rachel serves as a colorectal cancer advisor to the President's Cancer Panel and was included in Puget Sound Business Journal's 2021 list of "40 under 40" Seattle-area leaders.
(Visited 2 times, 1 visits today)