February 7, 2011

•
by
Seattle Gay Scene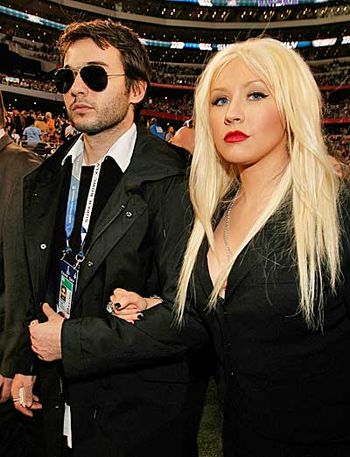 As everyone knows by now, Christina Aguilera performed at yesterday's Super Bowl. Despite a beautiful vocal performance, Aguilera unfortunately flubbed one of the lyrics of The Star Spangled Banner, singing "what so proudly we watched, at the twilight's last reaming" instead of the correct words, "o'er the ramparts we watched, were so gallantly streaming." Shockingly, Aguilera has received horrendously hate-filled press as a result of her innocent error.
Honestly, it is not that big of a deal that she messed up a lyric. Yes, Aguilera is a professional and should have lyrically nailed our national anthem. We need to keep in mind, however, that she didn't do it on purpose. It seems that a bulk of ignorant Americans truly believed that Aguilera flubbed the lyrics on purpose, as if she purposely wanted to show disrespect to our country. Why should she be vilified for an honest mistake? Aguilera obviously feels bad about what happened and the poisonous onslaught she has received is simply unfair.
In an official statement, Christina respectfully said "I got so caught up in the moment of the song that I lost my place. I can only hope that everyone could feel my love for this country and that the true spirit of its anthem still came through."
Anyone with an open mind and an ounce of compassion could see the genuine passion in her performance.
Disgustingly, many people have attacked Aguilera as being unpatriotic. Some have even gone so far as to insinuate that she should be banned from ever again performing the anthem. Certainly, she does not deserve these kinds of attacks. Given the current atrocities in the world, it would be refreshing to see Americans on mass show some compassion instead of arrogant hate. Joan Rivers, a horrible woman in every respect, publically asked "How stupid can you get?" She went on to insinuate that Aguilera was too fat and thinking about eating when the flub occurred. What the hell is the point of a personal attack in response to a simple performance based mistake? In no way does messing up the lyrics to the national anthem make someone unpatriotic. That is asinine, juvenile logic at best.
Anyone with an ounce of musical knowledge knows that The Star Spangled Banner is one of the most difficult songs in the English language to perform. On top of this, almost all other performers of our national anthem at the Super Bowl have been lip synched renditions. Even Whitney Houston, whose rendition is considered the greatest version ever of the national anthem, did not sing live. Christina sang LIVE, without any musical backing. That alone earns her huge points.
I for one appreciated Christina's attempt to make the national anthem into her own personal rendition. Her trademark vocal acrobatics added a tremendous amount of positivity and power to her performance. More than anything else, it is sickening to see so many people vilify an artist who was humble enough to recognize and publically apologize for her mistake. Even with this setback, Christina Aguilera is THE best singer of our generation and one of the best singers of all time. Even with her innocent, she still vocally nailed it. Everyone needs to give her a damn break and move on.
(Visited 2 times, 1 visits today)
Related Posts
WHY? WHY HAVE YOU FORSOOKEN US, CHRISTINA?!?!?!?!? (And, by us,
...