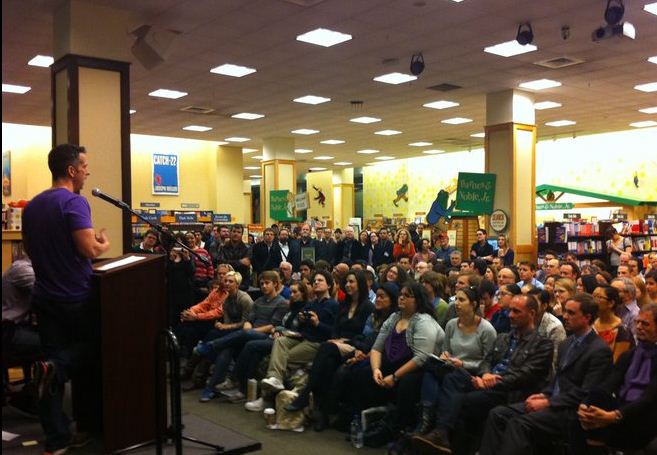 Seattleites Dan Savage and Terry Miller were busy boys in New York City yesterday at the launch of their book of their online anti gay bullying campaign, The "It Gets Better" Project. The well known pundit/sex columnist/Stranger editor and his partner created the project last year to combat the bullying of kids and teens not knowing it would swell into an internationally known cause. The book, a natural extension of the online website, was largely edited by Mr. Miller and features both written essays from people who have already contributed videos to the project as well as brand new material including pieces from such famed individuals as President Barack Obama, David Sedaris, Kate Clinton, Murray Hill, Bishop Gene Robinson, Ellen Degeneres, Tim Gunn, UK PM David Cameron, Suze Orman, Hillary Clinton, Nancy Pelosi, Chaz Bono, Bruce Ortiz, Perez Hilton, Michael Feinstein, Andy Cohen and many others, as well as heart felt testimonies from the far less famous but the equally valid and empowering.
The book launch kicked off with a packed house at NYC's Barnes & Noble and an appearance on The Gayle King Show before heading to Chicago, and events in California this weekend, then Mr. Savage and Mr. Miller return to Seattle for a Town Hall appearance on Tuesday, March 29 at 7:30pm. Tickets still remain for this event at Brown Paper Tickets.
It's well worth checking out.
(Visited 1 times, 1 visits today)