Still recovering from the crazy whirlwind that was my Saturday night! Had so much fun, saw so many of my favorite faces, and didn't wake up with a hangover the next day! BONUS!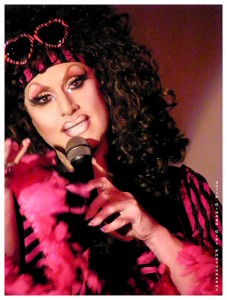 My Saturday started early because I was lucky enough to have been given a pair of tickets to the Jackie Beat show by the lovely Ms. Carla, the purveyor of our beloved Re-Bar. My trusty Ginger Girl in tow (we must have pictures, yes?); we set out for Re-Bar and staked out the best possible seating. Let me tell you something, if you missed this show, YOU MISSED THE BOAT. I'm not even joking, I feel sorry for you. I'm shedding a tear for your tortured soul. Jackie Beat is bleepin' hysterical – from the witty repartee (read: standup comedy) in between songs, to her song parodies that literally have to be seen and heard to be believed (brilliantly written and flawlessly executed), to the subtle (or not so) looks and body language she drops on the audience. It's all triple A-Mazing! …and, as usual, b**th looked hot.
As much as I love Jackie Beat, I had to sneak out toward the end of the show because I had to run up to the hill and drop in on Wildrose and Electric Tea Garden to handle some business. What business you ask? WELL, since you asked, both are advertisers in the new issue of Hard Times Press which is slated to be released on June 18th at The Pre-Pride Bouncy Ball that the Trouble crew is throwing at Fred. This new issue is….well, very special. I'm not going to ruin the surprise!
After hitting up the Wildrose and Electric Tea Garden, handling business, enjoying a few tasty beverages, picking up our pal Mr. Chanel, and leaving a miniature blow up doll on the bar at one of the lucky establishments (don't ask), it was back to Re-Bar! You see, immediately after Jackie Beats show, the little production elves at Re-Bar transformed the joint and it became the "Ms Bacon Strip Pageant". By the time we got in the door and battled our way into a tiny little space to catch even a glimpse of the stage, the damn thing was nearly over! I can say 3 things about Bacon Strip from Saturday night: 1) That Sylvia knows how to throw a party, 2) Jinx Monsoon won (not a shocker) and, 3) there were more freaks/trannys/drag queens than you could shake a stick at (and I was in heaven)!
At this point, it's getting pretty late, so the Ginger Girl, Mr. Chanel, and I made our way back up the hill for one last stop at Chapel. Tony Burns and JT Hooker were fillin' in for Rapture, a night which normally boasts General Meow and Barbarella as its residents. We had to go support our boys, right? The music was on point, and the lemon meringue martinis were sensational as usual! Perfect way to wind down the night. As the clock ticked closer to two, I started fearing I would turn into a pumpkin (which basically meant I needed a good dose of street meat), so we left. Without even saying goodbye. Rude, I know, but sometimes unavoidable. This was one of those times. As we made our way home, stomachs full of street meat (which is always good goin' down, but makes for a serious gut ache the next day), I was absolutely blissed out about my fun filled night of queerdom! Viva La Gays!
Check out more of Ginger Girl's pics from this night out by clicking here!
Read more from me on my blog, The Eyes Of Laura Kendall!
Tags: Bacon Strip, Electric Tea Garden, Ginger Girl Photography, Hard Times, Jackie Beat, Re-bar, Wildrose