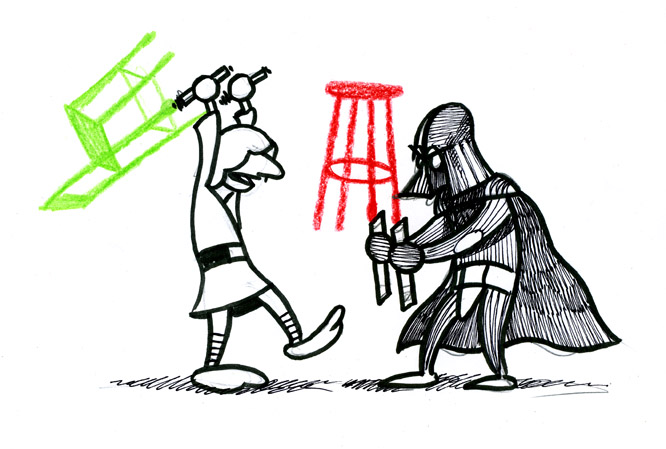 There has always been a competitive nature between our watering holes in the community. Is this the start of a war that changes Seattle nightlife forever?  Picture it…Washington DC…2009.  I was a popular bartender at a nightclub where I knew all the bar managers/owners/staff etc.  I was always blind to the competition or maybe it wasn't overt.  Everyone seemed to get along.  I decided to take an opportunity to co-own a nightclub and be the managing partner.  EFN Lounge was born.  I got immediate backlash for my programming as I was targeting the gay market.  My 'friends' at the other bars felt slighted.  Isn't healthy competition good for the consumer?  Do people support their favorite bars, or do they go where a fun event is?  Ultimately, EFN Lounge became an event bar where there was always some fashion show, Jello wrestling, RuPaul girls, fundraisers etc. going on.  Nobody came to EFN Lounge unless something was booked.  The power of the promoter takes over.
I moved to Seattle recently and, again, I am a bartender and maybe blind to the competition – again.  But it is rearing its ugly head in the form of ElectroPOP! versus RPlace on Thursday nights. Let the Thursday night Bar Wars begin.  It seems ElektroPOP has been winning the war for quite some time.  This week  a Madonna-rama event is planned with Venus D Lite from Rupaul's Drag Race Season 3, and YES, all Madonna music.
Sinfinite Productions is clear that ElektroPOP! will continue to create events that target the market and give the LGBT community a nightlife experience that seems to be lacking in Seattle. One of the co-founders of  Sinfinite is the creator of RPlace's successful amateur strip contest on Thursday nights.  Word on the street is that RPlace is ready to compete for the market against former ally, Sinfinite Productions.  Now we have Thirsty Thursdays, what's a queen to do?  It is evident that there is some copy-catting going on as Mariah from the Drag Race Season 3 is set to appear at RPlace.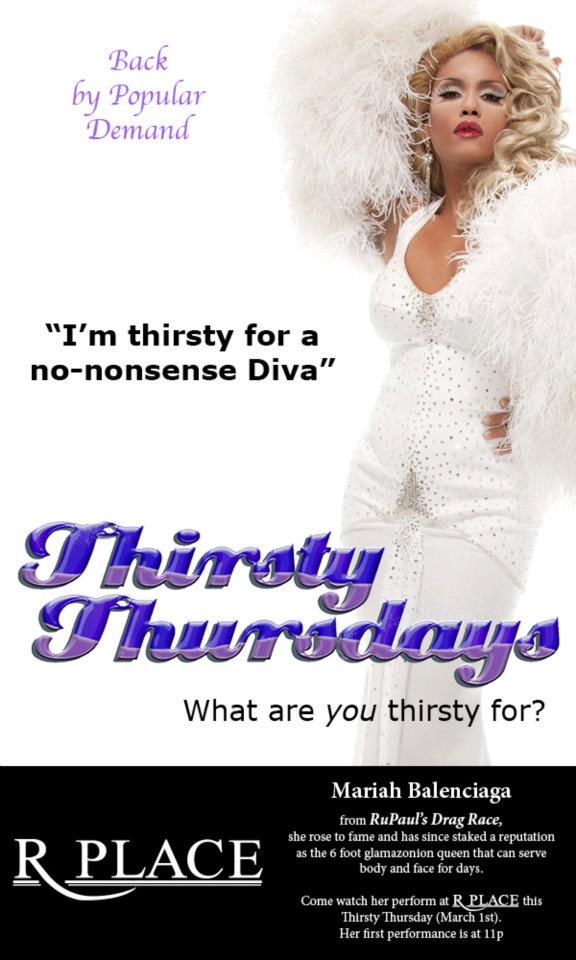 The only people who suffer from this battle are our community.  Maybe I want to see both queens? But it looks like I have to choose.  Maybe I love Madonna and can't wait to dance to her all night, but maybe Mariah is a good friend and I want to go support her.  Washington DC and NYC are already dominated by the BAR WARS.  Seattle looks to be following suit.  Of course, as a bartender for ElektroPOP!, I have a biased opinion on the particular battle, but I know how this plays out and it doesn't look good for the community.  On the upside, the competition will produce better nightlife events.
Throughout all my years in this business, one thing is certain.  Whoever makes their customer feel the most welcome will prevail. Currently, ElectroPOP! is winning that war.  RPlace, I challenge you to step up your service game and that means from the front door to the exit door.  We are all family, and should feel as such when we are out spending our hard earned dollar in the community.
I asked in the title of this article, A New Hope?  I do believe Seattle is going to change because of this.  Prepare to see new nightclubs popping up and many,many more events that bring in national DJs, celebrities, and more.
We are entering a time of change.  Seattle will no longer offer the day in and day out bar experience.  Enjoy the ride.
(Visited 1 times, 1 visits today)