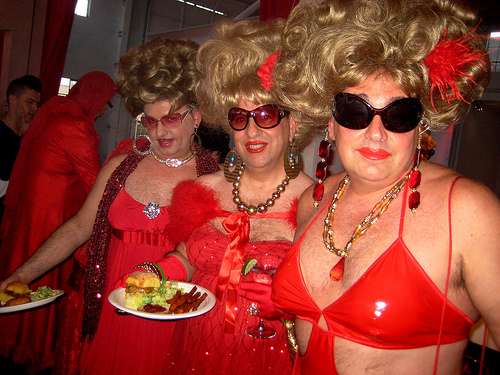 You have until NOON to buy your General Admission tickets at the pre-sale price…you save $20, so get to it HERE! Any GA tickets still available after 12pm will be sold at the door for $60!
VIP tickets are now sold out.
What you need to remember for tonight if you are going to Seattle Red Dress 2012:
1) The pre-func starts at The Grill on Broadway at 7pm and lasts until 10pm
2) The doors for Red Dress at Fremont Studios, open at 8pm for VIP ticket holders and 9pm for General Admission
3) VIP ticket holders only need to bring their ID to get in. General Admission ticket holders should bring ID and their printed out BrownPaper tickets.
4) EVERYONE needs legal photo ID to gain admittance. 21+ only!
5) Seattle Red Dress Party is CASH ONLY but there are ATMs at Fremont Studios. Find some way to secure your ID, ATM card and cash…bring a purse, or stick it in your shoe/socks/bra.
6) You must be in Red Dress!!! But, you don't have to do full drag…wear whatever shoes are comfy! (Though, drag is certainly encouraged!)
7) It's cold, windy and wet today/tonight! Wear proper outerwear so you don't freeze your ass off on the way to Red Dress!
8) Do NOT drink and Drive! Have a designated driver; cab or bus it; take advantage of the special offer from UBER Town Car Service!
(Visited 1 times, 1 visits today)