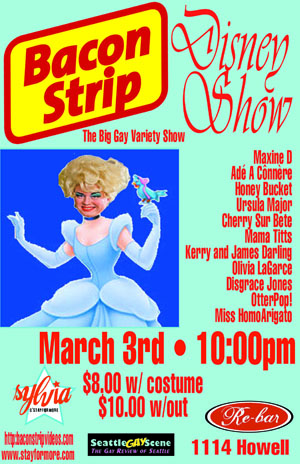 The Weekend Calendar is up…as usual, there's a shit ton of events to choose from for all tastes and budgets. Things get Cheap and Tricky at The Seattle Eagle; it's a night of 70′s Retro Funk Punk Cock Rock w/ DJ Up-Above…Or, there's "Beefcake" at Pony; that's usually a packed house full of sweaty flannel and manliness.
Saturday offers the Nubian Pride Pageant at Highline Bar with Special Guest Mariah Balenciaga from "RPDR"…or, the "Absolutely Ghetto Fabulous Show" at The Wildrose with Lady Jane DJ, ArtStar and some burlyque fun…OR/OR, the quarterly "Lick" party: "A totally queer dance night w/ DJs Dewey Decimal & Mathematix"…that's at Chop Suey.
AND, it's "Disney Bacon Strip" at Re-bar with hostess Sylvia O'Stayformore and her cast of zanies doing unspeakable things to beloved Disney characters. Note, this is one of the most POPULAR Bacon Strips of the year, so get there EARLY! It will be FULL of DisneyPhiles getting all swoony over OtterPop dressed as Goofy; the Darling Boys doing disgusting things dressed as Tweedle Dee and Tweedle Dum, and Maxine deLaCunt channeling the worst excesses of Cruella deVille…or something similar. It's all Top Secret as to who does what to whom…regardless, it will probably end with tears and depravity and bacon breath.
Sunday serves up the hot new Brunch/Dunch show at The Grill on Broadway: "Mimosas With Mama" with Mama Tits and Special Guests…and, Eggs Benedict and excessive amounts of mimosa drinking…
Check out the full Weekend Calendar AND the Main Calendar!
(Visited 1 times, 1 visits today)