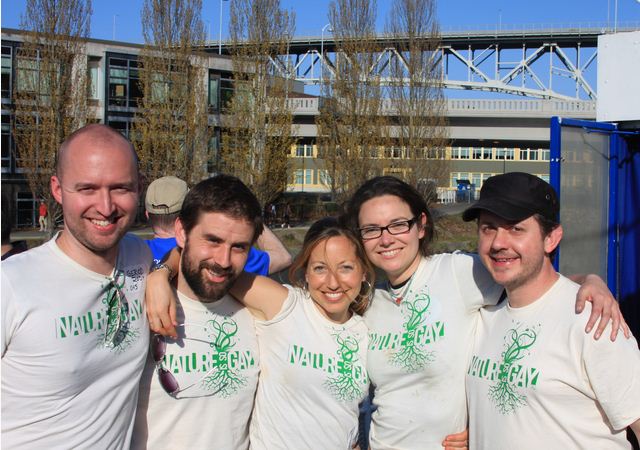 Earth Gay…it's like Arbor Day but a lot more fun. And, gayer.
It started in Seattle with the Out for Sustainability folks and it's back again this year with events in multiple cities. Seattlites can join the party and help clean up the Great Outdoors this coming Sunday, April 22…Sadly, the event is already "sold out" so to speak; they have enough volunteers for this year's event apparently. But, it's still a great cause and you can still make an effort to clean up the environment. OR, give some money to Out For Sustainability. OR, support them at their Earth Gay After Party at Lobby Bar on Sunday from 5pm to 8pm:
Lobby Bar is hosting OUT for Sustainability volunteers from Seattle's Earth Gay from 5-8pm with special prices on special drinks, including locally sourced beer and liquor. Join us to celebrate a great day! They are on Capitol Hill between Broadway and 10th on Pike. This is an optional event for those 21 and over.
Here's some skinny on Earth Gay:
Earth Gay started in Seattle, and we're coming back for the fourth year! This round we'll be at the NW corner of Lake Union continuing our restoration of the Cheshiahud Trail that circles the lake. As a vital alternative transportation route for Seattle, this trail has become an OUT for Sustainability priority to bring beauty, safety and easy access to recreational and commuting walkers, runners and cyclists. Boeing and Starbucks return as community partners, with Starbucks as our 2012 presenting partner.

Register at earthgay2012.eventbrite.com.
Tags: Earth Gay, Lobby Bar, Out for Sustainability