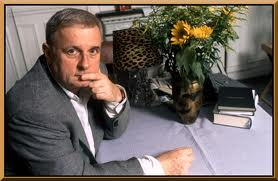 Light a candle near your bookshelf (or Kindle or Nook or iPad) for legendary gay author, Edmund White.  According to the author's Facebook page and Towleroad the esteemed author and self-avowed submissive (see numerous interviews and his own memoirs) suffered a serious stroke earlier this month.
White is the author of a trio of classic gay autobiographic novels, "A Boy's Own Story," "The Beautiful Room is Empty," and "The Farewell Symphony."  They are required reading for anyone intersted in gay literature.  He has continued to write into the present day recently publishing "Jack Holmes & His Friend" in January of this year.
White was one of the first gay authors we read while in college and I have been a devoted follower ever since.  We wish Mr. White a speedy and full recovery so he can continue his work and his feud with Gore Vidal (bitter old queen).
(Visited 1 times, 1 visits today)