PrideFest is already upon us! This Sunday, 100,000+ people will converge upon Seattle Center for this annual outdoor festival. PrideFest is the largest free pride festival in the United States, featuring 4 stages, world-class entertainment, measurable action and advocacy for the LGBT community. This year, one of NYC's fiercest diva's takes the stage hosting and headlining the main stage at Seattle's PrideFest. I've had the pleasure of bringing Peppermint to town. Several years back, we (Qulture Qreative) brought her to town for our last Hot Mess party at the now defunct War Room. All I can say is that Seattle's about to get WORKED! This diva turns it out! Read what she had to say when I spoke to her about her upcoming appearance this Sunday….
L.A. Kendall: Miss Lady! It's been a few years since you've been to town and we are very excited that you are headlining the main stage at PrideFest. What tricks do you have up your sleeve for next Sunday?
Peppermint: Oh my goodness. I can't even believe it's been 3 years! I had such a great time, and I miss Seattle so much! I'm really excited about the show and I'll tell you I can't wait to hit the stage! I have a huge show planned, you know I CAN'T give away any surprises…but I can tell you it involves an egg, a mallet, a pack of matches and a credit card. Use your imagination!
LAK: Cazwell appeared in your "Servin' It Up Video" (featured on LOGO), and he's also one of the headliners for this year's pride. Any chance we may get a little dual action from you guys?
PMT: Cazwell and I usually only perform threesomes in public, but I'm sure we will make an exception. The last time we were on stage together was in Milan where someone snatched my wig off right in front of him! Cazwell has never been the same.
LAK: You've been named "Drag Queen of the Year" by HX Magazine, "Best Drag Queen" by L Magazine and you've also won several Glammy's. What's next?
PMT: I'm going for "Janitor Of The Week" down at the community center… but I think Lady Bunny might be a shoe-in. I didn't get into the business for awards, and I'm not counting ("Entertainer Of The Year" 5 times since 2006; "Best Host" 3 times and "Best Vocalist" 2012) but they warm my heart every time.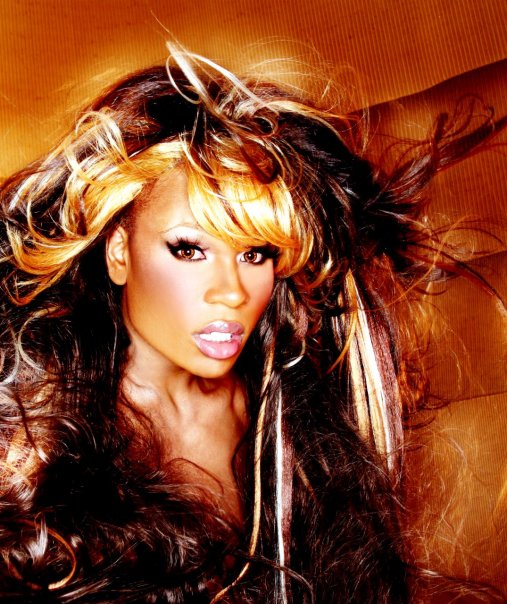 LAK: You also appeared with the legendary Sherry Vine in a parody of Lady Gaga's "Telephone". How did that project come about?
PMT: It was Sherry's idea. She had done a string of really popular, and hysterical, Gaga videos. So when Telephone came out she bribed my with nude photos…of herself! Of course I was so horrified I had to give in for fear of blindness. I'm kidding, I was so honored and happy to be in the video with her. She is one of my idols and good friends. One of the nicest ladies I know, and so professional. We wrote it in about a day and shot it in about 15 minutes. The next morning it was on Perez Hilton and the rest is history!
LAK: Here in Seattle, it feels like there is a flood of new drag talent. I attribute this to the success of RuPaul's Drag Race. Do you have any advice for these new budding queens?
PMT: Shave and learn your words!! No. I say go for it! I think the country was starving for new talent and I can't wait to meet the new girls! Drag is a hard gig to choose so I hope that the girls learn to keep the good traits and leave the reality TV drama for Drag Race.
LAK: You actually sing live when you perform, and you have an amazing voice! Do you think this gives you an edge over other performers?
PMT: No, I know a lot of girls that sing live. Though I know it's not the norm. I went to acting school in NYC and was forced to sing dance and act at 7AM after a long night at the club, so I think I just decided to use some of the things I picked up in college, since I'm still paying for it!
LAK: This year, the focus for Pride is all about Marriage Equality. NYC legalized gay marriage last year around the same time. What advice do you have for Washington State's gay community as we move forward in our fight for these rights?
PMT: Even though it seems inevitable, total equality is a long way off. I think it's important for all of us to pitch in. if you believe in equality, but haven't been to a march, or written a letter, or participated in charity events or fund raisers, exercised your voting rights INTELLIGENTLY, or even had a respectful debate with your family and friends, then you are holding all of us back. It's not enough anymore to just say you support equal rights without taking action. It WILL happen Washington, but you have got to make it happen!
LAK: Speaking of marriage equality, I was at a Marriage Equality gala a few weeks back and one of our local superstars, Aleksa Manila, was swearing that you are actually Deborah Cox. Is this true? Is Deborah Cox actually your alter ego?
PMT: Well I didn't want to say anything, but it's true, she is me and I am her! Seriously though, we flew to LIFE BALL in Vienna last Month and people kept getting us confused on the plane! I think she was more upset than I was, lol!
LAK: If you were to give me 3 words to describe your headlining appearance at Seattle's PrideFest, what would they be?
PMT: Inspiring, Thrilling, Illegal!
There you have it! Don't miss Peppermint this coming Sunday afternoon at Seattle PrideFest's Main Stage!
(Visited 1 times, 1 visits today)