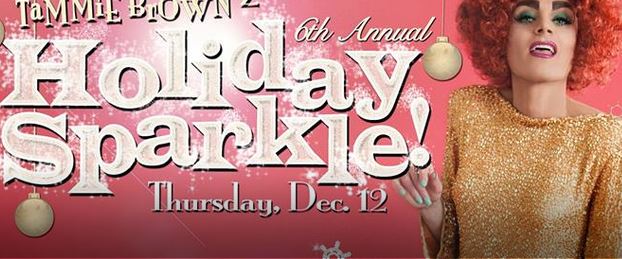 Despite the fact it's barely been promoted/advertised/marketed, we still think it behooves you to check out the one and only TAMMIE BROWN, the adorable Texas spitfire from Season One of RuPaul's Drag Race tonight, Thursday, December 12 for her late night holiday show at Re-bar. We adore the kooky one and her musical antics and she's brought her special musical guest, Michael Catti all the way from SoCal!
Here's the info for the Facebook invite that Tammie created:
The Clarion Call of Christmas and its sisters Hannukah and Kwannza are echoing in the Holliday Mist …. Hark! Is that Santa? Is that the Baby Jesus? Is it The Space Whale? No! Its the sound of Chispas( Chispas are sparks!) ! The Sound of TaMMie BROWN! Coming down from the Heavens to bring to the Earth the sixth annual Holliday Sparkle Show! Expect original music , classic covers, danceable moments, and singalong surprises! With special guest Micheal Catti! and musically arranged by Benjamin May! Only $20.00 at the door!

Dedicated with love to the memory of Keiko the Killer whale (Better known as Willy – in "Free Willy"….

Tickets can be purchaced at:
http://www.brownpapertickets.com/event/521042
It's all happening tonight at Re-bar Place AFTER the Dina Martina Christmas Show…check it out.
(Visited 1 times, 1 visits today)