It's still winter but it FEELS very springy right now so we're going to enjoy it while we can and also encourage the rest of you to leave your cocoons and get out and enjoy the sun and/or get out and go into a bar/club/theater to enjoy some fun and entertainment!
Many of the usual suspects on hand this Friday, February 21 but there's a large number of artier options going on this weekend for folks enjoying more traditional theater or dance options including the Solo Dance Festival at On the Boards and an acclaimed international dance troupe Grupo Corpo at Meany Center for the Arts on the University of Washington campus.
The Seattle Asian American Film Festival also has two LGBTQ screenings happening this weekend including "Queer AF" tonight at the Broadway Performance Hall on Capitol Hill and the Vietnamese film "Song Lang" screening Saturday evening at the same venue.
And, for fans of RuPaul Drag Race stars, there's even the special treat of a Season One star bopping into Seattle tonight…the one and only Ms TAMMIE BROWN is bringing her "A Little Bit of Tammie" show to Kremwerk for ONE NIGHT ONLY as Tammie sings and dances her way into our hearts. Snag tix HERE!
The rest of the story!
Events for February 21, 2020
5:00 PM
February 21 @ 5:00 pm – 6:30 pmOn the Boards, 100 W Roy St
Seattle, 98119 United States + Google Map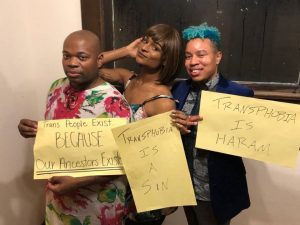 Join Randy Ford, Dani Tirrell and J Mase III for The Living Room with special guest jumatatu m. poe. This event is free and open to the public. The Living Room is a video/Blog and Talk show created by artists Dani Tirrell, J Mase III and Randy Ford. We will share our views and thoughts […]Find out more »
7:00 PM
February 21 @ 7:00 pm – 10:00 pm|Recurring Event (See all)Cuff Complex, 1533 13th Ave
Seattle, WA 98122 United States + Google Map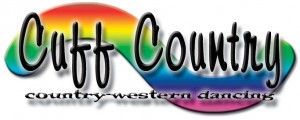 Rain Country Dance Association presents Country Dancing every Friday night at The Cuff. Lesson: 7:15pm to 8:15pm Open Dance: 7pm to 10pm 21+ The Rain Country Dance Association creates a friendly environment for GLBTQ people and friends to meet and dance in the Pacific Northwest. We support the Country-Western dance community by providing opportunities to […]Find out more »
February 21 @ 7:00 pm – 9:30 pmTimbre Room, 1809 Minor Ave.
Seattle, 98101 United States + Google Map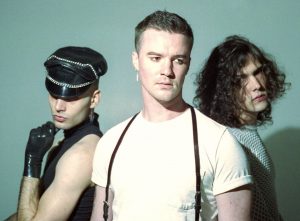 Join us as we help Kremwerk celebrate its 6 year anniversary. False Prophet Presents…. Ritual Veil https://ritualveil.bandcamp.com/ Profit Prison https://profitprison.bandcamp.com/ Sharlese https://soundcloud.com/sharlese Tickets – $10 http://bit.ly/FalseProphetRitualVeil Timbre Room 1809 Minor Ave. Seattle, WA http://kremwerk.com/ 21+ ……………………………………… Sign up for the Kremwerk + Timbre Room Complex mailing list on our website, to stay in the loop […]Find out more »
February 21 @ 7:00 pm – 10:00 pmKremwerk, 1809 Minor Ave
Seattle, WA 98101 United States + Google Map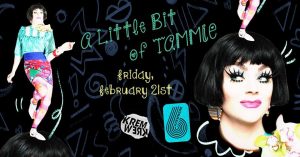 Kremwerk proudly presents 6 years of drag shows featuring: A Little Bit of Tammie: Tammie Brown at Kremwerk 🌟 TIX: http://bit.ly/TammieBrownKW 🌟 Beloved drag entertainer Tammie Brown, beloved contestant from RuPaul's Drag Race & RuPaul's Drag Race All Stars, brings her latest one-woman show "A Little Bit of Tammie" to Kremwerk! Enjoy the strange and […]Find out more »
February 21 @ 7:00 pm – 11:00 pm|Recurring Event (See all)The Cuff Complex, 1533 13th Ave
Seattle, WA 98122 United States + Google Map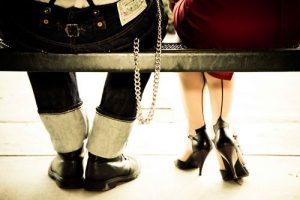 This event puts queer Leather women, their partners and guests to the front! If you are a queer Leather woman or an active supporter of the Women's Leather community, you AND your queer guests are welcome! Come on out, every 3rd Friday at The Cuff Complex in Seattle! Invited guests do not need to identify […]Find out more »
7:30 PM
February 21 @ 7:30 pm – 9:30 pm|Recurring Event (See all)The Moore Theater, 1932 2nd Ave
Seattle, WA 98101 United States + Google Map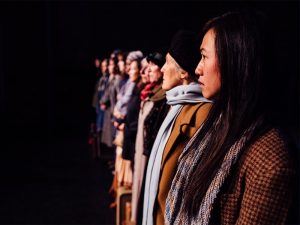 STG Presents The Actors' Gang – The New Colossus at The Moore Theatre February 20 – 22, 2020 as a part of our 2019-2020 performing arts season. Thursday – Saturday, February 20 – 22, 2020 Thursday & Friday: Doors at 6:30 pm Thursday & Friday: Shows at 7:30 pm Saturday: Doors at 2:00 pm & […]Find out more »
February 21 @ 7:30 pm – 9:30 pm|Recurring Event (See all)Benaroya Hall, 200 University St
Seattle, 98101 United States + Google Map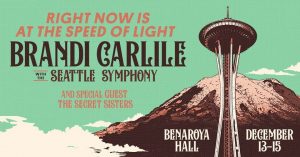 📣 Call the Ticket Office at 206.215.4747 to inquire about the latest availability for Brandi Carlile with the Seattle Symphony. Presented by the Seattle Symphony Three-time Grammy®-winning singer-songwriter Brandi Carlile returns for three highly-anticipated concerts with her hometown Seattle Symphony. The shows will include many fan favorites as well as new material. Brandi is currently […]Find out more »
8:00 PM
February 21 @ 8:00 pm – 12:00 am|Recurring Event (See all)Century Ballroom, 915 E Pine St
Seattle, 98122 United States + Google Map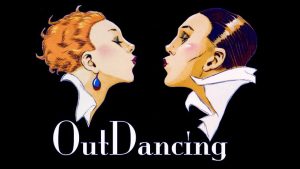 Join us Friday, August 16 for Outdancing with MC Koop! 8:00pm Line Dance Lesson $12 8:30pm-12:00am Dance $12 (FREE with Lesson) 21+ OutDancing is one of the longest running nights for the LGBTQ social dance community in Seattle and certainly the largest floor to spin around on. Owner Hallie Kuperman (MC Koop) plays something for […]Find out more »
February 21 @ 8:00 pm – 10:00 pm|Recurring Event (See all)Meany Center For The Performing Arts, 4040 George Washington Lane NE
Seattle, WA 98195 United States + Google Map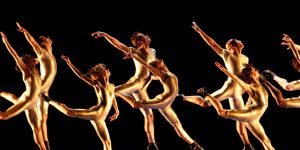 Combining the sensuality of Afro-Brazilian dance forms with the technical prowess of ballet, Brazil's leading contemporary dance company, Grupo Corpo, returns to Meany with two wildly different works, both Seattle premieres. In Bach, choreographer Rodrigo Pederneiras renders the baroque beautifully modern, unveiling an intoxicating game between what is heard and what is seen. With Gira, […]Find out more »
February 21 @ 8:00 pm – 9:30 pm|Recurring Event (See all)On the Boards, 100 W Roy St
Seattle, 98119 United States + Google Map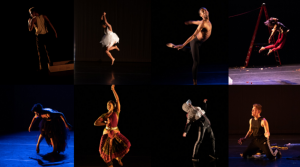 12 remarkable artists in inquisitive and personal performance. Solo: A Festival of Dance is a one-of-a-kind weekend long exploration of the solo as self-expression; we invite you to explore this integral part of dance creation. The 2020 Festival will feature an evening length program that includes trail blazing performances from five internationally recognized artists. Festival […]Find out more »
February 21 @ 8:00 pm – 11:00 pmPalace Theatre & Art Bar, 5813 Airport Way South
Seattle, WA 98108 United States + Google Map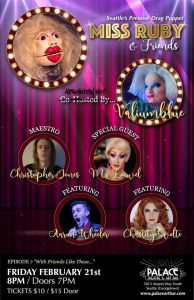 Miss Ruby and Friends – Seattle's best Drag Puppet is gathering some friends to create an amazing variety show with music, comedy, burlesque and magic! All in one night.Find out more »
8:30 PM
February 21 @ 8:30 pm – 10:30 pmBroadway Performance Hall, 1625 Broadway
Seattle, 98122 United States + Google Map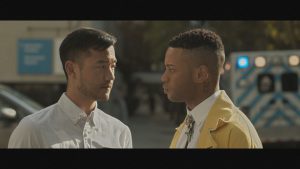 LGBTQ experiences and characters are centered in this collection of shorts. Co-presented by: Three Dollar Bill Cinema. In this program A Big Fat Taiwanese Same-Sex Wedding Banquet Directed by Larry Tung LGBTQIA history is made in Taiwan! A traditional Taiwanese banquet takes place in front of the Presidential Office Building on May 25th, a week […]Find out more »
9:00 PM
February 21 @ 9:00 pm – 11:00 pm|Recurring Event (See all)"Le Faux" at Julia's on Broadway, 300 Broadway Ave E
Seattle, 98102 United States + Google Map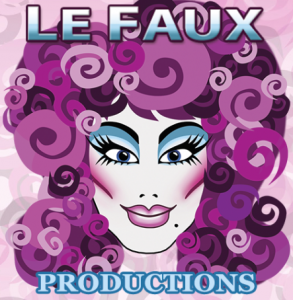 Le Faux at Julia's on Broadway A celebrity impersonation show featuring a full cast of professional impersonators, choreographed dancers and completely outrageous acts. You and your friends will have the time of your lives seeing our Las Vegas style productions of Britney, Cher, Pink, Taylor Swift, Adele, Nikki Minaj and many more concert-like performances that […]Find out more »
February 21 @ 9:00 pm – February 22 @ 4:00 am|Recurring Event (See all)Neighbours Nightclub & Lounge, 1509 Broadway
Seattle, WA 98122 United States + Google Map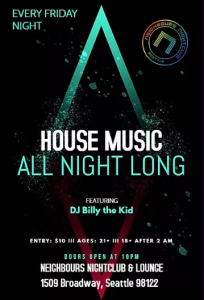 Weekly dance party at Seattle's oldest LGBTQ nightclub Entry is in alley. 21+ until 2am 18+ 2am to 4am DJs Billy the Kid Cover: $10Find out more »
February 21 @ 9:00 pm – 2:00 am|Recurring Event (See all)Pony, 1221 E Madison St
Seattle, WA 98122 United States + Google Map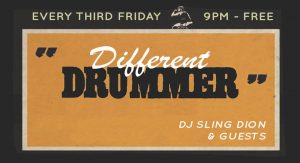 Join us for Different Drummer in its new slot starting in October every third Friday as DJ Sling Dion welcomes a wonderfully eclectic cast of guests. Different Drummer recreates the soundtrack to our sexual histories. From the darkroom of your dreams, comes the synth/disco/italo/bathhouse dance party paying respect to the queers who invented dance culture. […]Find out more »
February 21 @ 9:00 pm – 2:00 am|Recurring Event (See all)The Lumber Yard Bar, 9619 16th Ave SW
Seattle, WA 98106 United States + Google Map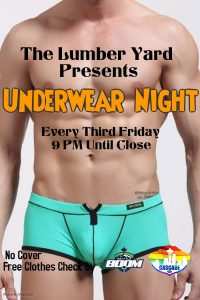 Join us every third Friday of each month as we host underwear night at the Lumber Yard. We will have a guest DJ each month,Find out more »
February 21 @ 9:00 pm – 1:30 am|Recurring Event (See all)Queer Bar, 1518 11th Ave
Seattle, 98122 United States + Google Map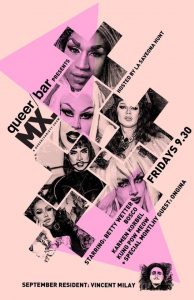 MX. is the hottest weekly drag show in the northwest! Showcasing the most exciting drag-talent in Seattle, MX takes place every Friday at 9pm, on the stage inside queer/bar! Hosted by legendary Seattle queen, La Saveona Hunt, MX stars: Betty Wetter, Kung Pow Meow, Bosco, and Karmen Korbel! Catch these queens slaying the stage together, […]Find out more »
February 21 @ 9:00 pm – 2:00 am|Recurring Event (See all)Fred Wildlife Refuge, 128 Belmont Ave E
Seattle, 98102 United States + Google Map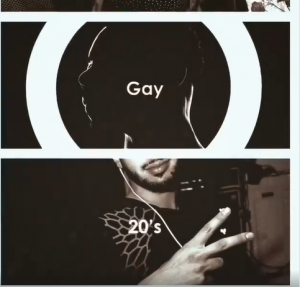 🤩🥳SURPRISE🤩🥳 Speakeasy vibe? ✅ Incredible drink specials from 9-10p? ✅ Performances from the hottest talent in Seattle? ✅ Different host every week including Skarlet Dior Black, Chip Sherman, Cucci Binaca and Sefina Essence? ✅ Resident DJ PAPI.WAV with guest djs Essex, Reverend Dollars, Arson Nicki and Tony Burns? ✅ No Cover?! ✅ …AND THAT'S JUST JANUARY! ***The Gay 20s is a […]Find out more »
February 21 @ 9:00 pm – 2:00 am|Recurring Event (See all)The Seattle Eagle, 314 E Pike St.
Seattle, 98122 United States + Google Map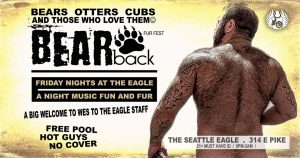 BEARBACK FRIDAY NIGHT AT THE EAGLE BARTENDERS WES AND KEON SERVING UP THE SWILL …………………………………………………………………….. A NIGHT OF BEARS OTTERS CUBS AND THOSE WHO LOVE FUR… AND SOME SEXY MUSIC HOT GUYS SHIRTS OFF FREE POOL AND MISCHIEVOUS BEHAVIOR NO COVER ……………………………………………………………………… FRIDAY NIGHTS THE SEATTLE EAGLE . 314 E PIKE must be 21+ with […]Find out more »
February 21 @ 9:00 pmSwallow Bar, 9608 16TH Ave SW
White Center, WA 96108 United States + Google Map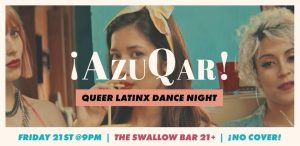 It's the weekend after Valentine's, but you still want to hug and squeeze your sweetie while dancing to the best Latinx Beats. Come on over and share the love!!! The first and best true Latinx Night! AzuQar Queer Latinx Dance NightFind out more »
9:30 PM
February 21 @ 9:30 pm – 2:00 am|Recurring Event (See all)RPlace, 619 E Pine St
Seattle, WA 98122 United States + Google Map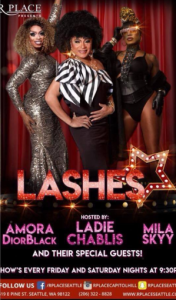 Seattle's looooooooong running weekly drag show every Saturday night at RPlace, with hosts Amora DiorBlack & Ladie Chablis & Mila Skyy plus a slew of special guests. 9:30pm to 2am 21+ w/ID Cover is usually $10/May be higher for nights with out of town guests/special events Followed by Transcendance with DJ E and Go Gos. […]Find out more »
10:00 PM
February 21 @ 10:00 pm – 3:00 am|Recurring Event (See all)Cuff Complex, 1533 13th Ave
Seattle, WA 98122 United States + Google Map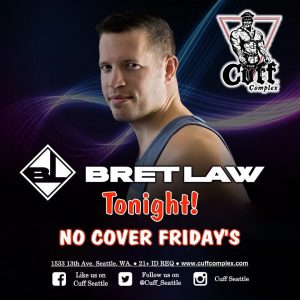 Cuff Complex opens the Dance Floor every Friday night. Country Dancing from 7pm to 10pm Resident DJ spins dance hits/EDM from 10pm to 3am Resident DJs include Dana Dub, Stacey Cooks, Bret Law, and others. Go Gos! 21+ w/ID No cover most nights! (Note: some special events might require a cover)Find out more »
February 21 @ 10:00 pm – 2:30 amReBar, 1114 Howell St
Seattle, WA 98101 United States + Google Map

Join us in celebrating 30 years at Re-bar with something for the old school heads. DJ Garth (Wicked/ Grayhound) https://soundcloud.com/garth-dj-mixes DJ Garth is a House music DJ and recording artist who is largely credited with both defining and capturing the sound of San Francisco House music in the 1990s. He co-founded the Wicked Sound System […]Find out more »
February 21 @ 10:00 pm – February 22 @ 4:00 amKremwerk, 1809 Minor Ave
Seattle, WA 98101 United States + Google Map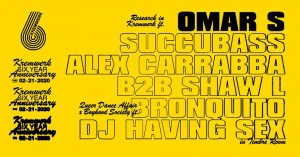 Join us as Kremwerk celebrates its Six Year Anniversary… Research Takeover in Kremwerk with… Omar S https://www.residentadvisor.net/dj/omars Succubass https://soundcloud.com/succubass Alex Carrabba B2B Shaw L https://soundcloud.com/alexcarrabba https://soundcloud.com/localfi —————————————————— Queer Dance Affair x Boyhood Society in Timbre Room with… DJ Having Sex https://soundcloud.com/havingsex Bronquito https://soundcloud.com/bronquito ……………………………………… Tickets: http://bit.ly/KW6YearOmarS Early Bird: $12 General Admission: $15 Friday + Saturday […]Find out more »
February 21 @ 10:00 pm – 1:30 amVermillion Art Gallery and Bar, 1508 11th Ave
Seattle, 98122 United States + Google Map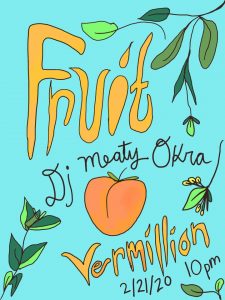 Dance party with DJ Meaty Okra! Hip-Hop, disco, new wave & pop anthems all night long!Find out more »
(Visited 1 times, 1 visits today)