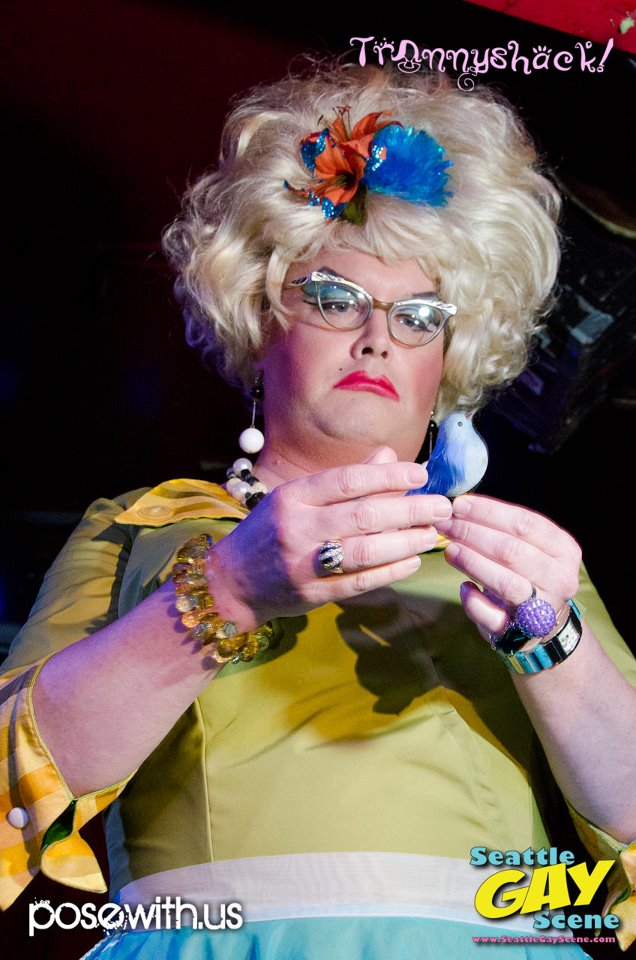 Sylvia O'Stayformore, the beloved host/creator of BACON STRIP, the "big gay variety" released this statement today. 
She's ending monthly production on the popular drag show to concentrate on other opportunities including quarterly editions of the show.
Here's her announcement:
First I want to say, I am so grateful for all of the wonderful people and the talent that everyone has brought to Bacon Strip. Our current show line-up is coming to an end in June. While trying to figure out what themes to do for the rest of the year I came up blank. This show has been going through a lot of changes in the past year. This time it's me that is ready for a change. I am finding that I'm being pulled toward new projects with less and less time to give to a monthly show. So I have decided to end Bacon Strip as a monthly event. This June 14th will be the last of the Bacon Strip shows in our current format.  I'd like to make Bacon Strip something new. Perhaps a quarterly party in different locales, I'd also like to look at it as a party option for traveling to other cities. I will always work at trying to do our "Bacon Strip" brand of variety show, making it viable for the producers and artists.

The Bacon Strip dream is not dead. I will still be contacting you guys for future Bacon Strip Parties, other productions and events. I want to send out a huge thank you to the huge team of performers, supporters, photographers, videographers, lighting people, sound people, DJ's and locations that made this night so magical. Thanks to the Italian who never ceased in marketing, promoting and selling.  Most of all, thanks to all the fans that motivate us to create something new and original in every single show.

Let's make this year's Miss Bacon Strip in May and The Gayest Story Ever Told (Pride Show- Finale') in June, shows to go down in memory books.

I love you all,

Sylvia
Wow. We can't imagine the Seattle Gay Scene without Bacon Strip.
But, we respect artists and the changes and growth they need to make. Kudos to Miss Sylvia and her year's of entertaining us with Bacon Strip.
And, a big toast to Sylvia and the Bacon Strip Family for their years of past service AND to their years of making amazing NEW art & entertainment…
SALUD!!!!
Tags: Bacon Strip, sgsapp, Sylvia O'Stayformore