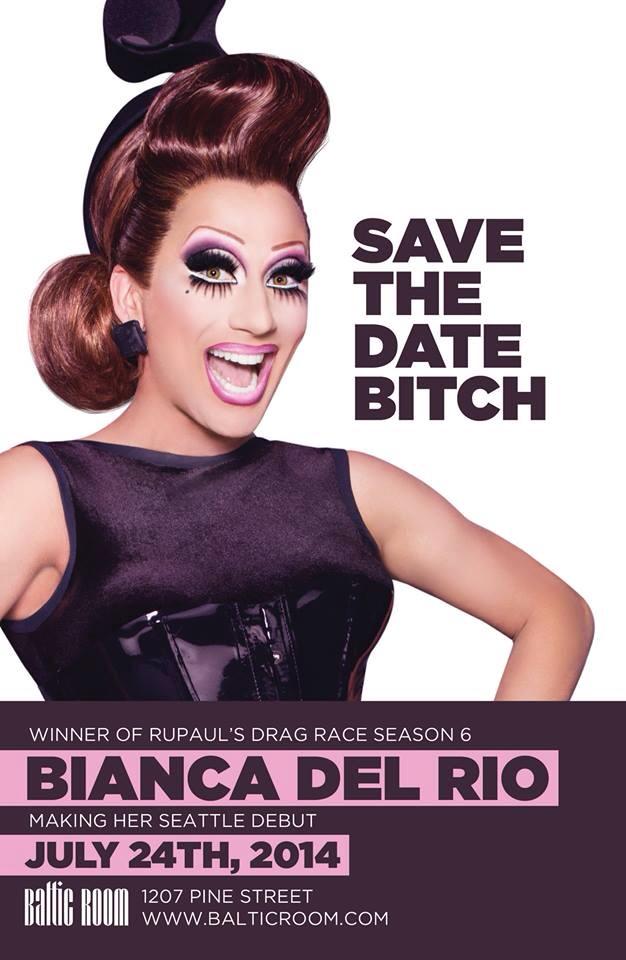 (Pssst….wanna know some Top Secret dish?)
Hope so…'CAUSE I'M GONNA TELL YA SOME!
RuPaul's Drag Race Season 6 winner BIANCA DEL RIO will be making her Seattle debut on Thursday, July 24, 2014 for an evening of multiple events all at THE BALTIC ROOM, 1207 Pine Street.
The divinely mouthy Ms Del Rio will headline the 2nd edition of Sinfinite's QUEEN FOR A DAY event; you'll remember that last year's party at Fred Wildlife Refuge hosted by Michelle Visage raised RIDICULOUS amounts of money by selling off local drag queens to confused horny people.
THEN, the tartly effervescent Bianca will stick around for a very special performance at The Baltic Room, produced by Jason Brotman & The Baltic Room Team…it'll include a special VIP reception for the Ultra Bianca Del Rio Fan.
MUCH more info to be released in the weeks ahead…EVERYTHING you'll wanna know about the Drag Clown Comin' To Town including where to buy those tickets.
If you're REAL good, I'll spill the dirt on the news who got cast on the next season of RPDR….insiders tell me that…………………………………………………..
(TRANSmission interrupted.)
Tags: Bianca Del Rio, Queen For A Day, sgsapp, The Baltic Room