OK…she didn't do well on Season Six of RuPaul's Drag Race. In fact, Los Angeles based drag star KELLY MANTLE was the very first one booted off! It was an elimination that shocked a lot of people because Mantle is an experienced drag performer with a large following and a good reputation as a top performer. But, let's be honest…nerves got the best of her and she choked on her challenges…it happens to even the best.
There are some hoping that Kelly Mantle will get another chance on another season of "Drag Race" or even the rumored soon to be filming "Drag Race: All Stars". In the meantime, Seattle fans of the diva can make do with her special guest appearance and Seattle area debut when she comes to Julia's on Broadway on Sunday, June 1 to perform at Seattle Squadron's big annual "Show Girls All Stars Show". It's a fundraiser for the softball team, a member of ECSA (Emerald City Softball Association) and the show has become a popular yearly event featuring special guest stars like Kelly Mantle, but local drag stars AND the added benefit that hunky members of the Squadron team also don drag and perform.
The skinny:
Making her SEATTLE DEBUT: KELLY MANTLE!
From RuPaul's Drag Race Season 6. Kelly has also been in Nip/Tuck, Arrested Development, and more! Baseball great, Mickey Mantle's nephew!

Returning as host will be INDIA FERRAH (RPDR3), who will be joined by Seattle's very talented JAXEN BROWN.

We'll have great raffle prizes, and of course, members of the Squadron and other teams will be performing.
The party is at 8pm at Julia's (300 Broadway East on Capitol Hill) on June 1, 2014. No cover with an ECSA card and only $5 without. This is an All Ages event so a nice (and rare) opportunity for the under 21 crowd to see professional drag performances!
SGS is a media sponsor, (I know! Shocking, but we j'adore event producer, Art Ruiz and we're delighted to support the Squadron!) and if you're not into Seattle Pride's PRIDE IDOL and their Wild Card competition which is happening that same night down at Neighbours with ME as a judge, then please go to this event! The joy of Seattle is that there are events for EVERYONE!
Check them ALL out.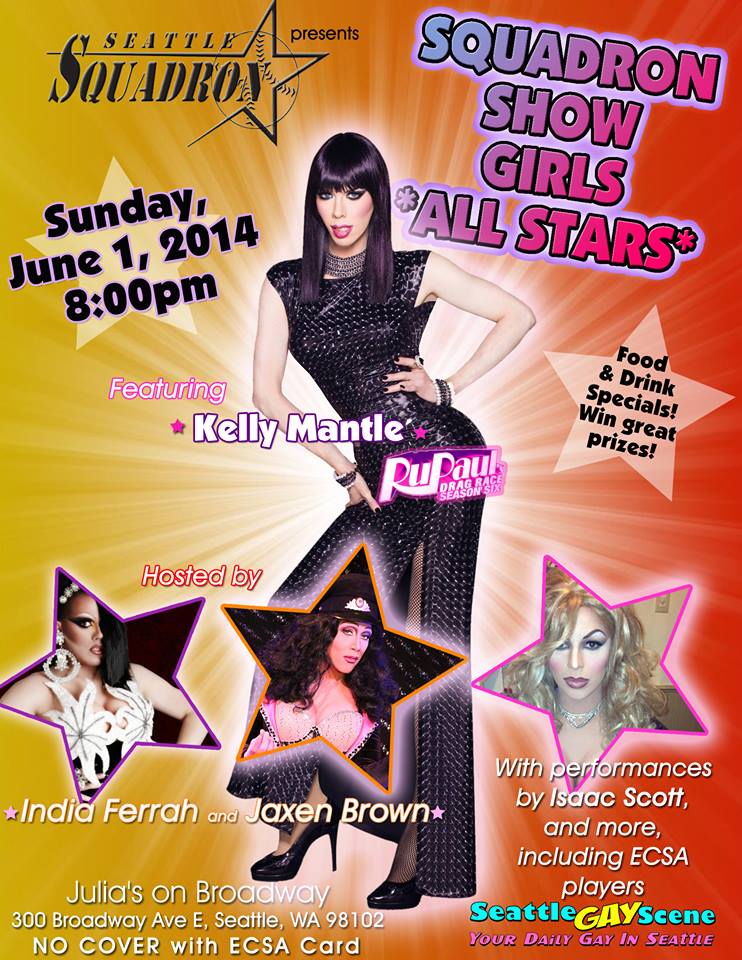 (Visited 1 times, 1 visits today)